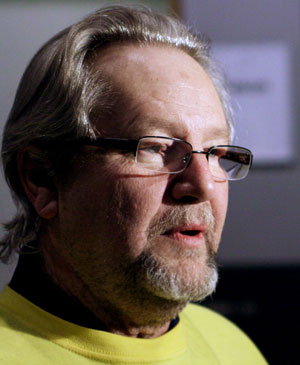 Advertised as the candidate for "change" during her succesful campaign to lead the BC Liberal Party, Christy Clark was sworn in as premier today and presented a smaller cabinet that was as notable for who was left out as for who was in.
"Today I'm truly humbled to be taking office as your premier," said Clark in a ceremony at government house in Victoria. "Our new government recognizes this is time for a change."
New to cabinet were three MLAs: Don McRae, Terry Lake and Harry Bloy.
Bloy, the new minister of social development, with responsibility for multiculturalism, was the only MLA who endorsed Clark in her leadership bid. McRae will be minister of agriculture and Lake minister of environment.
Out were former finance and health minister Colin Hansen and leadership candidate and former advanced education minister Moira Stilwell.
So were education minister Margaret MacDiarmid, environment minister Murray Coell, small business and technology minister Iain Black, tourism, culture and the arts minister Kevin Krueger, citizens' services minister Ben Stewart, climate action minister of state John Yap and mining minister of state Randy Hawes.
"These were really, really tough decisions to make," said Clark, responding to a question from reporters about Stilwell. "I wanted to make sure the cabinet was quite a bit smaller than it had been previously... In my government every MLA is going to be making a very significant contribution and sitting around the cabinet table is not going to be a prerequisite to being heard."
Hansen says he'll help however he can
She declined to say why Hansen, who has sat in senior cabinet positions since 2001, was left out.
"Colin is the most enthusiastic member of our caucus when it comes to getting this government re-elected," said Clark. "He's a man of such incredible character... I think what he'll tell you is the only job he's interested in is making sure our government is re-elected."
Asked if leaving was his choice, Hansen said, "I offered that I would help out in any way I could."
He said leaving him out of cabinet made sense, though he's proud of what he and his colleagues accomplished in the last 10 years in governmnet. "I think it's time for some new faces," he said. "Christy has a whole new team. The average age is younger."
He allowed that the introduction of the HST, which harmonized federal and provincial sales taxes, was an unpopular move with which he was closely associated. "The HST was obviously controversial and there's no question we didn't do a very good job of bringing it in," he said, adding it was the right policy and he hopes it is approved in a province-wide vote.
There's been speculation that Clark would like to run in the Vancouver-Quilchena constituency that Hansen holds, but he said he has yet to decide whether he will run in the next general election. Nor does he intend to run federally, he said.
"I will continue to make a contribution as a member of the legislative assembly, and I'll be there 100 per cent for Christy," he said.
Some older faces returning
While room was made for some new faces in cabinet, some older faces are also returning.
Leadership candidates Kevin Falcon (finance and deputy premier), Mike de Jong (health) and George Abbott (education) were all given roles. Blair Lekstrom, who quit cabinet last year over how the HST was handled and recently rejoined the Liberal caucus, returns as transportation and infrastructure minister.
Mike de Jong, who is bald, joked that hair transplants would soon be covered as part of the public health care system.
Responding to reporters, he said he's open to more private involvement in the health care system and believes the public is as well. "What they do not seem to care about, when I talk to them, is who owns the facility," he said, noting that as long as a service is publicly funded people tend to be happy. "Obviously there is room for partnerships and we've seen that over the last number of years."
Falcon, who on Feb. 26 told reporters he didn't want to be the finance minister, said he was glad for the appointment. "Christy's very persuasive and I received a lot of phone calls from my friends in the business community making threats on my life, so ultimately I think the combination of the two did it," he said.
A big part of that job will be seeing the government through the HST referendum. "I think it's very important we not do a sales job on the HST, but we do an information job and give people the information good and bad on the HST," he said. "We have to have a much more aggressive approach of getting information out to the public."
Asked how that would differ from the approach so far, he said, "Frankly we haven't provided information. That has been a big part of the problem. A website, to me, is not information."
The criticism did not appear to be of the job Hansen did, however. "I'm not going to go through who's in and who's out, except to say I have enormous regard for Colin and the job he did as cabinet," Falcon said. "In my working relationship with Colin I have nothing but enormous respect for him."
Government lost touch: Lekstrom
Abbott said he was pleased to return to the education ministry, the portfolio he held before entering the leadership race.
He expressed sympathy for Stilwell, who dropped out of the leadership race to endorse him, being left out of the cabinet. "I'm disappointed for her, but those are tough decisions that have to be made when cabinet's are put together," he said.
Lekstrom said it feels great to be back in cabinet. "When you run for the position you try and believe you have something to offer," he said. "To get back in and be able to serve in cabinet is an honour and I look forward to the future."
Much has changed a lot since a year ago when he quit his cabinet post over Campbell and his colleagues' refusal to put the brakes on the HST, he said.
"Leadership, the willingness to go and engage the public, I feel there's a greater emphasis on that," he said. "To be honest I think we lost that before. I was part of a government that, not through any ill intent or anything, but lost sight of the fact we're here actually to make decisions on behalf of the people we represent."
Bloy said he was excited to have made it into the cabinet. "It's a portfolio that I believe my background gives me lots of energy for," he said. "In social development, I've hired many people, I've started many businesses over the last years."
As for specifics, he said he looked forward to talking with ministry staff to determine what his priorities will be. "I need to talk to my staff to get a full handle on it."
Change is cosmetic: NDP
Interim NDP leader Dawn Black offered her congratulations to Clark and the cabinet, before offering a few criticisms.
"The fact remains the policies of the government are the ones that really matter and Premier Clark has said very little that is substantive about policies or what she'll do for B.C. families," she said.
Costs are rising for things like medical service premiums, BC Ferries fares and BC Hydro rates, she said. "All these things are making it much harder for families in British Columbia."
She asked what steps Clark will take to address child proverty and said she is skeptical about how much change people are likely to see.
"The changes were in fact just cosmetic and nothing substantive," she said. "Delivering change takes more than just talking about it... After 10 years of a BC Liberal government, it will take a change in government to see the kind of change British Columbians want to see."
Clark declined to say when she expected there will be a general election. During the campaign she'd said she would like to call an election before the 2013 fixed election date.
Nor did she predict when when there might be a byelection where she could run. "At the moment there isn't an open riding in which I could run, so we'll see what happens with that," she said. Campbell has said he would step down to make way for her.
With the HST vote promised for June 24, though scheduled by law for September, the government will have a number of things to do quickly, Clark acknowledged. "This is a government that's going to get to work fast," she said. "We're not going on vacation next week."