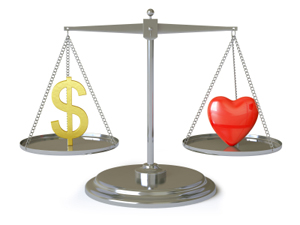 It goes without saying: we all hate big banks.
Since 2008, we've seen debt-bloated financial behemoths collapse only to be propped back up with public cash. We've seen their stone-faced executives herded before legislative sub-committees only to offer non-apologies, warn against regulation, and justify their record-breaking bonuses. We've had to memorize esoteric acronyms, like CDO and CDS, only to see them for the glorified casino chips that they are. To better express our abhorrence, we've called them "banksters," "fat cats," and, describing the most notorious of all the Wall Street titans, "a great vampire squid wrapped around the face of humanity."
Nearly five years after the crisis, the global economy may be in a slow recovery (or so some forecasters tell us), but the reputation of high finance remains in a deep depression.
Responsible banking? Take a hike, Jimmy Stewart. If ever there were an oxymoron for the 21st century, this would be it.
And yet, there is in fact a growing movement of financial institutions around the world that want to reclaim the sullied name of banking. Proponents have branded it "sustainable-" or "values based-" banking. A friendlier kind of finance based on the quaint notion that retail banks ought to be in the business of channeling community savings towards productive, socially responsible, and environmentally sustainable business ventures.
This Thursday, the Global Alliance for Banking on Values (GABV), a coalition of 14 "sustainable" banks and credit unions, will kick off its fourth annual meeting with a panel discussion in downtown Vancouver. Presented by Vancity, GABV's only Canadian member, the event will bring journalist Naomi Klein, Vancity CEO Tamara Vrooman, and U.K. economist Stewart Wallis onto the same stage to discuss and debate the role that progressively-managed banks can play in a sustainable future.
Alternative banking for the alternative economy
Peter Blom will also be at Thursday's event to introduce the discussion. The CEO of the Netherlands' Triodos Bank, Blom is a sustainable banking pioneer. Joining the upstart bank during its founding year in 1980, Blom says even then -- long before the contemporary financial crisis, before S&Ls, junk bonds, and Gordon Gecko taught us to hate Wall Street the first time around -- mainstream banking's absence of social conscience was conspicuous.
They didn't call it "sustainable" back then, says Blom; such terminology hadn't come into vogue. This was simply banking with a social objective.
"In those days it was very rare for European banks to be interested in 'alternative' projects and businesses," he says.
Fortunately for Blom and Triodos, then as now, "alternative" represented a diverse and profitable portfolio. Financing "green" ventures -- alternative energy development, organic farming, and local food distribution, for example -- local cultural initiatives, and businesses and borrowers in underserved and marginalized communities, Triodos has since expanded into five countries across Europe.
Blom to Wall Street: Watch and learn
Amid the economic turbulence of the last half-decade, sustainable banking has been one of the few truly profitable sectors of the industry, says Blom.
On the one hand, environmentally sustainable investments pay off handsomely, not only because "green" has gone mainstream as a consumer identity, but because the very real pressure that economic growth has placed upon the earth's finite natural resources has made conservation and resource efficiency economical.
"We've reached the limits of what the planet can take," says Blom. "There is more and more of an economic necessity to look at more sustainable, 'cradle-to-cradle'-type of businesses."
On the other hand, says Blom, Triodos has also shown that remaining firmly connected to the real economy is "actually a much more sustainable financial model for banks."
By the standards of modern finance, Triodos' approach to banking seems refreshingly old-fashioned. When the bank makes a loan to a customer, rather than selling that loan up the securitization food chain where it will be sliced, diced, repackaged, and used as a reference for thousands of different gambles, Triodos typically holds on the loan. In doing so, the bank maintains a relationship with the borrower. In sharp contrast to its mainstream counterparts, says Blom, locally originated loans, commodities, and real estate dominate the bank's portfolio.
As a result, he says, many large banks are starting to "discover" sustainability.
A show case
In 2009, Blom helped to further spread the gospel of good banking by helping to found the Global Alliance for Banking on Values. Starting with 11 banks, the GABV has since added five more members to its roster, including Vancity. According to the coalition's website, financial institutions of a certain size are invited to join the group if they pursue "the triple bottom line of people, planet and profit."
As GABV continues to expand, Blom says he hopes it will serve as a "show case," demonstrating to Triodos' competitors and to the world that sustainable banking can also be profitable banking.
Tamara Vrooman, CEO of Vancity, will likely be making that same point on Thursday. Yesterday, North America's largest credit-union announced that it had taken in a record of $91 million in net earnings last year, an all-time record.
"The fact that members can meet their financial goals and at the same time help develop a vibrant community is the heart of sustainable banking," Vrooman said in press release.
Zero out of three
The success of this approach to banking is a great first step, says Stewart Wallis, though we can't rely on the private sector to reform itself.
Wallis is the executive director of the New Economics Foundation, a London-based think-tank which advocates for environmentally-sustainable economic growth, new measures of well-being, and sweeping financial reform in the U.K. and around the world.
Ideally, says Wallis, governments would treat banks, not like any other profit-maximizing business, but as indispensible public utilities.
"Banks should be stable, fair, and socially useful," says Wallis. "Most of our banks are none of those three."
They're not stable, he explains, because in the pursuit of quarter-to-quarter profit growth, large banks, with no forced separation of their retail and investment operations, are often managed with too much focus on short-term gain and without enough appreciation of long-term sustainability and risk. This is the philosophy articulated by former Citigroup chief Charles Prince who explained why his bank was loosening its lending standards to private equity companies by quipping, "as long as the music is playing, you've got to get up and dance."
Large banks are also not operated in a socially fair way, Wallis continues, because they often underserve (or in the case of the American subprime mortgage, payday, and student loan markets, appalling mis-serve) low-income communities.
Lastly, many of the world's largest banks have ceased to be socially useful. With so many reasons to engage in speculative "short-termism," (and with the tacit support of government, little reason not to) they have instead become a social liability, he says.
We are all bankers
The dysfunction of mainstream banking is such that sweeping reform at both the national and international scale will be necessary, says Wallis. But in the meantime, he says he hopes organizations like GABV will help to change the way that people see banking and bankers.
"We actually need more bankers, but of the right type," says Wallis. "I hope that people will come to understand that we can do it differently and that we should support those banks that are doing it differently."
That's a sentiment echoed by Peter Blom. As a banker himself, he hopes that society will slow stop seeing the money-lenders of the world as the bad guys. In this sense, he says, the tsunami of ill will towards his industry that followed the financial crisis was both a challenge and an opportunity for Triodos and GABV. Now more than ever, he says its necessary to demonstrate that "there can be a different kind of banking."
"I hope that the gap between the banking world and the citizens can be bridged. I won't say that people should love their banks but at least they can see that there is a different way of banking that's possible," says Blom.
"I'd like it if people started to feel that we are all bankers," he says.