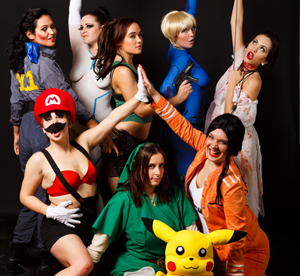 The voluptuous woman perches on a red velvet armchair, a black satin bra and shorts clinging to her curves. Her eyes gaze seductively from beneath a cat-eye mask. Slowly, she crosses one stilettoed leg over the other.
A typical scene at a burlesque show, perhaps -- until the silence breaks, and the Batman theme song starts to play.
She springs out of her seat, a long black cape flying behind her, and launches into a manic, 1960s-style shimmy. She strips off her bra, revealing a pair of star-shaped pasties. The crowd hoots and hollers.
On this night, the audience is evenly split between women and men -- or, more accurately, elves and orcs, doctors and daleks, all in costume and cheering one nerdy striptease after the next. One performer simulates a sex act on a giant green toy alien, to laughter and applause.
This is nerdlesque: a combination of nerd culture and burlesque that is gaining popularity in Vancouver. This performance takes place at an event hosted by Geeks after Dark, a "nerd nightlife" group that aims to coax the city's geek community out of comic book stores and their parents' basements, and into nightclubs.
Sex and the geek world
Fairlith Harvey, one of the co-founders of Geeks after Dark, watches the show from the DJ booth. She's wearing a Hogwarts school uniform and robes, and with her long, fiery red hair, she resembles a punk-rock Ginny Weasley.
Harvey, who coined the term nerdlesque, performs under the name Trixie Hobbitses, a loose reference to The Lord of the Rings. She says nerd culture is a natural fit for burlesque, which is meant to be cheeky and funny.
"Nerdlesque goes beyond the fun and striptease of burlesque and aligns it with the audience's interests," she says. "It's basically everything everybody loves rolled up into a five-minute performance."
It's curious to see so-called "geek girls" flaunt their bodies, since nerdy women often complain about female hyper-sexualization in comic books and science fiction. Even Harvey admits she's stopped reading new DC Comics because of the way female characters are portrayed.
For example, the first few panels of the new Catwoman comic, released in September, focus on Selina Kyle in a strapless bra and panties, her face completely cut out of the frame.
Yet sexism in the geek world goes beyond scantily clad characters in comics and video games -- it remains a core aspect of the very industries that create those products. Only six of the over 150 artists, writers and colourists working on the new run of DC Comics are women.
But nerdlesque, Harvey insists, is actually a way for women to assert their power in geek subcultures. When women perform burlesque, they take control of their own sexualities and embrace their bodies, especially if they don't meet mainstream beauty standards.
"My reaction when I first saw burlesque was, 'These are sexy, beautiful, women, and they look like me,'" she says. "I wanted to see that confidence in myself as well."
Although she had long felt insecure about her body, she took a burlesque workshop at East Vancouver's Screaming Chicken Theatrical Society and found she loved to perform.
"I feel now that I have my own kind of sexiness, rather than any kind of sexuality that fits into the box. Nerds like me, my boyfriend likes me, and I've found a way to make what I have work."
Game on
Vancouver's burlesque scene is surprisingly large and primarily aimed at women. The Biltmore Cabaret's weekly "Kitty Nights" burlesque shows always attract big crowds, and the annual Vancouver International Burlesque Festival draws scores of performers from across the country.
As burlesque grows in popularity, many dancers are now reaching out to niche markets. VanDolls, a nine-member troupe, is offering a discount to the city's booming video game industry for Pew! Pew! Video Game Burlesque on Feb. 10. (See sidebar.)
"We really wanted to reach a crowd that might not necessarily be exposed to burlesque otherwise," says Kayleigh Lum, also known as Rufflesilkskin, of the VanDolls.
At Geeks After Dark, the group performs a Tetris-themed number, in which large painted boxes are carefully placed to conceal dancer's bodies. At the upcoming event, each of the VanDolls will portray a different video game -- among them Super Mario, Portal and Fallout 3.
Lum says she's learned a lot about the city's nerd community while preparing for the event. The VanDolls recently performed at Vancouver Comicon, a small, one-day comic book symposium at the Heritage Hall on Main Street.
One thing she's discovered is that nerds can be picky about details. She's a little worried that hardcore gamers might complain about the accuracy of the dances, but she hopes people understand they are artistic interpretations.
"We are trying to be as authentic as possible," she says, although she doesn't expect anyone to remain angry for long. "They're seeing boobs, so how upset can you get?"