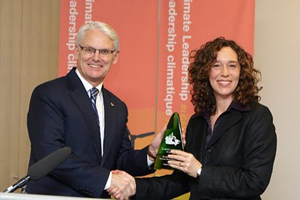 Former Liberal Party of B.C. premier Gordon Campbell could once count Tzeporah Berman among his closest environmental allies. But that was before he took a prestigious diplomatic posting in Europe and began lobbying against one of the world's most wide-ranging clean fuel laws.
Now Berman, who last year became a lead climate change campaigner for Greenpeace International, told The Tyee in a free-swinging phone interview that she is "shocked" by Campbell's role in an "absolutely reprehensible" oil sands industry offensive that makes her "embarrassed" to be a Canadian.
The only reason she helped him win B.C.'s 2009 provincial election and presented him months later with a high-profile award at the Copenhagen Climate Conference, Berman said, was for his "courageous" support of North America's first carbon tax.
With Campbell now playing down the environmental impact of Alberta's oil sands in a bid to keep European climate policy from spreading across the planet, Berman isn't even sure he deserves credit for that anymore.
"It really makes you wonder who in his government was behind the carbon tax," she said.
Splitting BC's enviros
Berman is arguably one of the most polarizing environmental figures to ever come out of B.C. She rose to fame in the early 1990s by leading fierce protests against old-growth logging in Vancouver Islands's Clayoquot Sound. She later helped negotiate a contentious detente between logging companies, green groups and First Nations on B.C.'s north and central coast, pushing the provincial government to protect a 2.1 million hectare tract of pristine wilderness deemed the "Great Bear Rainforest."
But some environmentalists felt betrayed by her actions before and after the 2009 provincial election. First came Berman's high-profile "resignation" from the New Democratic Party. Presented by Berman as a protest against leader Carole James' opposition to B.C.'s carbon tax, her decision helped split the local environmental movement and was seen as a factor in the re-election of Gordon Campbell.
Berman's decision to later join the BC Liberal government's green-energy task force after caused some activists to question her motivations.
Then, months after the election, at the Copenhagen Climate Conference, Berman and several of Canada's largest green groups presented Campbell with a major environmental award.
"The honour was for the potentially suicidal political decision to introduce North America's first economy-wide carbon tax," she recounts in her recent memoir, This Crazy Time. 
'It's been absolutely reprehensible'
Yet other activists saw Campbell's so-called "climate leadership" as confusing or even disingenuous. For at the same time that he championed his government's carbon tax in Copenhagen and elsewhere, he also pushed hard to expand northern B.C.'s natural gas industry and boosted plans by Enbridge to build an oil sands pipeline from northern Alberta to coastal Kitimat, among other climate-damaging initiatives.
Then, only months after officially resigning as premier last spring, Campbell was named by Prime Minister Stephen Harper as high commissioner to the United Kingdom, one of Canada's most prestigious diplomatic postings.
It was clear from the start that Campbell had been enlisted to help defend Alberta's oil sands industry against the European Union's proposed Fuel Quality Directive. That legislation, which was recently approved by the European Commission and faces a final vote in coming weeks, is an "incredibly important" early victory in the fight against global warming, Berman said.
The legislation would help the climate by encouraging Europe's fuel suppliers to avoid selling any gasoline, diesel or jet fuel with a higher-than-average carbon footprint. Many see it as a tantamount ban on fuel imports from Canada, since the carbon footprint of viscous, corrosive, oil sands bitumen is 23 per cent bigger than regular, smooth-flowing oil, according to a European Union-commissioned study.
In response, an alliance of Canadian diplomats, Albertan politicians and European oil companies have been lobbying for years against any clauses targeting the oil sands.
"It's been absolutely reprehensible," Berman told The Tyee. "I have never been so embarrassed. You can't tell Canada's position on the international scene from Saudi Arabia's."  
Campbell lobbies for oil sands
In Edinburgh, Scotland, late last month, Campbell joined the offensive, telling BBC News that "the oil sands have the same kind of impacts as many other sources of energy globally. To pick out one doesn't answer the problem."
Canada actually exports very little oil sands bitumen to Europe, but officials fear that European Union climate initiatives could be copied in Asia, or even worse, by the United States, the industry's biggest consumer. Campbell went on to explain to the BBC that Canada takes climate change very seriously, and has "an enhanced regulatory code" for the oil sands.
There was no mention that Ottawa cancelled plans this year to regulate the industry's emissions; or that Canada's environmental commissioner, Scott Vaughan, doubts the federal Conservative government can even meet its modest national emissions targets.
"You're kidding," Berman said after The Tyee informed her about Campbell's pro-oil sands lobbying in Scotland. "I find that really shocking."
Even still, the Greenpeace International campaigner wouldn't recant her high-profile award to Campbell in Copenhagen. But she's now begun to question whether he deserved it. "He put forward a courageous and seminal policy on the climate," she said. "His emerging as tar sands apologist internationally does make one wonder who it was in his government that held water on the carbon tax."
Several days after Berman spoke with The Tyee, two anti-oil sands activists crashed a meeting of Canadian and European energy leaders in London, groping, kissing and slathering each other with molasses on top of a boardroom table (click here to watch a video). Campbell, who was in attendance, watched with a wry smile, eight time zones removed from his home province and its landmark carbon tax.