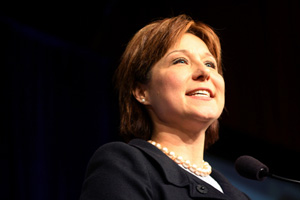 After months of hype and three days of related announcements, Premier Christy Clark told a Vancouver Board of Trade luncheon that the investments the government is making as part of her new jobs plan are small, but that they will make a big difference to British Columbia.
But observers from across the political spectrum described the plan as lacking substance, and said it's unlikely to do anything to boost employment in the province.
"The spending commitments we're making are pretty modest, and I'm proud of that," Clark said in the September 22 speech billed as an overview of the Canada Starts Here jobs plan. "Sometimes government needs to get out of the way."
She later told reporters that everything announced this week will cost less than $300 million. Rather than commit large amounts of new money to job programs or less direct stimulus spending, Clark stressed that it is up to the private sector to create jobs and that the government's job is to create an environment where that's possible.
How many jobs, she could not say. "I don't think it's responsible to try to come up with phony numbers," she said after a reporter said that by his count, the direct jobs from this week's announcements totalled no more than 3,000.
Job number predictions tend to turn out to be wrong, said Clark. "I'm not going to get into playing that game."
Clark committed in the speech to being the number one salesperson trying to attract investment to B.C., much as she had promised earlier in the week to do the same for increasing the number of foreign students in the province.
She also repeated a geography lesson, stressing as she had earlier in the week that the province should take better advantage of its proximity to Asia. That message will also be prominent in her September 23 speech to the BC Business Council "to outline how Asia plays a central role" in her jobs plan.
Money for Deltaport, new offices
For those looking beyond the rhetoric, the speech included the following promises:
- $50 million to improve the BC Rail tracks to Deltaport, part of a $200 million expansion the government says will add 600 to 800 jobs.
- $24 million to reduce the time it takes to get approvals and permits for natural resource development.
- Support for building eight new mines and expanding nine others, which the government says will add 1,800 new jobs in the sector.
- Creating a major investments office "that will work with investors proposing significant projects in B.C. to co-ordinate and accelerate government's activities to support them."
- Creating a B.C. Jobs and Investment Board "to promote economic development by promoting investment opportunities and identifying any issues and processes that may be limiting that investment.
- Creating an Aboriginal Business and Investment Council "to enhance Aboriginal people's capacity for economic participation, transcend traditional Aboriginal and industry silos in project planning and development and provide investors with the tools they need to engage and partner with B.C. First Nations."
Commitments made in announcements earlier in the week included:
- Plans to add an additional $3 million to the $30-million Small Business Venture Capital Tax Credit program, a move the premier said would "help small businesses access early-stage venture capital to help commercialize ideas, attract and retain employees, expand operations and bring their ideas to global markets."
- Increasing the number of international students by 50 per cent over four years, which Clark said would add 9,000 jobs and $500 million to the provincial economy.
- Creating an international education council to help sell B.C. education to countries such as China, India, Brazil and Saudi Arabia, and using B.C. trade offices to attract international students.
- Allocate $15 million towards a project to expand the capacity of the Port of Prince Rupert, predicted to create 570 direct jobs.
- Setting a goal to have at least one liquid natural gas plant operational by 2015.
Plan leaves people out, says Dix
Considering Premier Clark has said job creation will be the primary focus of her government, the much promised plan has turned out to be very thin, said BC NDP leader Adrian Dix.
"It's a bit of make-it-up-as-you-go-along," he said. "You have a jobs plan and there are really no jobs in it... After all the hype around this, this is an incredibly disappointing result."
Speaking to reporters following Clark's speech, Dix focused on the missed opportunities. "There's nothing for forestry," he said. "Nothing for tourism. Nothing for high tech. Nothing for the knowledge-based economy."
The government's own figures show that by 2020, some 80 per cent of jobs will require a post-secondary degree, but Clark's plan fails to boost access to that kind of education, he said.
"Really what we have is a plan that leaves the people out," he said. "No investment in human beings."
Nor did Clark come up with any way to turn B.C.'s natural resources into jobs for the people who live in the province, instead focusing on exports, he said. "It's an extremely disappointing plan."
Three pillars are sound, says Bell
The jobs package rests upon three central pillars, said Jobs, Tourism, and Innovation Minister Pat Bell.
The plan is to expand markets for B.C. products overseas, invest in physical and human infrastructure, and create "the right foundation" to stimulate job creation throughout the province by reducing taxes and regulations, Bell told reporters a few hours after Clark's speech.
Stressing the international bent of the Clark government's approach, Bell explained the jobs initiative would target "first dollar industries" -- those areas of the economy most likely to attract foreign investment or foreign customers.
Or as Clark had put it earlier, "We are going out aggressively in pursuit of that first new dollar to bring it into B.C. and get that circulating around. That's ultimately the only thing that will grow the economy."
The plan, Bell said, also highlights eight sectors where the government believes there's room to grow: forestry, mining, natural gas, transportation, tourism, agri-food, technology and international education.
"This program is sound, it will deliver, and I am confident that the province of British Columbia will have the most vibrant economy," said Bell. "Our premier is very excited about this."
CCPA economist: plan lacks substance
Despite Clark's feelings for the plan, economists expressed doubts.
"There's not much there," Marc Lee, economist at the Canadian Centre for Policy Alternatives told The Tyee. "It's all media strategy and very little actual substance."
Lee pointed to what he described as an irrational aversion to government spending and interference in economic affairs on the one hand, and a short-sighted commitment to resource extraction and export on the other.
"The government has trapped itself between its own commitment to fiscal austerity, which is exactly the wrong thing, and its commitment to resource extraction," Lee said.
While the infrastructure spending on rail and road corridors to ports in Delta and Prince Rupert could be characterized as exactly the sort of stimulus spending that economists at the CCPA support, Lee said it's doubtful the economic benefits of the projects will outweigh their environmental costs.
"We're trapped in this resource extraction mentality," he said. Spending on the ports is aimed at expanding exports from the province, which Lee said he worries will mean that much more coal, potash, and gas gets shipped out to Asian markets.
"It shows no vision whatsoever for the economy that we need in the 21st century," he said. "It's like we've rolled back the clock 100 years."
Fraser Institute: plan causes concerns
Niels Veldhuis, a senior economist at the Fraser Institute, said that while he likes Clark's basic approach, the lack of detail is troubling.
"The overall aim of the premier is the right one," he said. "I'm pleased there were no grand schemes."
Investors look for prudent government, a welcoming regulatory environment and a tax system that doesn't penalize them, he said. Former premier Gordon Campbell did a good job creating just such an environment, and thankfully Clark this week committed to continuing that legacy, he said.
A major difference, however, is that the Clark government's plan highlights eight sectors of the economy, something Veldhuis said he finds worrisome.
"There's very little detail on what they're actually going to do," he said. With transportation, for instance, aside from a couple small projects it's unclear what the vision may be, he said. "If you're actually starting to fund projects, that's a problem."
At that level, the government starts picking winners and losers, something it is ill-placed to do, he added. "They have no idea if indeed those are going to be the industries of the future," he said. "Industry-focused initiatives are not the way to create an overall economic environment."
After four days of announcements and the unveiling of the jobs plan, Veldhuis seemed underwhelmed with what he'd seen. "It has almost no detail. Does that equate to a major announcement? It's a nice framework piece, but I leave it at that."
He said he would be watching for more details to come. "If this is where it ends... this plan here is not going to make B.C. the job-creating engine they want it to be."
He also suggested the premier should concentrate more on developing appropriate policies than in fashioning herself as the province's number one salesperson. "The role of government is to make sure the policies are right and not to be the biggest cheerleader it can be," he said.
Cheerleading won't build province
B.C. Federation of Labour President Jim Sinclair said the 200,000 unemployed people in the province need the premier to do more than be a salesperson. "Business is perfectly willing and able to sell themselves," he said. "We don't need to sell British Columbia, we need to build it."
Trying to sell more resources, such as raw logs, to China is not going to build the province, he said. "That's not selling B.C., that's selling us out."
With official unemployment around eight per cent and shaky looking economic times ahead, people in the province need real help, he said. "There was not one job created today," he said.
Even the small number of jobs previously announced, such as for the Prince Rupert port expansion, won't necessarily go to British Columbians, he said. At the same time, the Crown corporation BC Hydro is laying people off. Sinclair's message to Clark: "Follow through and stop firing people."
Sinclair added that the province under Campbell already spent a decade cutting regulations in the name of attracting business. "At the end of the day it didn't work," he said. Over that time, the province lost 28,000 manufacturing jobs and 15,000 in the resource sector, he said. "We want to sell our products, not our jobs."
Overall the BC Fed gave Clark's plan a failing grade, Sinclair said, adding that if she were a Grade 9 student, she would have to do the year over.
As far as he was concerned, however, it will not be necessary for Clark to take another try in the premier's job.
[See more Tyee political coverage.]