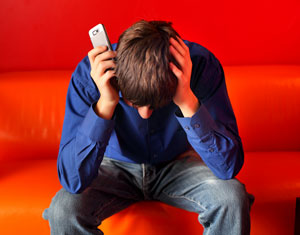 Remember the first time you heard the term "cyber-bullying"? A fast changing culture is adding new sources of stress for this generation of kids in B.C.'s schools.
Yet school counsellors -- the professionals trained to offer solace and guidance to students -- are quickly losing the ability to help with new demands, said Dr. Lynn Miller, professor of counselling psychology at UBC. It's because the ratio of counsellors to students is so wide, said Miller. She calls that growing gap "outrageous."
Before 2002, the maximum number of students per counsellor was set at 360 by the B.C. government. Since then, the number can be as high as 1,200 to one. And that not only makes it impossible to do their jobs adequately, it cheats students of their best chance to do well in school, she said.
Before the 1990s, counsellors were largely helping students with appropriate academic selection and placing them in the right classroom, said Miller, a former elementary and secondary school counsellor who now trains school counsellors.
These days counsellors are the go-to people when a problem erupts in the school. "A very significant part of your day is reacting to whatever the big problem is -- that day, that week, in that child's life -- rather than being proactive and preventive," Miller said.
"We're trained to be thinking about preventive activities. So teaching kids skills of emotion regulation, making good decisions, friendship development, conflict resolution. These are very hard to plan when you're reacting to a death, a crisis, a divorce, a fight or suicide threats."
Miller said cutting counsellors to meet tight school budgets carries a big risk.
Counsellors, she said, "are more necessary than probably nearly anybody else in the school because they are responsible for helping children with social and emotional aspects of their life. School counsellors' basic contention is, you can't learn unless you are feeling safe and secure at school, and how do you feel safe and secure? Well, only if your social and emotional needs are met."
In B.C., counsellors must have a B.C. teaching licence and a master's degree in counselling psychology or related field. They also require at least two years of in-class teaching time. Like teachers, they belong to the British Columbia Teachers Federation (BCTF).
Doing more with less
The number of school counsellors working in the province went from 991 in 2001-2002 to 879 in 2010-2011, according to the Ministry of Education, a decrease of 11.2 per cent.
Full-time public school students are counted at 540,696 for this coming school year in B.C., a 10.5 per cent decline since 2000-2001, according to the Ministry of Education.
And since 2002, 190 schools have been closed in B.C., according to the BCTF.
Although there has been a decrease in students, the impact of school closures means that more kids are crammed into fewer schools and that counsellors are taking on more kids every year.
In 2002, Bills 27 and 28 stripped teacher-student staffing ratios out of contract, which included school counsellor staffing ratios.
"Certainly, our ratio increased since then," said Connie Easton, a high school counsellor in Richmond since 1994 and past president of the B.C. School Counsellors Association.
Easton said prior to that year, one counsellor was capped at 360 students. Now she handles about 420 at her school, she said.
"It doesn't sound like a lot, but 50 extra kids is a lot of time. Especially if out of those 50 kids, five or six or seven are high-needs cases."
In April of this year, Bills 27 and 28 were found to be unconstitutional by the B.C. Supreme Court because they violate teacher's rights to freedom of association. The current status of reinstating staffing ratios into contract is in limbo, Susan Lambert, president of the BCTF, said. "In our view, government's position is that nothing has changed following that court decision."
"Since 2002, we've seen dramatic losses: about 200 schools closed, a terrible loss to communities; tens of thousands of overcrowded classes, where learning conditions have been damaged; 3,700 fewer teaching positions, a far more significant decline than can be accounted for than by lower enrollment," Lambert said in June when referring to the possibility of a looming teacher's strike.
When the teachers' begin classes on Sept. 6, they'll be working according to a "teach only" mandate under the BCTF strike provisions.
Lambert said although counsellors are technically teachers, they won't really be affected by the strike.
Sending kids in crisis to computers
School counsellors are trained in counselling psychology, but they often refer students out to services within the community. When those services are cut, however, they have little recourse.
"They've tried really hard in the ministry and the government at large has tried to fill in those gaps with online resources, thinking kids are tech savvy and they'll go online to get those resources," Connie Easton said.
"A lot of times kids are in crisis and they can't think beyond the end of their nose. They really need a caring adult to connect with and to work through their issues. If we're not available to do that, it falls somewhere else," she said.
That somewhere else tends to be friends or their teachers, if they can't resolve problems at home.
Vic Gladish is a counsellor at Sardis Secondary School in Chilliwack and current president of the B.C. School Counsellors Association. When he started counselling 11 years ago, he had a caseload of 350 kids -- this year it will be 480, he said. He thinks kids are getting short changed compared to when he started, in part because of cuts in community resources.
"In the first half of my tenure here I would refer a lot of kids out to Child Youth Mental Health and other community agencies, but there's such long waiting lists for those services, if they exist. Students get frustrated or they come back saying they didn't get what they needed," he said.
"Over that time there has been an erosion of services community wide, which means that here at school we're being expected to fill in a little more."
'They're facing more issues'
Easton said she's not surprised that a lot of kids are dealing with emotional challenges, explaining that schools are a microcosm of society. If there's an upward trend of depression and anxiety in the world outside school, kids will likely carry that with them.
"We are seeing anxiety at younger ages as well," she said. "Kids coming into high school are often flagged earlier and we have to transition them into high school because that's a big change for most kids."
"There's certainly more issues they're facing than they did 15 to 20 years ago. In terms of social networking and the pace of things and the pressures on families and economic pressures -- I think there's more coming at them and they need more support," she said.
Not only that, but the amount of students who need special education or ESL services are increasing, with less of those specialists to be found in schools as well.
"Our school population is quite skewed in terms of demographics. We probably have about 70 per cent of families that are either first-generation Asian or newly landed immigrants to Canada," Easton said.
"Those are big challenges there. They're international students, their parents are in Asia, they see them twice a year, there's all of that. That brings a whole layer of issues with it. As well as having to succeed in the pressure that's on them in terms of their cultural expectations to excel academically."
Digital stressors
Vic Gladish said that with the advent of social networking, cyberbullying and the proliferation of cell phones, it's hard to keep up with the types of problems kids are facing.
"When I started, that wasn't an issue. You didn't have 98 per cent of kids with a cell phone and there was no Facebook. So that has created a whole new category of issues that we deal with at school.
Numerous classroom resources have been developed to combat cyberbullying in recent years. The Canadian Teachers' Federation along with the national government developed their own source, Cyberbullying: Encouraging Ethical Online Behaviour.
They write, "Cyberbullying can be much more severe in its effects than offline bullying because the targets feel they have no escape. Also, given the wide scope of the Web, there can be many more witnesses to the bullying.
"School administrators and teachers are struggling to address this issue with students."
In a 2008 University of Toronto survey, one in five Canadian students surveyed reported having been bullied online in the past three months. And 44 out of 50 states in the U.S. have now passed anti-bullying legislation in part because of the damaging effects of online harassment.
"We have kids in our office, in distress because of a flurry of things that have been said over the last 24 hours," Gladish said. "Or we have a parent coming in to withdraw their child, because their child has been cyberbullied and they're getting further fallout in the school itself. I think that the bullying has always been there but it's coming at us from a different way now.
"A kid who said something to somebody over the internet the night before and looks the wrong way at somebody in the hallway, and all of the sudden, bang, there's a whole issue," he said.
Breaking point
Everybody has more on their plates these days, parents, teachers and kids alike. More kids, a host of new issues, less services and a decrease in overall enrolment is a trend that has been hitting schools over the last 10 years. And when enrolment is down, schools receive less money, because funding is based on per-pupil.
Jameel Aziz is president of the B.C. Principals' and Vice Principals' Association. It changes district by district, but generally principals are the agents who allocate school resources. They decide how many counsellors and teachers to have in one school.
He said that over the last 10 or 15 years, counsellors' "biggest change has been that their personal counselling role has been diminished by administrative tasks that are now being expected from government and ministry levels, which of course through the school system, eventually get downloaded to them.
"In the end, it's probably going to be no doubt that they don't know the student as well as they did at one time."
Although he thinks kids are getting adequate counselling services and that counsellors do a fantastic job, they like anybody, could do more with more time.
The luxury of time and resources comes with more money.
Ministry of Education funding made up 15.34 per cent of the provincial budget in 2009–10, down from 19.67 per cent in 2001–2002 and 26.36 per cent in 1991–1992 according to a research report by the BCTF.
"We can't keep being asked to do more with less people," Gladish said.
"I know in my school all three counsellors spend at least nine to 12 hours a day doing their job. At this time of year and in early September we'll be putting in 10 hours a day for a week or so. I'm here often from seven until seven in the early weeks of the semester."
He said he has had to turn away new students this year because their school is already too full.
'A school is a community'
The Ministry of Education announced in March that B.C. schools will receive a record high of over $4 billion in operating funding for the 2011-2012 school year. Per-pupil funding is at an all-time high of $8,357.
Critics say that the increases in funding are not adequate because they aren't keeping up keeping up with inflation.
Enrolment may continue to decline for a few years according to B.C. Stats, although the BCTF said that Kindergarten enrolment has increased this year and will be expected to do so over the next few years.
Immigrant students account for a big portion of new enrolees in public schools, but they often need specialized services and those services will continue to rise in demand with fewer resources to meet them.
Private schools are an alternative, but only for parents who can afford to pay $16,000 for a year of secondary at the top-rated school in B.C.
The most needy kids are the first to be affected by cuts to teachers and education. But as Connie Easton said, "We take everybody. We don't have the right to say no and we take them all.
School counsellors have an important role to play, said Easton, in making sure every child has his or her best chance to succeed.
"You know, a school is a community," she said, "and it's about way more than just the building and the marks. There's a lot more going on in schools and so many kids are success stories, but they're not in the top 10 of the percentile. That doesn't mean that they're not amazing young people that are going to make a difference in the world."