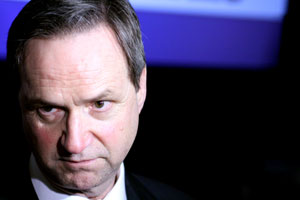 Just over 60 per cent of the province's 41,000 teachers participated in a strike vote that resulted in a vow to do nothing but teach this September if their employer and their union can't come to an agreement on a new teachers' contract by then. But with a possible provincial election this fall, how will a job action by one of the province's most powerful labour unions affect the deciding vote over our next premier?
The British Columbia Teachers' Federation (BCTF) revealed the results of their four-day vote this morning: 90 per cent of the 28,128 teachers who cast their ballots voted in favour of teach-only job action starting September 6 if a deal isn't reached between the union and the BC Public School Employers Association (BCPSEA). The two parties have been at the bargaining table since March, trying to hammer out a new five-year contract for the province's teachers.
"This is the latest chapter in a long and difficult history of teacher bargaining in this province," says BCTF president Susan Lambert, making specific reference to the passing of Bills 27 and 28 in January 2002 when Premier Christy Clark was minister of education.
"Since 2002, we've seen dramatic losses: about 200 schools closed, a terrible loss to communities; tens of thousands of overcrowded classes, where learning conditions have been damaged; 3,700 fewer teaching positions, a far more significant decline than can be accounted for than by lower enrollment.
"Teachers all over the province see the consequences of these cuts everyday in terms of students' needs that cannot be met. And now in this latest round of bargaining the government is, once again, trying to strip our collective agreements even further."
'That's not collective bargaining, that's bullying': Lambert
The BCTF is demanding the reinstatement of funding and staffing levels prior to Bills 27 and 28, which cut approximately $275 million in education funding -- $331 million in today's dollars, according to the union. They're also demanding an increase in salaries, saying B.C. teachers receive some of the lowest salaries in the country.
"Teacher salaries in B.C. lag far behind those across Canada, while the cost of living here, especially in the Lower Mainland, is highest in Canada. There has been no improvement to benefits in almost 20 years," says Lambert.
Their employers, however, have responded with a net-zero mandate for the public service, in addition to eliminating seniority rights, allowing teachers to be transferred at any time with only a month's notice, and introducing yearly evaluations of teachers, where one bad evaluation could result in termination.
"The employer is offering us nothing, and at the same time demanding that we make significant concessions. That's not collective bargaining, that's bullying," says Lambert.
The union is hoping the announcement of the voting results will be enough to make the BCPSEA change their offer before September. Education Minister George Abbott is also optimistic the two sides will reach an agreement before the fall.
"What I'm hoping is that the two parties will continue to work hard and work constructively at the bargaining table. There is nothing inevitable here, and it's important that the parties continue to exchange proposals and continue to try to work hard to reach an agreement," Abbott says in a recorded statement emailed to The Tyee.
But if bargaining remains the same, Lambert says the teach-only job action is designed to put increased pressure on school administration, which she hopes will translate to increased pressure on their employers. If that doesn't work, the vote gives the union the mandate to increase the job action all the way to a withdrawl of teaching services. However, Lambert says she doubts it will come to that, and in the meantime parents and students should see improvements in education.
"Teachers will continue to be focused on excellence in their classrooms. Because we won't be doing many of the bureaucratic and administrative tasks that have been added onto our jobs, we will have more time to teach, to offer individual attention to students, and to keep in close communication with parents," says Lambert.
Strike could be spun against NDP: Pilon
Lambert says it's a coincidence that job action could happen during a fall election campaign as the teachers have been bargaining for three months already. But a teachers' strike could have unintended consequences for the New Democratic Party, who receive strong support from the province's labour unions.
"The NDP is in a tough spot because they need the support from labour but at the same time will try to distance themselves from a strike," says Dennis Pilon, a professor of political science at the University of Victoria.
"The Liberals will try to use this strike against the NDP, even though the Liberals receive more support from businesses than the NDP receives from labour."
Pilon says the media often present unions as a bad thing, which can affect public opinion, particularly when focusing on how the strike could affect services the public receives as opposed to the reasons for workers going on strike, and the right wing will use this public perception to their advantage.
"The right will spin it as saving the public from irresponsible workers," he says.
But despite the fact rumours of a teachers' strike before the 2005 provincial election had a negative effect on the party, Robin Austin, NDP critic for education, early learning and literacy, isn't worried about public opinion being against the teachers this time around.
"The number of emails that I get in my inbox from parents, from trustees, from administrators, demonstrates that people are really concerned about the quality of our education, and they're not really focusing on the potential battle between Christy Clark and the teachers' federation," he told The Tyee.
"I think people are concentrating and recognizing that a whole whack of money was taken out of public education as a result of those two bills, and I think that's where the focus is, and that's certainly where we're going to be keeping our focus."
Calls to Premier Clark's office were not returned by deadline.