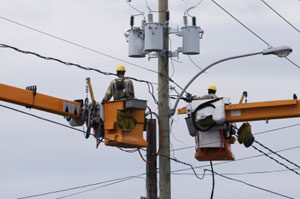 Two weeks have passed since the Clark government called upon BC Hydro to save money by cutting as many as 1,200 jobs. The study making the recommendation, titled "Review of BC Hydro," triggered immediate outraged response from unions representing BC Hydro workers.
Missing from the conversation so far have been people who go to work every day inside BC Hydro.
Five of those workers spoke with The Tyee about what they think is wrong with BC Hydro, the government report and the news coverage of it all so far.
From these conversations emerged a picture of a workforce wracked by uncertainty about how many jobs will actually be axed and confusion about where the fat supposedly lies in their ranks.
They warned that contracting out jobs will create false savings, cripple planning and eventually reduce BC Hydro to bare bones.
And they cited what they said were the biggest threats to BC Hydro and its ratepayers -– a billion dollar Smart Meter program and high priced contracts with private power producers locked in by order of the BC Liberal government.
If the workers interviewed by The Tyee are typical, morale is plummeting inside BC Hydro as employees feel victimized and belittled in media coverage flowing from the review.
Unknowns
Maciek Dobrowolski, the only BC Hydro worker who agreed to be identified by name for this story, was on vacation when the government released its bombshell. First he read about it like everyone else in that day's news. Then the emails from frantic coworkers came tumbling into his inbox.
Dobrowolski works at the Nanaimo District office as a design technologist.
If a new building needs power, he is the guy who figures out how to make the connection. Asked how long he's been helping in this way to design the piecemeal expansion of the province's electrical grid, his answer comes quick and precise: "Three years and three months." He is 27 years old.
Over the course of the last two weeks, says Dobrowolski, the atmosphere has been notably muted around the office.
"We hear all these things in the media and then we hear them again internally from our own management, but there's a lot of gray area, a lot of unknowns still," he says.
One of these unknowns sticks out above the rest: how many of Hydro's approximately 6,000 employees will still have their jobs by the end of the year?
About that, the government's 124 page report is surprisingly vague. Buried on page 43 is the call for "a more reasonable staffing level" at BC Hydro of 4,800. As to how those cuts should be made, the panel alludes to "utilizing internal and external resources" along with "direct reductions."
To confuse matters more, in a conference call held immediately following the publication of the report, BC Hydro CEO David Cobb reportedly told staff members that the implied cut of 1,200 was unrealistic; he expected a final figure closer to 350 over the course of three years.
"There has been no clear message," said one worker in BC Hydro's legal department. "The review is out of the bag, but it would be nice to have some sort of clarity one way or the other."
The company is expected to announce the exact figure and composition of any layoffs by the end of September.
Stretched already by Hydro's agenda
All the workers interviewed said they are mystified to hear that BC Hydro's workforce is targeted for reduction despite a need to shore up the energy producing capacity of the corporation.
"It just doesn't make sense to me to cut jobs when you want to do expansion and grid revamping and grid improvement," said the legal department worker who has seen a rise in infrastructure work in recent years.
A worker in BC Hydro's design department said, "My department, we're already really short-staffed." With limits on overtime pay already in effect in some departments, she said, workers can be hard pressed to get jobs done on time.
As she sees it, the government is asking the impossible in insisting that the company simultaneously reduce its workforce, cut costs, moderate rate hikes and provide high quality service. Even now, before the coming layoffs, she and her colleagues are constantly going over deadline on assignments for clients.
"Customers complain to their MLAs and it just gets escalated," she said. "It's like they're setting us up for failure."
The BC Hydro review cites various statistics in painting a picture of a corporation that employs too many workers at too high a cost. Example: "Between 2006 and 2010, BC Hydro experienced a 41 per cent employee growth."
But an analysis by COPE 378 of the ratio of workers to revenue at BC Hydro counters that the Crown corporation's employees "are among the most productive and profitable in British Columbia."
BC Hydro workers interviewed by The Tyee pointed out the company's existing network of physical infrastructure, from the point of power generation all the way to the end-user, is in need of a long-term -- and long overdue -- overhaul. This, they say, justifies the dramatic increase in employment noted by the B.C. government's review.
It's a point substantiated by the report itself, which clearly identifies "increased maintenance on aging infrastructure and increased volume of work resulting" as the main cause of rising operating costs.
Or, as David Black, president of COPE 378, put it, "Those chickens are coming home to roost."
"There's a huge increase in the amount of maintenance we have because for the past 30 years, BC Hydro has not looked at its infrastructure," confirmed BC Hydro worker Dobrowolski.
"The general impression from the design community," said Dobrowolski, "is that we're looking for more help, we have a huge amount of work to do, and then this review comes out asking us to lay off more employees. Really, it's confusing."
The other workforce
Some of the workers who spoke to The Tyee predicted that the shortfall between the work required and the labour available will be filled by outside contract workers. In fact, that's part of the business model already.
According to Jim Greenwell, senior assistant business manager for the International Brotherhood of Electrical Workers local 258, in many areas, these "contractors that work for Hydro are considered the contingent workforce."
From a managerial perspective, it's easy to see the appeal of private contractors. Without incurring any of the supplemental costs of a full-time employee -- from pensions to pens and paper -- contractors give the company flexibility in responding to fluctuations in customer demand.
Yet for their variable services contractors are paid more -- in some cases three times more -- than their in-house counterparts.
"They need some work done and they need it done fast so, at inflated cost, they give it to a contractor," explained Dobrowolski. "If they were to hire an employee, that employee would be there for 40 years."
One Hydro worker who spoke to The Tyee has watched his employer's increased dependency on this outside "contingent workforce" with growing distrust. He doesn't perceive the government's recommendations to cut jobs as a one-off response to specific economic or business conditions. He sees it as the latest step in an effort to emaciate the full-time staff at the Crown corporation.
This worker emphasized that his opposition to further contract work isn't solely about self-preservation.
In his area of grid design, those who are paid per job do not have an incentive to build in additional capacity in the anticipation of further development.
"The consultant is making extra money and the developer is making extra money as well because they don't have to build as much infrastructure," he explained. "I think it's going to end up costing the ratepayer a lot more down the road."
The review of Hydro does address some of the perceived inefficiencies behind BC Hydro's use of contractors. Calling for the company to "implement stronger policy to ensure appropriate use of contract services," the report recommends that the use of outside sources be prohibited where Hydro employees could perform the same job at the same cost.
Still, some are unconvinced. Dobrowolski believes BC's Liberal government holds a philosophical preference for contractors.
"It's based on ideology," concurred David Black of COPE 378. "They'll eliminate the jobs of 1,000 people, but replace them with 1,200 contractors."
Where might that lead? One of the workers expressed his pessimism this way: "You're going to see a lot of people doing work out there for BC Hydro but not wearing a BC Hydro badge."
Over time that approach will turn BC Hydro "into a skeleton."
Who screwed up?
As workers throughout Hydro wait for the axe to fall, their anxiety has been compounded by a sense their reputation is taking a beating in the public eye.
"I think the most disappointing part of it has been the media and how they latched onto the 'Hydro Fat Cat' story," said one worker. He believes the government's report has "trashed BC Hydro," unfairly portraying the workforce as beneficiaries of union privilege -- overpaid, underworked and over-entitled.
"But it's the government's screw-ups that have put us in this situation here," said the worker. Screw ups, he said, like the Smart Metering Program and the long-term energy contracts signed with independent power producers. Those contracts guarantee those private companies, most of them owned by entities outside of B.C., purchase prices for energy far above the going rate.
Another worker called those IPP agreements "a big boondoggle."
Indeed, the five employees from across the province were united in their view that the troubles facing BC Hydro have little to do with the company's work force and almost everything to do with politics.
"There are systemic issues that aren't being addressed," said one worker. "They'll fire a bunch of people at Hydro but will that really change things?"
The workers doubted even deep job cuts would deliver significant savings to BC Hydro customers, given that the government's review of BC Hydro calculates that labour costs, including overtime pay, sick pay and compensation benefits, will account for just 14 per cent of the company's budgeted costs for next year.
'Feeling victimized'
In the words of the report, downsizing to meet the necessary staffing levels presents "a challenging target" to the Crown corporation.
But one IT worker at Hydro offered The Tyee a different way of describing it: "We've really been screwed."
"Management, staff, all BC Hydro employees are feeling victimized," said the IT worker, who has been employed by Hydro for two decades. "The rationale for many of the changes, especially the ones that affect the staff at BC Hydro, are not making a lot of sense to the people there being affected"
A female employee interviewed by The Tyee lives in the Lower Mainland, has a husband whose job is also under the chopping block, and said the projected workforce cuts have her worried about making mortgage payments.
Her concerns are echoed by the legal department worker. He and his partner had a baby last summer, and are looking for a new house. Now they are holding their breath to see if they can plan for their future.
Another worker said the threat of cutting BC Hydro's workforce by 20 per cent had left him "galvanized." He has worked at the company for two decades and held six different positions within the company. He has weathered every one of the staff reorganizations that seem to sweep through Hydro with every election and he survived last year's merger with the BC Transmission Corporation.
But the changes proposed by the government report, he said, will be the most severe.
What is being felt by this worker, and others in the trenches with him, was betrayal -- "the worst emotion that a human being can experience."
"We have very dedicated people here who go beyond what is required of them," he said. "Because they believe in the company, they like to make a contribution, they know the importance of BC Hydro to the province."
"Now it feels like we've been kicked in the teeth for our efforts."