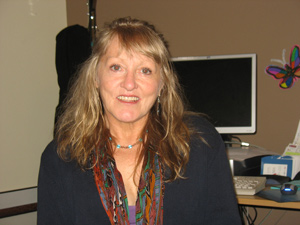 The first time Paula Armstrong visited The Rainier Hotel, a renovated heritage building in Vancouver's Downtown Eastside, she could barely climb the stairs to the second floor. A decade spent living on the streets, wracked by addiction and poverty, had left Armstrong close to death. Chronic Obstructive Pulmonary Disease had cut her lung function to a strangled 28 per cent, and she weighed barely 100 pounds. She had to pause several times during the one-story climb to desperately catch her breath.
"When I came to The Rainier," Armstrong recalled, "I looked like death."
Armstrong has lived now for nearly two and a half years at the Rainier, which is nothing like your usual SRO. The hotel offers an array of programs, including gentle yoga, tobacco cessation, nutrition classes, anger management, meditation and a creative writing group.
"This place has saved my life," said Armstrong recently. "I am proof that recovery is possible."
Her recovery has been so dramatic that the woman whose ravaged lungs made it impossible to climb a flight of stairs without pain is now playing competitive soccer with the aptly named Phoenix soccer team. In August she and four others Phoenix members will fly to Paris to compete in the World Cup of Street Soccer. Two of her teammates live at Covenant House, a youth shelter, and the other three women live in poverty in the Downtown Eastside currently and have experienced homelessness within the last two years.
In July, Armstrong and her team mates traveled to Alert Bay, where they competed in a soccer tournament and were honored guests at the local band's pot latch ceremony.
"I am so excited about life now," Armstrong said with a radiant smile. "I am playing the piano again and I have had my first poem published in the Megaphone street paper. I have my life back."
'A project that cares'
The Rainier Hotel, a heritage building that went up in 1907, was bought and renovated in 2009 to provide the setting that has helped Paula Armstrong, and many others, turn their lives around.
The purchase, renovation and some ongoing programming at The Rainier were funded with $9.5 million from the province and $5 million from Health Canada. The program is jointly operated by Vancouver Coastal Health and the Portland Hotel Society.
According to the Vancouver Coastal Health website, The Rainier Hotel project is designed "to provide alcohol- and drug-free housing for women in transition from detox. The Rainier residential stabilization and treatment program is designed for woman in the sex trade struggling with addiction and mental health issues." The hotel houses a 20 unit recovery program on the second floor and 21 self-contained units for program grads on the third floor, where Paula Armstrong now lives.
The Rainier provides supportive staffing on a round the clock basis for residents, May Kwan, one of the project managers, told The Tyee. She said that residents typically move out of treatment and upstairs into one of the third floor units within three to nine months.
"We're a project that cares," she said, sitting with a visiting reporter in a cheerfully cluttered office at The Rainier. "This is an amazing project. We try to meet women where they are, and help them discover who they are."
Kwan, whose previous experience is primarily in small business, described her involvement with The Rainier as "a new adventure."
'Culture of safety'
Monika Stein, Vancouver Coastal Health's manager of harm reduction programs, was at The Rainier the day The Tyee visited. The refurbished hotel is one of three harm reduction programs she oversees for VCH. She told The Tyee that The Rainier's annual budget came to $1.4 million, with two thirds of that going to staff salaries -- including mental health workers, program managers, counselors, case management, social work, nursing, doctor and psychiatric care and consultation.
"There are three mental health workers on 24 hours a day, seven days a week. Core clinical and professional staff are available weekdays. Programs run seven days a week from morning to evening," Stein said.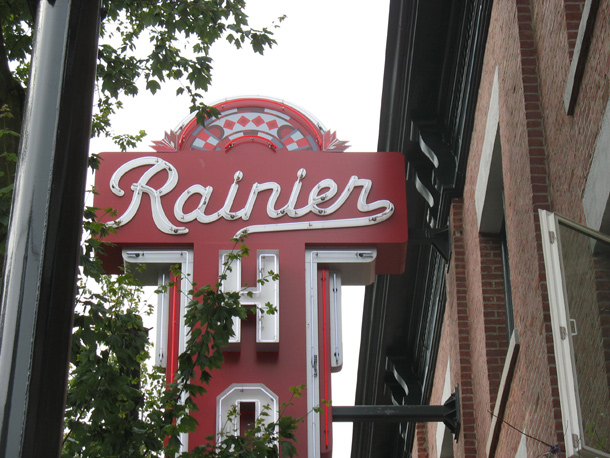 Cailey Lynch, the energetic young nurse who was on duty when The Tyee visited The Rainier, said that the project allows her to reach women who would otherwise be disconnected from health services.
"It's really all about relationship building," Lynch added. "You just have to keep loving them. We foster a climate of respect. I am continually amazed by the resilience of these women. They are real survivors."
"The hardest moments," Lynch said, "come when I am listening to the stories of trauma and abuse these women have to tell. The best moments come when I see them building on their existing strengths and reinforcing them."
Lynch calls her work at The Rainier "a fantastic kind of nursing," and singles out the "culture of safety" created by the project's all woman character for special praise.
"Our hope," she said, "is to create a place where women can have some respite from the abuse they have survived."
She said that her practice at the hotel deals with gynecological and reproductive health issues, infectious diseases, chronic pain, gastro-intestinal disorders and skin conditions as well as with addiction.
Lynch is particularly proud of the stop smoking program that supports residents in getting off tobacco. She noted that tobacco-related illness kills half of all those who beat addiction to illegal drugs. All the women who completed the most recent eight-week cycle of smoking cessation meetings had succeeded in bringing their tobacco use down to one cigarette a week or less.
'Walk with them through recovery'
Sarah Klinkhamer is a young counseling psychologist who has been at The Rainier since April 2009. She conducts one-on-one counseling and leads three group sessions a week. The groups, called Seeking Safety, use a 25 chapter workbook and focus on an integrated approach to trauma and substance abuse, she told The Tyee. She emphasized that the Seeking Safety groups are not just educational, but include a lot of group discussion grounded in women's experience.
"We operate with an 'honesty protocol,'" Klinkhamer said. "If group members have a slip or a relapse into substance abuse, that leads to conversation and active outreach, not to expulsion from the program."
A woman who falls back into drug use while at The Rainier is not automatically evicted, as is the practice in some programs, Klinkhamer explained. A bed can be held for up to 30 days while a resident goes through detox again.
"I believe this is the only way to help people in recovery," she said. "Discharging people for relapse is ludicrous. You have to walk through recovery with them. I love this work. It is so meaningful."
The Tyee met Robin Massey during a visit to Community Thrift and Vintage, a Cordova Street shop and social enterprise associated with The Rainier. The Montreal-born woman was hard at work repairing donated garments for the shop when she agreed to pause for a few minutes and talk about her volunteer experiences with the shop and with The Rainier Hotel, where she has lived since Nov. 2010.
"Moving into The Rainier was an excellent choice for me," she said with a smile. "I was living in an SRO in Chinatown and suffering from Post Traumatic Syndrome and I was terribly isolated and experiencing flashbacks. I approached the Rainier to ask about getting access to a 'screaming room' where I could deal with the flashbacks, and they offered me a place to live."
Massey has been a trainee at the store since the first day it opened, and during a typical shift she steams new clothes, hangs the garments, does repairs and runs errands.
"I sew on a lot of buttons," she laughed.
Enterprise in a tough place
Community Thrift and Vintage manager Jennie Lee Nelson said that her shop had been open for a month when The Tyee visited in early July.
"Our purpose is to employ and empower women from The Rainier," Nelson said. "We offer a graduated training program that gives women some income and some valuable retail experience."
The small, well laid-out store employs five trainees and two part-time managers in addition to Nelson, who has had a decade-long career in the vintage clothing field, including work in New York City. Nelson said the project took a year to develop, and she is already seeing the impact it can have on women's lives.
"I can already see women's growth," she said. "I am blown away by how good they are with customers."
Nelson emphasized that the store is designed to be self-sustaining, and will, when up and running successfully, not require any subsidies or government grants. In fact, the plan is that the shop will generate profits that will be distributed to Downtown East Side charities. Already, unused clothing from the store is being set aside for donation to the Downtown Eastside Women's Centre.
"The Rainier and this training are giving me a new lease on life," Robin Massey told The Tyee. "The staff really understand the healing process. I really like the gentle yoga classes and the grief and loss groups."
Massey said her long-term hope is to open her own yoga studio, saying she built her schedule of work at the store and other activities around the twice-a-week yoga classes offered at The Rainier.
On a luminous, sun-lit walk down the Downtown Eastside's mean streets after visiting The Rainier, The Tyee observed all the area's daily horrors: junkies injecting drugs in back alleys, gaunt survival sex trade workers trolling for customers and hollow-eyed figures leaning in the doorways of what one neighbourhood worker has called "Canada's largest outdoor hospice." It is tempting to believe that this is a place where hope comes to die. But the heritage neon sign outside The Rainier Hotel, defying all the heartbreak, signals the existence of a project there that is busy saving lives, one woman at a time.