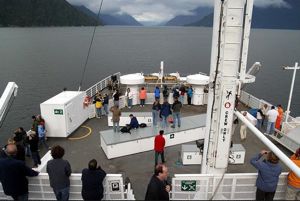 While new BC Ferry Commissioner Gord Macatee takes public input this summer on proposals to raise ferry fares, the premier has already taken an earful of complaints. Besides the debates on radio call-in shows, letters to the editor, and blogs, there were at least 44 emails on this topic sent to premiers Gordon Campbell and Christy Clark from February to May of this year, which were accessed by The Tyee under the Freedom of Information Act.
In February, BC Ferries president David Hahn, citing higher fuel costs and fewer passengers, submitted a request to the independent ferry commission to boost fares by 20 per cent on major routes, 50 per cent on minor routes and 100 per cent on the northern routes over the next four years. If fares do not rise, the province must increase its subsidies or services will have to be cut, he said, adding that B.C. government would need to top up its yearly $150 million subsidy to BC Ferries by $25 million.
At the time, former Liberal transportation minister Kevin Falcon told the Globe and Mail that Hahn's ultimatum was just a scare tactic to squeeze a higher subsidy from the province. Falcon believed the commission will likely find ways to conserve cash before recommending huge rate hikes: "There will be no massive rate increases that David is projecting. That is my prediction. . . and there will be very few changes to routes, too."
Fare caps are set every four years to control the amount of money BC Ferries charges its customers. On March 31, the commission issued its preliminary decision on price caps for the company's next performance term that begins on April 1, 2012, and it scaled down Hahn's request, while stressing that this ruling is not final.
This decision -- which includes a target for future productivity gains and reflects reductions in BC Ferries' annual operating costs -- was to set 4.15 per cent increase in average ferry fares on April 1 of each year from 2012 to 2015 on the major routes from the lower mainland to Vancouver Island and to the Sunshine Coast; an 8.23 per cent increase per year in average ferry fares on all other routes. (On April 1, ferry rates went up 8.2 per cent on minor routes such as Bowen Island.)
Then in May commissioner Macatee announced a review into B.C. Ferries and the Coastal Ferry Act, committing to engage "with the public and key stakeholders."
The B.C. government is also taking input and will make its own fare recommendation to Macatee, who has the power to set the rates, and who will make his final ruling in September.
Freezing fares not practical: Minister Lekstrom
Prince Rupert NDP MLA Gary Coons, who is also the party's ferries critic, said fares have spiralled out of control since the B.C. Liberals privatized the ferries in 2003 and called for a moratorium on fare hikes until a review of the privatization is conducted. In early June, the Liberal government blocked his attempts to amend legislation introduced that would lower the cap on any increase on ferry fares to only 4.15 per cent. Coons tried to amend the bill so that it would freeze all fares for now, but was voted down along party lines.
Transport minister Blair Lekstrom said that freezing fares does not make financial sense. "I think most British Columbians recognize today that these are financially difficult times. I think the member (Coons) would concur with that . . . although zero is a nice number, which means the rates would be frozen, it just was not achievable nor responsible," Lekstrom told the legislature.
The public's fears include the separation of family members unable to afford to visit each other, their inability to remain living on the islands, and the ruin of small businesses. One common B.C. users' complaint (beyond their primary grouse over Hahn's $1 million annual salary) is that BC Ferries is ideologically shifting away from serving local communities in favour of providing a cruise line for tourists. For example, on its website, BC Ferries' public relations firm the Tartan Group boasts that: "As BC Ferries has grown, we have re-positioned it from an extension of BC's road system to a travel and tourism product that puts customers in the heart of BC's coastal splendour."
It's not clear how the government will receive the public input. Lekstrom expressed deep sympathy for ferry users. But Coons said that when NDP MLA Doug Routley rose to speak in the Legislature about the fares' effect on coastal B.C. families, some Liberal MLAs catcalled "Boo hoo!" across the aisle.
Ferry rider emails to premiers Campbell and Clark:
The emails (with the writers' identities properly withheld by the government for privacy reasons) are reprinted below, edited for length. Citizens can send their input to the BC Ferry Commission at: [email protected].
1. Our family lives in Delta, has property in the Gulf Islands, and family in Victoria. We already use the ferries as little as possible because of the cost. We hate the NDP, but if you raise our rates one more dime, you will never see another Liberal vote from our families on both sides of the water!
2. Fire David Hahn. Make BC Ferries a public service! The ferry is my highway.
3. Regarding the cost of ferry travel, many islanders are at the breaking point, and my family in particular is faced with having to sell our home of 19 years and downsize as the cost of commuting is becoming a major concern.
4. As B.C. seniors on pensions, we can hardly afford to travel on our BC Ferries now due to the cost, and now they are thinking of raising the prices -- to almost double price! . . . It will be the death of the Island business. . . I vote for a tunnel or connecting bridges and do away with the ferry system.
5. The cost has reached a point in our lives for all ages that we can no longer afford to live on our island that we love so much. We are constantly informed that because we have chosen an alternative lifestyle, the cost of ferries is the result. We see the islands being taken over by the rich, and so many properties have been bought for summer vacations only. These individuals give very little to the community. . . I see the elderly on the ferry with huge backpacks loaded with the weight of commodities because they cannot afford to take their car over. So many young families are choosing to leave the island because of the cost of the ferries.
6. I do believe that permanent residents of Vancouver Island should have a different pay scale for using BC Ferries or be offered somewhat of a discount. . . . perhaps a referendum would be good idea to see if the government should take BC Ferries away from Mr. Hahn.
7. I hear more and more about the financial woes of BC Ferries and don't hear any fixit ideas. I drive the Island highway daily and see the ferry sign and very seldom see it much about 25 per cent full on most sailings. Do we really need a sailing every hour? Why not cut it back to five sailings a day or whatever it takes to cover the traffic flow. Yes, people would scream and holler for a while, but wouldn't it make more sense to run fewer sailings but run them full?
8. This is a sensitive topic on the Sunshine Coast where the community relies on the ferries for essential access to medical care and employment. . . . Why is there advertising on the boards at hockey games, and why can BC Ferries afford to pay a role in sponsoring events?
We are forced to rely on the ferries as an extension of the highway. The cost of parking in the lots associated with the ferries has risen to the point where they are forcing cars back onto the ferries. The retail approach is the one clever thing that David has accomplished. The gift shops and food innovation are things of choice for discretionary spending.
The best way to make the ferries pay for themselves is to install some sort of gambling in a protected part of the vessel where the gamblers could board first thing in the morning and stay all day for the cost of a special pass. Cruise ships do this and that pays for the whole fleet.
9. Ferry fares are already so high that we – a family of four living on ten percent of what Mr. Hahn makes – can't afford to visit the family on the Gulf Islands more than once a year. I don't mind paying a reasonable amount to use the ferries, but I do mind – immensely – that the man running a key part of our public transportation system takes home a very cool million dollars a year in salary and then threatens to hold us all hostage once again.
10. (From Pender Island resident) I have been very upset for years, watching BC Ferry Corp. waste our money on frivolous upgrades and additions to the vessels and buildings. . . . They're renovating again after only a few short years, not to mention the flat panel TVs on vessels plying some of the most scenic waterways in the world, on voyages that last a mere 1.5 hours. Do they think more people will use the ferries just because the terminals look nicer or the boats are nifty inside?
Entire communities exist solely because solely because of reliable, affordable ferry service. My partner and I have a business, a life and a home we built here. It will become impossible to stay here if the fares are doubled as suggested. It will force many of the community to move off, and will affect housing prices and industry.
11. Aren't ferries part of the highway system? Why is the ferry system now solidly for profit? I guess I've missed the boat here – of course the ferries are private for profit!
12. It angers me because I am on a pension, and cannot afford to take a ferry over to see my grandchildren because of the cost. This should be part of the highways – either that or build a bridge. The money you save on employees and fixing/buying ships you could put towards the highway.
13. If these fares keep rising at this rate, the islands will be strangled.
14. Most of the permanent residents of our [Saltspring] island and other islands are not wealthy, contrary to what people elsewhere think. Raising the ferry rates will not stimulate the economy, but cause less people to travel to the islands. . . . If there are places in the province where the ferries operate under the highways, wouldn't it make sense for the coast to have the same system as it seems part of the highway system?
15. We live in the Okanagan, and it is well known that many people do not go to Victoria because of the current rates. We have stopped our twice-yearly habit of going to Pacific Sands in Tofino - its easier going to Banff. Vancouver Island is part of our provincial economy and does not need to be further isolated. The majority of B.C. taxpayers have humble incomes and every increase just slows the economy more.
16. This is just our thoughts from people outside of B.C. who HAD planned a vacation, and are now having second thoughts. Right now if this increase in ferry fees goes ahead, we think our money will go much further south of B.C.
17. Thank you for getting involved in the gargantuan price increases that both BC Hydro and BC Ferries were proposing, as we live in one of the most expensive places in the world and we already pay enough tax.
18. We used to enjoy travelling to Vancouver Island for many years. We however no longer consider this an option. It is much less expensive to travel elsewhere. B.C. is a wonderful place, so let's keep B.C. for the people of B.C. as well, not just for travelers from other parts of the world, who invariably are able to acquire better travel options than we are.
19. I was thrilled to have you [C. Clark] voted in as premier, and when you stated at the very beginning saying that maybe the BC Ferries Corporation should take a lower paycheck if the ferries needed more money, I can tell you that I was IN. You were the one for me. I hope that has not changed.
My daughter and granddaughter live in Langley. I am a senior citizen and still working . . . and I cannot afford to use the ferries except for rare occasions, and my family cannot afford to make too many trips either. When I was a child, we rode the ferries as a Sunday drive. The (American) CEO of BC Ferries needs to get in touch with the people. The ferry services should not just be for the RICH.
20. BC Ferries is out of control. In my opinion, the decision to privatize BC Ferries in 2003 was a mistake. It is now a money-hungry corporation that is taking advantage of us Vancouver Islanders.
21. The Sunshine Coast geographically is considered part of the lower mainland and this is our highway to the city. We are not like Vancouver Island that has a Costco and everything else they need including a big hospital, medical specialists, larger stores, etc.
22. I am aware that the Commission operates at "arms length" from the government. That said, it still needs to answer to and be responsive to the government and to the people.
23. There have been newly purchased vessels added to the Vancouver Island fleet, yet the Sunshine Coast limps along with decades old vessels, resulting in frequent breakdowns and delays. My first concern is with the inadequate service level of the Sunshine Coast during the summer months. . . . My second concern is the ever rising fee schedule. As a resident of the Sunshine Coast, I have curtailed trips to Vancouver due to increasing ferry fares. As fares rise, people will restrict their non-essential travel, resulting in decreased ridership and revenue for the Ferry corporation. As the proprietor of a bed-and-breakfast, I have been informed by guests that the rising cost of ferry travel is a concern.
24. My son is getting married on Gagliano Island and I was trying to make ferry reservations to bring my small trailer over there for the weekend. I could not believe they want $362 to go to Gagliano Island and return! The province wants people to stay and holiday locally; well, this is 362 very good reasons why we go out of province. It's about time your Party took control of BC Ferries!
25. Due to the high costs, families and children can't afford the high rates for passage. Needless to say, most residents on the Island have had about enough with executives at BC Ferries receiving large pay increases at our expense.
26. I am a retired small businessperson living on the Sunshine Coast. I have a very limited income, $700 a month. . . . total cost for me is going to be over $100 just to visit my grandchildren in Langley. Do you think this is fair? We don't even have proper medical care in Sechelt and need to go to the mainland at our own expense so many times, but when comes the time for the rich to go skiing and use that new Sea to Sky highway, they do it and we pay for their leisure! Why no toll on that highway?
27. Since we moved here [to the Sunshine Coast] in 2003 there have well over 10 fare increases. . . . BC Ferries is not willing to look in-house to cut any of their expenses but continues to increase ferry fares (and then can't figure out why ridership is down). BC Ferries continues to spend money in advertising in the most expensive venues in Vancouver such as Rogers Centre and BC Place, something that is completely unnecessary.
Geographically we are considered part of the lower mainland and the ferries is our highway. There are only three school districts on the Sunshine Coast, and as such the hundreds of families who have children in soccer, baseball, basketball and dance have to travel the ferry many times during the week in order to play with teams that are in the lower mainland. Raising fares again will hurt families trying to keep their kids in sports.
In addition, there are over 800 commuters who from the Sunshine Coast who take the ferry daily to Vancouver for work. If the Liberal party is trying to hurt the working families, this is one way. . . . If this fare increase is passed, our food and gas prices will go up here again, our real estate prices will go down, small businesses will be forced to close, and families will have no choice but to take their children out of sports. . . . By denying the proposed increase, BC Ferries will have no choice but to look in-house to sort out their own budget.
28. Does BC Ferries not realize that the ridership of their customers is declining because of the rates they are charging?
29. See if there is anything you can do to stop the increases that BC Ferries keeps imposing on us while padding their own pockets.
30. As a resident of a Gulf Island, I hope your new administration will agree with the majority of islanders that these rate increases are crippling and isolating us.
31. The cost of the ferry is totally outrageous and I am sure it will hurt tourism and Vancouver Island families.
32. I moved to Pender Island with my husband in 2003. We chose this island because of the rising housing costs in Victoria and could not afford to buy a house. We planned on commuting back and forth during the week. When we made the decision to relocate, our ferry rates were about $16.10 per trip, which I could easily afford.
After eight years of trying to commute, our rates are now $30.50 with my cost-saver card and my business cannot absorb any more increases. If the rates continue with the 8 per cent yearly increase as BC Ferries plan, my three day commute with cost $480 per month in five years! My livelihood and passion for teaching children is about to come to an end all because of a mandate that the Liberal government made with BC Ferries in 2003 that the larger ferry runs could not subsidize the smaller routes. . . .
I have begged and pleaded with many governmental departments over the last several years to truly look at the struggle ferry increases are having on our communities and it has all fallen on deaf ears. I netted $15,000 last year, and my husband is also self-employed. I am about to lose my business that I have worked so hard at for 12 years all because I can't afford to get to work. Please help us. . . .
33. The Coastal Ferry Act is destroying the ferry dependent communities in the province. This discrimination and inequity was very blatantly obvious with the government funding of the Sea to Sky highway from Vancouver to Whistler. The connected "few" were favoured and at no time were tolls even considered which over time would have paid for the cost of these improvements. . . .
The BC Ferry Commission is now considering further ferry fare increases and the Return on Equity formula being used to calculate adjustments is flawed in its application. BC Ferries is in all aspects a crown corporation, and if you examine the ROEs established for other Canadian crown corps and utilities, it is readily apparent that the BC Ferries' result is 4 to 5 per cent too high. The current 30 year CAD bond yield is not being used and the risk premium established is excessive. This needs further clarification and more public disclosure!
34. Christy, I used to be a Liberal supporter, but since the HST, BC Hydro wanting a big rate hike, BC Ferries asking for a lot more money after building inefficient ferries, I have to say that I am looking for a new place for my vote.
35. Actually, more disturbing is the fact that you permit BC Ferries to steal the people's money. [Complains of the experience cards controversy:] These were cancelled after a period of time even if they were not used. There was no mention of this expiry policy at the time of purchase. The money is gone.
36. As a taxpayer, I am distressed to read the articles about the deals that "friends and insiders" of the Gordon Campbell government were able to secure for themselves. I hope that you call for an inquiry as to how these quasi-governmental corporations conduct themselves regarding the public purse.
37. Get rid of the million dollar man in charge of BC Ferries and start giving the residents of Vancouver Island a fairer rate. The ferries are part of our trans Canada road system. A lot of people cannot afford to leave the island. The cost for two people and a car is now $76.75 to Nanaimo, each way.
38. My husband and I live in Campbell River and had planned to move to Quadra Island to raise our young children over there and take advantage of living a peaceful life in a rural community. Unfortunately, we are reconsidering that dream because the current ferry system is too expensive. This is clearly hurting, if not killing, smaller ferry dependent communities. Please put these routes back under the authority of the Ministry of Highways.
39. Please return BC Ferries back to Highways Canada so we can keep out communities vibrant. We have lost so many regular everyday people, young families and older citizens. I've lived here for 30 years on Quadra Island and have had as many as three jobs to make ends meet. I feel left out in the cold by my government selling the only means of transportation to our island home at top dollar "rich people only" prices. Please reconsider privatization: it doesn't grow wealth for us, the regular taxpaying Canadians.
40. A brief review of BC Ferries' last annual report surprisingly does not provide a warning of a major fare increase. In view of the long term nature of BC Ferries' capital investments, it would appear that they should have disclosed or predicted the consequences of their activities.
41. As a British Columbian I am shocked over this talk of price increases for the ferry users. I am appalled at this fellow running the corporation. In my view this should be run by the Dept. of Highways as it is the ONLY way off and on the Island for many people and businesses on the Island. I don't see why the Ferries should be a "for profit" organization. It should be for the people, and make enough money to pay for maintenance and payroll.
42. (From the BC Ferries Committee of the Pender Island Chamber of Commerce) Tourism runs our island economy. . . . Many potential visitors have called our local inns and bed and breakfasts to book accommodation, only to call back to cancel when they learn the high cost of the ferry fares and the insufficient sailings from Tsawwassen.
Why are our coastal waters not included as an extension of the B.C. highway system, and supported on an equal per kilometre basis? We also question why 14 ferries in the B.C. interior are offering their services free to travelers. Why do you subsidize those routes 100 per cent and our is not even getting the 50 per cent that you realized was required when you wrote the first contract? A portion of provincial taxes from island taxpayers goes towards building and maintaining the highways of our province, but islanders, when voicing a complaint, frequently hear the phrase, "You chose to live on an island, so get over it!"
43. I have lived on the Haida Gwaii for 30 years. We are isolated and the ferry is our connection with the mainland. Please put a freeze on the ferry rates to Haida. Please take some of David Hahn's million dollar wage and put it on our northern ferry service. If you raise our rates, people will leave the island and you will kill tourism which is just starting to grow.
44. Here on Haida Gwaii, the ferry system is a critical essential service as it is the only transportation for goods and services including mail, food, and fuel products. Over the past decade the economy, previously based on the forest industry and commercial fishing, has plummeted and this has had a devastating effect on families. . . . yet there is great potential for a diverse economy based on sustainable forestry, fishing, shellfish aquaculture, and tourism.
However, a large stumbling block is the ferries. The fare for using the ferry between Graham Island and Sandspit is unreasonable, especially as similar interior B.C. ferries are free, being part of the highway system. The mainland connector ferry from Skidgate to Prince Rupert is becoming prohibitive to a functioning economy on Haida Gwaii due to high passenger/vehicle fares and freight costs. Please consider revising and mandate and/or business model of BC Ferries such that coastal communities can remain healthy.