The energy outside the Burnaby School Board office was high last night, as hundreds gathered in support of an anti-homophobia policy the district spent two years creating.
The Sexual Orientation/Gender Identity policy, formerly the Homophobia/Heterosexism policy and otherwise known as policy 5.45, was unanimously passed by the BSB to a round of strong applause from the audience inside and loud cheers from the crowd as the news made its way outdoors.
The BSB is the 13th school district in B.C. to implement legislation aimed specifically at combating homophobia and heterosexism, which the new policy defines as "the assumption that all people are heterosexual and that heterosexuality is superior and more desirable for all people than any other sexual orientation."
While the crowds outside were upbeat and hopeful about the new policy, speeches from rally organizers, students and teachers touched on the policy's somber reason for being -- that many students still don't feel safe at school.
Inside, that hadn't been forgotten either.
"In a perfect world, we wouldn't need laws, regulations and policies such as policy 5.45. Unfortunately, we're still working towards this perfection.
Until then, providing our district with the extra tools that will help build a safer and more caring environment is the least we can do," said BSB chair Larry Hayes at the meeting.
Parent backlash surprises trustee
While most who attended yesterday's meeting seemed pleased with the outcome, there is one group that likely won't be.
The Parents' Voice, an ad hoc group of parents from the Burnaby district, has openly opposed the policy, saying protection from harassment for lesbian, gay, bisexual, transgender and questioning, or LGBTQ, students is covered in the board's codes of conduct.
The group delivered a petition to the premier's office yesterday, which according to a press release, aims "to place Premier Christy Clark and the B.C. government on notice that discrimination against children and violation of parental and religious rights and freedoms will not be tolerated in B.C.; even if it is camouflaged as an 'anti-bullying' measure."
Hayes said in an interview with The Tyee, before the board meeting, that he was surprised by the amount of backlash to policy 5.45, because the process had been smoother in other districts that had implemented similar policies.
Trustee Ron Burton had a few stronger words to say about the controversy at the board meeting.
"I'm somewhat disturbed by all of the controversy around the policy, it's always been my opinion that if there's something you can do to help a child be safer, then we should do it," he said.
James Sanyshyn, the vice-president of the Burnaby Teacher's Association, helped create the anti-homophobia policy, and he said what's covered in the codes of conduct just isn't enough.
"It takes a lot more than just putting two words into a code of conduct, you have to deal with the systemic cultural problems, you have to combat the ignorance and the intolerance with educational initiatives," he said "and that's what the policy is about."
'Stories of being picked on'
Policy 5.45 includes goals such as improving awareness and understanding of the lives of LGBTQ people, reducing homophobia, transphobia and other barriers and "including age-appropriate LGBTQ issues into curriculum... to help students... understand the impacts of homophobia and transphobia upon society."
The ad hoc LGBTQ district committee heard student testimonials as part of its policy research, and Sanyshyn said they found that most students hear anti-gay language on a daily basis.
He said the students told "stories of being picked on, of being afraid to go into change rooms, being called names in change rooms, people saying things like 'oh don't get undressed in front of so and so because she's a lesbian and she's out to get you..'"
Shahraz Kassam is a Burnaby parent of two, and he actively supports the board's policy.
"Respect doesn't come by taking a stick and saying, 'okay, if you don't respect somebody I'm going to hit you or I'm going to punish you'... the only way we can eliminate hate, misunderstanding... is by educating, by creating awareness," he said.
Kassam still remembers his own experiences with bullying. "I grew up as an East Indian, and I was subjected to racial slurring and violence. And I was also subjected to, because I mean it doesn't matter, they use those terms on everybody, so I was called fag, queer, Packi, Hindu, all these things, and I went through it in high school in a lot of pain, and to know that this still exists is just not acceptable in our society," he says.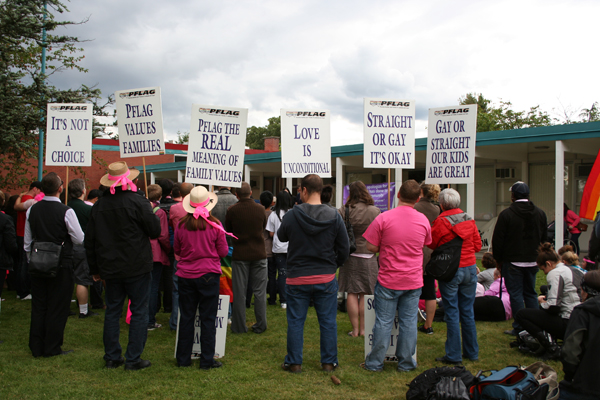 He says a separate policy is needed today to combat homophobia, just like a separate policy was needed in the past to fight racism.
It's about safety: superintendent
Superintendent Claudio Morelli made the same comparison in his report on the community input regarding policy 5.45.
"In 1985, the board developed a multiculturalism and race relations policy to address specific concerns about the safety and well-being of Burnaby students from diverse ethnic, religious and racial backgrounds. The board now has pursued a separate policy to protect students who are marginalized and harassed due to sexual orientation and/or gender identity and make them feel just as welcome in our schools as all other students," he said in the report.
"We've come a long way since when I was growing up, and today not only do we accept, but we actually celebrate racial diversity. I'm looking forward to the day when we actually celebrate sexual orientation... and the different types that exist because that's the way we should be as a society, and the only way to get there is by teaching kids that it exists and this is what it is and... it's nothing to be scared of," said Kassam.
Even though the policy has passed Kassam says "the job isn't over." He said the board should consider holding community meetings to create a dialogue around the policy. "It's all about awareness and acceptance," he said.
Sanyshyn said moving forward a standing advisory committee made up of various stakeholders, including board members, teachers, students and parents, will form and hopefully meet before the end of the school year.
"Once that committee is convened, it will start looking at the policy and seeing how those goals and initiatives can be implemented in the school system in an age-appropriate way. For example, coming up with a list of recommended resources for say kindergarten and primary students, that include books that reference same sex families," he said.