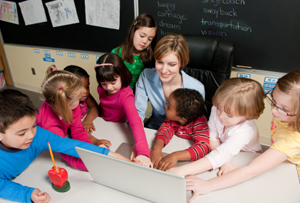 Dawn Steele can't get the government or the Vancouver School Board to admit it, but she believes the number of students with special needs in the city is going up, while the number of teachers to help them is going down.
"(Since 2001), the number of students with special needs had increased by something like 26 per cent and the number of special education teachers decreased by something equivalent to 28-29 per cent," says Steele, a member of special needs advocacy group Vancouver Parents for Successful Inclusion.
According to Steele, since 2002 the BC Liberal government made a series of changes to special education staffing and funding requirements, including removing guaranteed special needs services from teachers' collective agreements and eradicating guaranteed funding for special needs; 648 special education teaching positions have been cut.
But while the number of teachers has decreased, the government has been steadily increasing the number of Education Assistants (EAs) working with special needs children by over 1,500. It's a trend that worries Steele, who believes children with special needs are increasingly coming under the care of less educated EAs rather than teachers.
"The burden of actually implementing special education plans falls more and more to these assistants," says Steele, a member of Parents for Successful Inclusion and the mother of a child with special needs in Vancouver.
Numbers game
In 2002, the B.C. government passed Bill 28, the Public Education Flexibility and Choice Act, removing guaranteed funding for educational services such as English as a Second Language, special needs, counselling, and school libraries from B.C. teachers' collective bargaining agreements.
Almost a decade later, school districts across the province are rolling out their 2011/12 budgets, many with significant funding shortfalls that could see further reductions to some of those programs.
When she presented the Public Education Flexibility and Choice Act, Christy Clark, then minister of Education, argued the move would give districts the autonomy and flexibility to fund their individual needs, as opposed to forcing them to spend money on services they didn't need. The BC Teachers' Federation claimed it would undermine services needed for the most vulnerable students in the province.
The current debate over whether special needs students are getting the qualified instruction they have in the past can be seen as part of a larger argument about whether trustees have been freed by Bill 28 to be more flexible, or whether the measure just downloaded hard decisions from the province onto school districts. (Tomorrow, The Tyee looks at the related issue of funding for English as a Second Language instruction.)
Steele's claim that special needs kids are getting short shrift in Vancouver isn't readily accepted by the school board. The Vancouver School Board (VSB) says some of Steele's statistics add up, but they believe a change in the ministry's designation of what positions fall under special needs staffing may have over inflated the number of positions lost from 2001-2003, which Steele says went down to 345 positions from 443.
"If one of the groups that was included in that count is counsellors, which is a suspicion because in and about that year there were classifications for students who were receiving counselling services for a variety of things that they were no longer classified that way in successive years," says David Weir, VSB communications manager.
"We would have also potentially pulled out counsellors from that count, because those were no longer funded positions through that portion of the budgeting. So if that's where that significant drop is, then to get a true comparator between 01/02 to today, you would have to add up the counsellors that we have today, otherwise you're not talking apples to apples, and that's my big concern, that we are definitely not talking apples to apples."
Special needs require significant prep time
Both Steele and the BC Teachers' Federation (BCTF) estimate the number of special education positions eradicated provincially during that time are between 648-671, approximately 16 per cent of all the special needs teaching positions there were in 2001.
Meanwhile the number of low-incidence special needs students, including autism, deafness, and physical disability, has increased in the past decade by 46 per cent in the last decade to 16,335 students in B.C. Steele isn't sure why this is, but speculates it has to do with a rising incidence in autism designation.
It's a change that's resulted in an increased workload for teachers who are already dealing with a more demanding position than your average educator.
"I know that there are some teachers who have over 100 students on their caseload," says BJ Foulds, president of the Special Education Association of BC.
"So that would be doing things like developing their (individualized education plans), and monitoring their progress, and coordinating if there's support required or if they need special programs and technology, and adaptations or modifications to their programs, things like that, and meeting with parents and other people that would be involved."
Foulds, a special education teacher for the past 30 years, says there is no ideal number of children a teacher should take on, but says it should be closer to 30 students for teachers that don't teach regular classes, and even less for those who do.
"Like in a high school, they're teaching a special needs class in seven out of the eight course blocks you have a year with the two semesters, and yet you still have 17 or 20 students that you're responsible for, but outside of your normal prep time that every teacher gets you don't have any extra time to do all that work that you are responsible for," Foulds told The Tyee.
Many assistants, few hours
There are EA training programs in B.C. but they aren't mandatory in all districts, and even with training EAs are only supposed to assist students with the individualized education plan (IEP) designed by teachers. However, though schools don't encourage it, former EA June Kaiser says assistants might feel obliged to take over some of the teacher's roles if the teacher doesn't have the time or resources to do it themselves.
"I think EAs have been forced to take on more as far as modifying and planning for the special needs kids that they support, because sometimes if they don't do it, there are no plans. They're reluctant to let that happen, so they've taken on more of that work, which they shouldn't be, but on the other hand they are supporting children," says Kaiser, current president of the Canadian Union of Public Employees (CUPE) local 716, the Richmond school board employees' union.
"In Richmond, I know that we have so many kids with special needs that even by the time the IEP is written to follow, there's sometimes just not enough time for adaption or modification to be made."
A growing need
Susan Lambert, president of the BCTF, asserts a decrease in special needs teachers means less support for borderline students, and they are dropping out of school as a result.
"The children who haven't got the designations, what we call the individual education plans, their support has been completely been eliminated; that means they're struggling in school, that means their self-esteem and self-confidence diminishes, they start to shut down, and eventually they drop out," says Lambert.
"And that's why our graduation rates are as low as they are."
Things aren't looking good for the children with designations, either. Lambert says despite legislation capping the number of children in a classroom with an IEP to three, there are classes now with as many as 12 kids with IEPs. According to the BCTF's The Numbers Tell The Story pamphlet, the number of classrooms with four or more students with IEPs increased to 11,959 last year from 9,559 in 2006/07.
"What's happened is the practice of clustering, so if there's one student with challenging needs with an individual education plan in a classroom, other children are clustered around that special ed assistant that's assigned to that classroom -- you end up with six, seven, eight, nine children with special needs in one classroom," says Lambert.
The ministry asserts in cases where there are more than three IEPs, they have taken steps to ensure educational standards are still being met.
"In all classes that have more than three students with special needs, the principals have provided their assurance that the learning conditions for all students in the class are appropriate," Education Minister Margaret MacDiarmid told The Tyee in an emailed statement, adding some kids with physical needs, like those in wheelchairs, don't need extra educational support.
"Every child is placed where they will receive the most optimal learning environment."
Lambert says her organization is doing the best it can to bring attention to the growing gap between special education teachers and the amount of special needs students, lobbying government and the school boards and including the call for increased funding in almost every publication they release. But the response from government is always the same.
"'The highest funding ever, the highest funding ever, the highest funding ever.' And you know and I know that we're spending the highest amount ever on gas for your car. You're not driving any further, you're not driving any better, you're spending more money because of inflation," she says.
"That's why it is the highest funding ever, because inflation does increase costs year over year, but that does not buy any more programs, in fact the cuts to public education have been dire and deep and drastic."
Tomorrow: Feeling the crunch: English as a Second Language teachers and teacher/librarians.