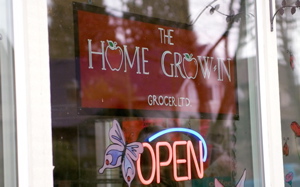 A charismatic entrepreneur who was lauded as a visionary in Vancouver's local food scene has reportedly not been heard from or seen by associates in days. Deb Reynolds' business, the Home Grow-In Grocery Ltd., has been declared bankrupt. Some of her customers, who paid upfront for a season's supply of produce, say this week's box has been cancelled.
And of all the farmers who together sent Reynolds potentially hundreds of thousands of dollars worth of produce, at least one hasn't been paid in months.
Reynolds received glowing reviews last year, from regional and national media, including The Tyee, when she opened Home Grow-In, a shop that retailed only local food and products.
When this reporter profiled Reynolds and Home Grow-In last fall, she was about to expand the Home Grow-In community with a new store on Cambie -- the Home Grow-In Cambie Market -- that would not only serve as a distribution hub for her weekly produce box program, but also act as a kind of a permanent co-operatively owned farmers' market, in the heart of the city.
"This way, [farmers] don't have to be there -- they can get 100 per cent of the profit while paying a fraction of the operating costs," she said at the time. "We're trying to prove to the world that a community of small businesses can get together for the benefit of all of us."
Eleven B.C. farmers and local artisans are listed as vendors for the Cambie Market -- which has not been declared bankrupt. Including Loren Taves, who owns and operates Apple Barn farm and cider mill in Abbotsford.
He claims he gave Reynolds $10,000 to lease and operate the space, and says that 13 others invested between $2,500 and $10,000.
"My wife and I were really thinking. . . this is a great way to link up with the city and to actually meet the people and establish, like, grassroots relationships with customers," says Taves. "At the apple barn we do that every year, we have thousands of people come through every year. And we know a lot of them, and that's how we've done our business on the farm for years. And we thought this was a great extension into Vancouver for the same thing."
Taves also supplied Reynold's members-only Home Grow-In Buyer's Co-op (which, last summer, had approximately 300 members) with fresh vegetables from his greenhouse. Five months ago, shortly after he says he invested in the Cambie market space, he stopped getting paid for the produce. Money that was supposed to be coming from member fees, $400 to $700 per share.
"The invoices kept growing," Taves told The Tyee. "I went to her and said, 'listen you told us we would get paid even before we harvested'. One-third down, that was supposed to secure the product, so we could have the upfront costs for it. That was how the program was supposed to work."
Secrecy and excuses
Taves said he began to get worried in January, but every time he asked for a payment, or a copy of her bank statements, she appeared to be in crisis. "It was always, 'oh somebody's in the hospital', or somebody had died," he says.
Taves says he even offered her help to balance her books, but Reynold's remained evasive.
Why did he let the invoices pile up for so long?
"It was out of empathy, you know?" he says. "I kind of got to know her, I was trying to help. It was a community effort, it wasn't strictly business."
"For instance, we ship out of our greenhouse to a packer, and we get paid every three weeks. It's like clockwork. But this was different. I really wanted to help her, because she said 'I'm not good at the business side'. But we never got to, nobody ever saw the books."
Taves said it's only been in the past four weeks that he realized other suppliers were not getting paid either. He continued to ship his produce to Reynolds even though he knew something was wrong, he says, partly because he felt bad for her co-op members who had paid for and were expecting it.
"I just felt, I'll ship because I know in my heart I wanted to do what was right for people who put their money in, even though I knew I was losing, it didn't matter," says Taves. Plus, he was dealing with a perishable product with no other markets.
"Marketing is a huge undertaking, you can't just say, 'I've got stuff here, who wants it?' It's not that easy just to switch out."
Reynolds out of contact
In addition, says Taves, he and the other Cambie Market investors didn't sign shareholder agreements.
"It was done very quickly," he says. "So really, we don't own anything in the market." Taves says in hindsight it was a bad business decision. But at the time, there was so much goodwill, trust and momentum for the project.
"Always [Reynolds] would say, 'it's a we, not a me'. That was her famous quote."
According to Taves and other sources, none of whom agreed to go on the record at this time, some of the suppliers met with the Vancouver police this week. The Tyee contacted VPD media relations to inquire if an investigation has been launched or if charges have been laid, but did not get a response by publication time.
Taves says he has not been able to contact Reynolds since last Thursday at the store, where she promised him his money by the weekend. The Tyee has also tried unsuccessfully to reach Reynolds. Staff at both store locations -- on Columbia and Cambie -- said this afternoon that they hadn't seen her in several days. At approximately 5 p.m. today, a notice was posted to the door of the Home Grow-In Grocery on Columbia and 18th. It was from professional service firm Deloitte and Touche, and states that the Home Grow-In Grocery Ltd. was declared bankrupt on March 10, 2011 "when the Director [Reynolds] determined that the company was in financial difficulty and no longer able to meet it's obligations. . ."
Taves says he has "never encountered anything like this before in my life," and is uncertain what will happen next.
While the situation has been very stressful, he says he's been trying to stay calm.
"We have a very upbeat-looking life, my wife and I, we have seven kids and I raise them the best I can and you don't want to burden your family with negativity," says Taves. "We see good in people and the community. I don't know what to do. What a horrible way to have to start the year."