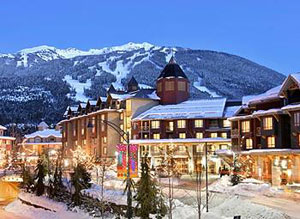 It's Feb. 18 and a packed audience of environmentalists and politicians is chatting excitedly at the Whistler Public Library.
It's the middle of the Olympics and the book stacks have been moved aside for Whistler Canada Olympic House, a place for the municipality to host dignitaries and VIPs while they're in town for the world's biggest athletic event.
On this day, it's been turned into a venue for TEDxWhistler, a series of talks whose unifying theme is 'Tourism in a Sustainable World.' Anthropologist Wade Davis has just completed a talk that urges Whistler to spread its sustainability message throughout the world.
Shortly after he's done, a plucky member of the audience rises to say her piece before a group that includes almost everyone from Whistler's establishment. The mayor is here, so is most of council. So too is the president of Whistler's biggest environmental advocacy group.
The young woman gets up to a microphone and opines about "carbon offsets," tools by which governments and corporations are trying to reduce their carbon footprints. Whistler is about to embark on the scheme, investing just under $150,000 in its first three years.
The audience member likens the tactic to confessing your sins to a Catholic priest, then going out and sinning again.
The room titters at the woman's quip, an analogy that doesn't encounter much resistance among people looking to establish a carbon market in British Columbia.
The market has Whistler taxpayers among its earliest clients, as the municipality looks to become the first B.C. community to confess its sins against the climate to the clerics of carbon neutrality.
Getting on the road to carbon offsets
Whistler's journey to carbon neutrality began in September 2007, at the annual convention of the Union of British Columbia Municipalities (UBCM) in Vancouver. It was a conference where policy papers focused heavily on climate change and how governments should act to stall it.
At the UBCM convention, seven months after a throne speech in which Premier Gordon Campbell stunned the province with ambitious targets for reducing greenhouse gases, the province announced the B.C. Climate Action Charter, an agreement between Victoria, the UBCM and signatory municipalities to help the province reach its goal of lowering its output of greenhouse gases 33 per cent by 2020.
The charter asked much of its signatories. It required them to plan compact communities, build infrastructure that minimizes environmental impact and remove any legislative barriers to taking action on climate change.
Chief among those commitments was the promise that municipalities become "carbon neutral" -- the condition of emitting net zero carbon by balancing output of greenhouse gases with an equivalent reduction elsewhere.
Governments would get there by reducing their emissions, and then purchasing offsets for whatever emissions they could not roll back any further.
Hadi Dowlatabadi, a professor at UBC's Institute for Resources, Environment and Sustainability and a co-founder of carbon offset marketer Offsetters, explains.
"If you want to fly, it's very difficult. There are no planes without greenhouse gas emissions," he said. "If I need to fly for business purposes, I can (find out how) much CO2 or greenhouse gases my flight produced, and then find a project that I can buy into that reduces greenhouse gases.
"If you run a greenhouse in Delta, you'd be using natural gas to heat the greenhouse. When you burn it, you produce a lot of carbon dioxide and that produces the heat that you use in your greenhouse."
Carbon offsets, he said, could help the owner of a greenhouse pay for a biomass boiler to reduce the amount of natural gas they burn to keep it warm. Individuals and entities could help such projects by buying carbon offsets from a firm that has "sourced" the offsets by financing the boiler.
Approximately 62 local governments signed on to the charter at the convention; the Resort Municipality of Whistler (RMOW) was among them.
Carbon neutrality: Whistler's bold goal
Whistler Mayor Ken Melamed boasted at the time that the RMOW was already well on its way to reducing its output of GHGs. It had already started using biodiesel in its transit fleet, replacing municipal vehicles with hybrids, and committed to building all new public facilities up to LEED silver standards. The charter, he told Pique at the time, was merely a continuation of its efforts.
Whistler stepped up its carbon game in September 2009, announcing a plan to become B.C.'s first carbon neutral municipality. The commitment would bring the community in line with the province's own commitment to have all its institutions be carbon neutral by 2010. It hoped to leave all other local governments in the dust in the race to zero.
The RMOW revealed its plan for achieving that goal at a council meeting on Sept. 15, 2009. The Carbon Neutral Operations Plan detailed an ambitious program for functioning in the era of net zero carbon.
The municipality had taken an inventory of its carbon output since 2000 and began calculating its actual footprint in 2006. Its projected emissions level for 2010 was 1,989 tonnes of CO2, 1,923 tonnes in 2011 and 1,856 tonnes in 2012.
To get to carbon neutrality, the RMOW would begin purchasing its offsets from two sources: 50 per cent of them from Pacific Carbon Trust, a B.C. Crown corporation; and 50 per cent would be "voluntary gold standard" carbon offsets from international projects, although it hasn't yet determined those projects.
The municipality forecasts spending of $49,725 towards carbon offsets in 2010; $48,068 for emissions in 2011; and $46,410 for emissions in 2012. The RMOW expects costs to drop to $38,675 by 2015. Actual spending is projected to commence in the first quarter of 2011.
These figures are based on spending $25 per tonne of reduced carbon, which is what it costs to buy from Pacific Carbon Trust.
The municipality could have chosen any number of firms from which to buy offsets, such as Offsetters, BlueSource, even the Yahoo! Internet service provider. It chose Pacific Carbon Trust because it wanted to support a "green economy" in B.C., said Ted Battiston, the RMOW's Strategic Energy and Emissions manager.
"(Council) said they would buy 50 per cent through Pacific Carbon Trust as a way of supporting the green economy and green jobs in B.C. for projects that are developed and rigorously tested in British Columbia," he said in an interview.
Baby steps
As a signatory to the B.C. Climate Action Charter, Whistler enters a market in its infancy, with engagement from the private sector lagging far behind investments from governments. Commitments to carbon neutrality are purely voluntary, and taxpayer money makes up the bulk of investments in B.C.
If carbon neutrality is the stick, the carrot is the Climate Action Revenue Incentive Program. The provincial government announced it in 2008 as a way to offset the carbon tax for municipalities that have committed to carbon neutrality.
The province claims it has already doled out $2.9 million to signatory communities. Whistler has thus far received $35,694.05 of that kitty -- $10,335.95 in 2008 and $25,358.10 in 2009.
The RMOW has taken $26,000 of that money and put it towards the Climate Action Innovation Fund (CAIF), a program that provides grants to community organizations such as the Whistler Chamber of Commerce to support "climate smart" training for local businesses.
The money, however designed to alleviate the financial burden on communities who've signed on to the B.C. Climate Action Charter, may make Whistler carbon neutral, but it doesn't come close to making the effort revenue neutral. The amount that Whistler is spending on carbon offsets in its first year will eclipse all rebates to date.
One hundred and seventy-nine municipalities have signed up to the charter and benefited from its incentives. That has made taxpayers the biggest shareholders in B.C.'s carbon market, and their dividends, aside from presumably reducing overall emissions, are certificates acknowledging their contributions to climate action.
James Tansey, the other co-founder and now president of Offsetters, admits that the bulk of entities partaking in B.C.'s carbon offset market are local governments. The carbon offset market's biggest buyer, he said, is Pacific Carbon Trust, the Crown corporation that also happens to be his own biggest client.
In 2008, Pacific Carbon Trust issued a request for proposals for an offset supplier just as the Crown corporation was starting up. Offsetters, which began as a non-profit firm but has since gone private, was the top-ranked supplier at the time and began selling offsets to PCT at $20 a tonne.
Those offsets, which could then be sold off to PCT's own clients, included investments in green projects for companies that ran greenhouses, a cement plant, as well as hybrid heating systems at various resort hotels throughout B.C.
Buying green indulgences
Though taxpayers are largely supporting the market, Tansey said they're contributing to a public good -- not unlike the confessions the young woman referenced at TEDxWhistler.
"That's the metaphor people use, is Catholic indulgences," Tansey said in an interview. "With the Catholic indulgences model, you go to confession and admit your sins, and indulgences were investments in public schools, churches, hospitals, schools, which created a benefit to atone for your sins.
"With carbon offsets, you're putting a price on carbon. You're recognizing you have a pollutant and you're investing money in repairing that cost. That's sort of a metaphor for what we're trying to do."
Tansey suggested governments are now paying for their sins against the planet.
While indulgences went to public institutions like schools and hospitals, what are carbon offsets purchasing? Buyers are given careful assurances from providers that their money is going to reducing carbon, but in the case of Offsetters and Pacific Carbon Trust, they never know specifically which projects they're investing in.
Through Pacific Carbon Trust, the RMOW will be spending approximately $25 per tonne of carbon emissions. That money will go to any of 15 projects that the Crown corporation has committed to helping transition to greener practices. They include "energy curtains" at private greenhouses in Delta, Abbotsford and Langley, a biomass boiler at a Quik Farms greenhouse in Chilliwack, and a biomass burner at a cement plant run by Lafarge Canada Ltd. in Richmond.
Other projects being supported by PCT include installations of hybrid heating systems developed by Sempa Power Systems Ltd. at hotels in Whistler, Vancouver, Revelstoke and Sun Peaks. The systems alternate between using fossil fuels and electricity for heating throughout the day.
By investing in Pacific Carbon Trust, Whistler could well be purchasing offsets that the Crown corporation bought from Offsetters for $20 a tonne at most -- offsets it's now selling to Whistler at $25 a tonne. The municipality could thus be paying more than if it had just bought them straight from Offsetters.
As it stands, Whistler is buying $49,725 in offsets from Pacific Carbon Trust in its first year of spending. Had it bought directly from Offsetters, it could have spent $39,780 at most -- almost $10,000 less than it has committed to Pacific Carbon Trust.
Tansey said Offsetters's clients are today charged only between $15 and $20 per reduced tonne of carbon.
'Rigorous process' claimed
So why not just go through Offsetters?
Battiston said Whistler chose PCT because it has a "rigorous process" for ensuring its offsets go to projects that will reduce the output of carbon into the atmosphere. The process includes assessments of the projects by Vancouver-based auditing firm Deloitte and Touche. Companies like Yahoo! do not have the same quality assurance, he said.
Still, even Battiston doesn't know precisely where the money goes once it reaches PCT's hands. The reason, he said, is that the market isn't yet flush enough with projects to choose from.
"We don't pick which projects they fund with our funds," he said. "Most of the offset providers in the market right now would like to get to the point where they're so robust and they have so many products you can choose from. So if you want to buy offsets, you go to Offsetters.com, (and) say I believe in this one or this one.
"At this point, that doesn't exist. You basically are assured that you get the level of credibility and the third party verification of the standard, not the specific project."
In Whistler's case, the money taxpayers are putting towards carbon offsets could just as easily be going towards a hybrid heating system at the Westin in Whistler, as to a greenhouse in Chilliwack or a concrete plant in Richmond. They simply don't know.
The lack of a money trail is a sticking point for Ralph Forsyth and Ted Milner, two councillors who voted against the Carbon Neutral Operations Plan when it came before council in September 2009.
Forsyth, a member of the Association of Whistler Area Residents for the Environment (AWARE), feels it simply isn't a good use of taxpayers' money.
"I've been reading about the practice, and looking into it I find that I have more questions than answers," he wrote in an e-mail. "I believe they are quite vulnerable to fraud and they may not in all cases be reducing carbon output."
Questions raised about benefits
How, then, to create a benefit for taxpayers?
Why not design carbon offsets in a way that allows municipalities to make equity investments in projects that help them reduce their emissions? The investments might allow the company to pay dividends to the government that helped make them "greener." Those dividends could be directed back to public services.
Tansey said there are variations on that model, but it's not certain what kind of a return that would bring to investors. Investing in emissions reductions doesn't necessarily bring more profit. Down the road, it can become more a cost avoidance than a generator of profits.
"If you look at the company level, where companies are generating those savings, the main issue is the additional criteria," he said. "If a project is additional, above and beyond what the company would do, then at a company level it's harder to say that it's profitable or an equity investment."
Forsyth, meanwhile, has another idea for the money being put into offsets.
"We could apply the funds to transit," he said. "One of the biggest GHG emissions in Whistler is automobile traffic. Reducing the need for that would reduce our emissions."
Milner had similar concerns. He said carbon offsets are "open to fraud" and that money could be leaving the community when it might be better spent on local projects.
"Carbon offsets are okay if they're put to work in our own town," he said. But he has no assurance of that.
Carbon offsets have a well-known critic in Mark Jaccard, a professor in Simon Fraser University's School of Resource and Environmental Management and a world-renowned expert in environmental economics.
He wasn't available for an interview but at a talk in Whistler last December he called offsets a form of subsidy -- and the experiences of subsidies for electrical utilities in the United States have suggested they don't do much good, according to him.
Jaccard feels the money being put into offsets would be better spent on green initiatives within individual communities.
"Offsets, which we've come up with now, is a form of subsidy," he said. "It's a subsidy from you as an individual to someone else, or from a city to someone else.
"The message I try to give in a jurisdiction like this is to say, maybe you'll pay for some offsets, but if it were me I wouldn't do that. I would either spend that money trying to reduce my own emissions, like spending the cost to set up parking meters and stalls for the first plugs for hybrid cars that start to come to Whistler, to create encouragement for that."
Whistler has installed some plugs for electric vehicles.
[Editor's note: On Sept. 27, B.C.'s minister of state for climate action, John Yap, announced new options for municipalities to become carbon neutral by 2012 -- including creating their own projects that could count as carbon offsets. GCC supported projects that would qualify include fuel switching, building energy efficiency retrofits, solar hot water retrofits and curbside organic waste diversion. The criteria for how those offsets would be measured and deemed legitimate was not made clear.]
178 towns pledged to go carbon neutral
Carbon offsets meet perhaps their most scathing critic in Maureen Bader, British Columbia's director of the Canadian Taxpayers Federation, a non-profit citizen's group that advocates for "lower taxes, less waste and accountable government."
For her, anything spent on carbon offsets is too much.
"It's a complete waste of money," she said in an interview.
"(Municipalities) need new water treatment plants. Buying hot air is not part of the core function of a municipality."
Bader drove her point home using the example of White Rock. She said local governments should be focusing on "real" pollution -- like the E. coli that contaminated White Rock's water system and forced a boil water advisory last month -- rather than carbon offsets.
She said offsets are the result of "special interest groups" that have imposed "imaginary problems" on governments and distracted them from initiatives they should be spending their citizens' money on.
"This whole global warming thing is a total scam," she said. "It's been an excuse for government to get bigger and grab more money out of taxpayers' pockets.
"They're forced to pay $25 a tonne for carbon offsets when they could go someplace else. I think there's even a carbon offset exchange where you can get them for some fraction of $25 a tonne.
"This thing is just a complete and total scam. How taxpayers are on the hook is beyond me."
Climate change deniers like Bader obviously differ with politicians, including Premier Gordon Campbell, and members of the public who believe it's real. Whether carbon offsets are the way to tackle climate change may be open to debate, but in B.C. it's a market that will be jolted into maturity over the next two years with the participation of Whistler and the 178 other communities that have committed to carbon neutrality by 2012.
Whether buying from Offsetters, Pacific Carbon Trust or elsewhere, the market will continue to rely heavily on taxpayer money going to "green" projects, while the investors won't precisely know what they're paying for.
That may well change in the future. But what won't change for now is that B.C.'s touted "green economy" needs a lot of your money to get cooking -- more, perhaps, than necessary, and whether you like it or not.