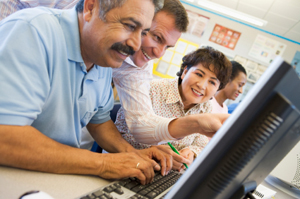 Many families and teachers in B.C. are waiting expectantly to find out if their neighbourhood school will be closed by school boards trying to maintain services on a limited and declining budget.
But some school districts are taking a different approach. Instead of closing schools, they're inviting the community in and offering social and medical programs space in their schools, providing services outside of the traditional mandate of K to 12 education. It's not a new concept. But it's being re-imagined to fit the needs of B.C. communities today.
The community school idea "is to use the school as many hours as possible when the school isn't open for education," said Lisa White, manager of community and leisure services with the City of Surrey.
Surrey, the province's fastest growing city, adopted the concept in 2007 to provide services to their rapidly increasing population. Called the Community Schools Partnership, instead of one community coordinator, the City of Surrey, including White, the Surrey School District and the United Way, all came together to fund and facilitate social programs offered at 14 local schools. These programs include clothing hampers, community kitchens, sports clubs, visual arts lessons, ESL classes and tutoring for kids and their families.
"One of our intended impacts is that kids have experiences that they wouldn't otherwise have, because through those experiences, kids gain an understanding of who they are," Pat Horstead, director of instruction with the Surrey School District, told The Tyee.
"Traditionally people thought about school as nine to three, kids go there to learn to read and then they go home. We're looking at more of a wraparound approach for kids and families, looking at schools as being more of an integral part of the community, being the place where we build community, a place that's safe for kids and a place where families can go for support when they need it."
The partnership has since gained the financial support of the City of White Rock, and has expanded to 25 schools in total. Because Surrey is the largest school district in the province, and the only one where enrolment is currently increasing, each program takes place after school, on weekends, and during holidays, to ensure there is enough space.
But while Surrey needs to strike a balance between education time and program time, some school districts are using the idea of a community school to fill empty spaces left by declining enrolments.
A services-saving initiative
In 2001, the Boundary School District was in a bind. Faced with a 30 per cent decline in school enrolment and the Liberal government's Core Services Review, the district was sure school closures and service cuts were imminent. But instead of waiting for the bad news, the school district took a proactive approach.
"We set up a hub in one of our annexes. We have a non-profit organization as a tenant, and they run all kinds of family-related and health services out of there," superintendent Michael Strukoff told The Tyee. "And our elementary schools, they lost enrolment and had space, so we created a family centre in each one of those schools."
Each family centre has its own separate office space, with a kitchenette and telephone line. While some schools use them for typical afterschool activities such as Girl Guides or Scouts, others used them for daytime services like dentists, public health nurses, or space for a visiting regional psychiatrist.
"In the past the small rural community like Beaverdell may not have had a place for these professionals or other services to locate," Strukoff told The Tyee. "People either had to travel to Grand Forks, or they just didn't get the service. And so by doing it this way, we're getting to more of our clients, and we are generating a little bit of rent so the school district isn't picking up all the costs for these partially empty spaces."
The family centres are constructed in a way that they could expand or remove services should the school population increase. It's a much better option, according to Andrew Yan, researcher and urban planner with BTAworks, than shutting down a school entirely.
'The original social network'
"[Closing a school is] the death of an institution, and this is one of the few institutions that bring people together, of numerous backgrounds, numerous incomes," Yan told The Tyee. "Schools are the original social network. It is the Facebook before Facebook, and nothing brings people together more than the concerns of their children."
Yan and his colleagues at BTAworks, the research and development wing of Bing Thom Architects, have been researching the declining enrolment in Vancouver schools. Yan released a report last year on the enrolments of the city's elementary schools from 1999 to 2008, in which he found that while overall enrollment had dropped by 20 per cent, the largest decreases were found in the city's east end, where five elementary schools have been selected for possible closure next year by the Vancouver School Board.
Instead of closing and tearing down a school, the least sustainable option from an environmental and community point of view, Yan and his colleagues at Bing Thom Architects argue, underused or closed schools should "evolve" into something else.
"One of the things that we've been somewhat critical of the City of Vancouver is that they've not been designing or planning the city to take advantage of the existing infrastructure," Michael Heeney, principal and executive director of Bing Thom Architects, told The Tyee. "They need to find an acceptable way of densifying those neighbourhoods to get much more value out of that infrastructure, rather than building more schools in the suburbs, or even downtown for that matter, and they should figure out how they can make do with what they've got."
Expanding the community model
Vancouver School Board (VSB) trustee Mike Lombardi says the city and the VSB have been working together to make the most of their school infrastructure, the biggest example of which is the Britannia Secondary School Complex, which has been a community school for 35 years.
"It's probably the biggest neighbourhood learning hub in North America," Lombardi told The Tyee. "It's got medical services, health services, an elementary school, secondary school, seniors programs, fitness programs, mental health programs, all in one place. It's a collaborative effort of the Vancouver School Board, the City of Vancouver, and the Park Board."
Lombardi says the closure of five Vancouver elementary schools isn't set in stone, but he doesn't see them being saved by the community school model, either. Instead, he says if the schools do close, the VSB doesn't want to board them up, but lease them temporarily to community services until school enrolment increases and they can reopen as schools.
The ministry of education has caught on to the popularity of the community school model, providing funding for Neighbourhood Learning Centres (NLC) in several districts across the province beginning in 2008. There are currently nine "model schools," including three in Vancouver, undergoing the process of becoming NLCs, but the ministry expects other schools to jump on board.
"All other schools are expected to use their existing space to accommodate a wider range of services for students, families and the community to maximize the public benefits of school facilities," reads the ministry website.
The three model schools in Vancouver are Queen Mary Elementary, Strathcona Elementary and General Gordon Elementary, although other schools in the district slated for upgrading or construction will also include space for NLC programs.
"We've been given an additional amount of money to tie them with the community -- community resources as part of the school. So we've been having meetings with Coastal Health, community agencies, police departments, libraries and other agencies to talk about what services might be part of the school operations," Lombardi told The Tyee.
"Our schools are public buildings and public spaces which should be maximized for public use. My own particular view, our schools should be opened morning to night and on weekends. The important public facilities should never be closed, they're there for community use and that's been our goal. Our challenge, of course, is to find resources for programming to do that."
Horstead would like to expand the Community Schools Partnership program to more schools in her district, as well, but they also lack the funds. Nevertheless, she sees this model as the future of schools in the province.
"You talk about 21st century learning, I think this is 21st Century schooling," she told The Tyee, referencing the ministry of education's proposed education reforms. "This is what schools need to look like, they need to be responsive to the community, responsive to their kids and families, and wrap those services and supports around our most needy citizens."