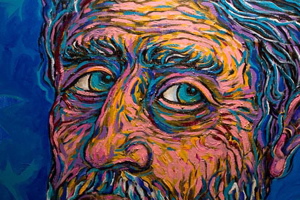 [Editor's note: The Tyee is pleased to weekly showcase the best of the Vancouver Observer, the independent, online source of news, culture and blogs whose motto is, "All local -- all the time."]
Occasionally, his paintings contained figures that resembled other islanders. The depictions weren't flattering. Others exuded Stefano Savioli's love of his subjects. All of his paintings conveyed powerful, often disturbing messages about class, repression and the overpowering beauty of Cortes Island, his home of many years. They portrayed an environment throbbing with vitality that hung in the balance between the natural forces that animated and illuminated it and the corporate forces that treated its forests as inventory to count and cut. His work provoked thought and emotion.
"He died in his sleep," an old acquaintance told me at the Friday market at Manson's Hall, tears streaming down her face.
But word came out today that authorities suspected Savioli may have been murdered at his residence on a bluff, a spot I'd often heard referred to as magnificent. It was on this property that Savioli maintained a studio and created a treasure trove of work.
Eleven RCMP officers spent the day on Cortes Island Monday investigating "suspicious circumstances" surrounding his death. A person close to the painter said that he was found lying in a pool of blood. She added that the police had cordoned off the area and barred the family from entering the premises, "even to get a change of clothes."
As I speculated about who might want to harm Savioli, one man shook his head. "It's a mystery."