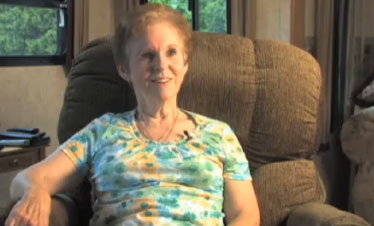 [Editor's note: The Tyee is pleased to weekly showcase the best of the Vancouver Observer, the independent, online source of news, culture and blogs whose motto is, "All local -- all the time."]
"Why can't they see I'm Canadian?"
Jackie Scott opened up her father's war record and showed it to a reporter.
Scott, 65, spends six months each year in an R.V. park next to the American border in Surrey, BC. A slight woman with graying red hair and a deeply lined face, Scott has the courteous demeanor of a Canadian.
On her living room table two cups of coffee, a plate of muffins and napkins stood waiting. She sat down by the window and held in her hands a collection of documents: a well-kept photograph of her father as a soldier, her mother's naturalization certificate, letters from the Canadian government, copies of Canada's immigration and citizenship acts and pictures of her Canadian born daughter and grandchildren.
Jackie, daughter of a Canadian soldier and a British-born mother naturalized as a Canadian citizen in 1955, learned she was a "visitor" in Canada in 2005, when after applying for a citizenship card in order to get a passport, she received a letter from the government saying she was not Canadian.
9-11 changed everything
After 9-11, a certain group of Canadians got a rude awakening. When Canadians suddenly needed passports to travel between here and the U.S., Citizenship and Immigration Canada turned their applications for passports and proof of citizenship cards down. It wasn't because they were security threats. Far from it. Most had been contributing members of Canadian society for a large portion of their lives. The majority were the children of love alliances formed during World War II between British women and Canadian soldiers fighting the spread of fascism. And due to an antiquated law regarding the marital status of the applicants' parents at the time of the applicants' birth, people who had functioned as Canadian and whose parents had risked everything for their country were denied.
Jason Kenney, Canada's immigration minister, has estimated that possibly hundreds of thousands of people were affected. As this became apparent, the government moved quickly to change the laws, but did not change them all.
"I had the letter in my hand, and was shaking," Scott said, recalling her first denial. "I felt so embarrassed, because as I read down, the reason for the denial was because I was born out of wedlock... they're saying I'm a bastard."
Scott shares a common struggle with countless Canadians of her generation -- they were born when "legitimacy" mattered. She is quick to accept that today's society has a different attitude towards children born out of wedlock, but back then, she said, it was a big deal.
"My parents didn't want me to know the circumstances of my birth. You didn't share that with anyone," she said.
It wasn't until Scott was 17 that she learned the circumstances that brought her into this world. She always new that she was born while her father was stationed in England during the war in 1945, but not of her parent's unmarried status.
"I often wonder how angry my father would feel that they are denying me when he served his country during the war," Scott said.
Bastard out of Canada
Never once did she doubt or even consider that as a child of a war veteran father and a naturalized Canadian citizen mother that she would have to inquire about the laws of her governing identity or doubt her nationality. She was wrong. Scott fights back the tears today when she thinks of the term that the government has continually thrown in her face for the past five years.
Being a "bastard" in the 1940s and '50s didn't close the door on citizenship, but it did require some paperwork if those who were foreign-born wanted the benefits that came with being "legitimate." Few were aware of such bureaucratic obscurities, however. Scott's parents were of the few who did know. In 1955 her father "legitimized" her in writing according to the 1921 Ontario Legitimization Act (a law established to deal with war brides of World War I). With the stamp of a notary, he declared that she was his child and that her mother was his wife. Scott held up a copy of the document delivered by the then registrar of Canadian citizenship. Her father's signature was on it, an ace in the hole surely, or so she had thought.
Scott has made the argument to Canadian immigration that her legitimization in Ontario under a provincial law ought to have settled the matter since provinces at the time had control over citizenship. The case was good enough for Ontario in 1955, good enough to get her a Social Insurance Number card, and good enough to pass citizenship to her daughter and grand-daughter, but still not good enough for Canada to give her a passport in 2010.
"They don't even know their own laws," she said, insisting that the 1955 registrar letter recognizes her.
In addition to the two arguments she has submitted, Scott was living in Canada on her 24th birthday. It used to be that if you weren't living in Canada at that age, you weren't qualified to be a citizen -- yet another obscure citizenship law. But that would only matter if she had a claim in the first place, which immigration said she does not.
'I regret to inform you...'
While insisting they are not aware of their own laws, Scott has become all too familiar with Citizen and Immigration Canada's excellent handle on the clarity of refusal. The government has not minced words. Her voice dropped as she read an excerpt from the bare prose of the colourless paper in her hand.
"I regret to inform you that a positive recommendation will not be made as you have not demonstrated that a discretionary grant of citizenship pursuant to subsection 5(4) is warranted."
This special 5(4) grant was created to apply to the so-called "five per cent" like Scott that Canada's most recent citizenship legislation from 2009 knowingly left behind.
Her second letter of denial added the additional note that "no compelling grounds have been identified to warrant a reward for exceptional services to Canada."
"I often wonder how my father would feel, how angry he would feel that they are denying me when he served his country during the war," Scott said.
She's spent half of her life here. Voted. Worked. Paid taxes to Canada. She has Canadian children and grandchildren. Her father was a war veteran, and her mother, after being naturalized by subsequent marriage, lived out her days as a Canadian.
Scott goes to Ottawa
On June 11th, 2009, Scott gave testimony in Ottawa at the Standing Committee on Citizenship and Immigration on what would have been her Canadian War Veteran father's 98th birthday. The topic of the day was to address the outstanding cases that have not been covered in the so-called Lost Canadian Bill -- Bill C-37.
"I was given five minutes," she said about her testimony, "I wasn't even able to finish."
As Canada's current citizen and immigration czar, Conservative Jason Kenney is the only person standing between Scott and a 5(4), a grant of citizenship that only the minister can approve. Her long road to legitimization rests in the ink of the Kenney's pen.
After her unsuccessful testimony in June 2009, Scott and other outstanding Lost Canadians held a press conference in Ottawa in October 2009, pleading their case on the parliamentary steps, hoping to get the minister's attention.
"Rather than having press conferences or trying to politicize their application, just make a solid application, make a strong case, and it will be considered fairly on the merits of their case," Kenney told the CBC of their display.
Kenney declines comment
A year and a fresh denial later, however, Scott is still not a Canadian citizen and the list of "lost" is growing once again. On his recent visit to Vancouver to celebrate a festival dedicated to Canada's migratory cultural mosaic, Kenney declined comment to The Vancouver Observer, as did his office in Ottawa regarding Scott's case.
UVIC immigration law professor, Donald Galloway is well acquainted with the Lost Canadian saga. He gave expert opinion to the Senate review committee on the draft of Bill C-37. He says that the minister's approach is not surprising.
"At the time the minister suggested that deserving cases would be adequately dealt with expeditiously on a case-by-case basis. That this case (Scott's) has not yet been resolved reveals that a narrow legalistic attitude seems to have prevailed."
As for Scott's would-be MP, Conservative Nina Grewal, who was a member on the Standing Committee on Citizenship and Immigration that Scott addressed one year ago, she too has declined to comment to the Vancouver Observer. Her staffers noted that the "unique" aspects of Scott's case do not allow for disclosure. They suggested contacting Citizenship and Immigration Canada saying that office would be more "appropriate" to answer. However, CIC cannot comment on individual files, nor can they change the laws -- that is something only MP's do.
The government is working on an amendment to Bill C-37, one that is said to address the issues the government was aware of in 2008 but did not have the time to push through.
MP Weston suggests amendments
Conservative John Weston, MP in West Vancouver-Sunshine Coast where tireless and prominent Lost Canadian activist Don Chapman lives, said the government is aware of the problem and has been consistent in its efforts to fix the situation:
"We have yet another proposed improvement to the Citizenship Act, introduced in the house, another Bill C-37," Weston said. "And that bill, among other things, will deal with or remedy situations where we have unintentionally barred citizenship to eligible applicants."
Though Jackie Scott is one of those who has been unintentionally barred her citizenship, (she has never renounced her nationality), she need not get her hopes up over this new action. The proposed amendment does not address those born out of wedlock before 1947, Chapman said, nor does it address the 81 cases that he has taken up cause for through his website.
As the debates continue on parliament hill, Scott waits patiently at the 176th Surrey border and volunteers her time around the park. She is no longer legally allowed to work in Canada, even though she has been offered employment at the RV site. Her third set of applications, one for yet another 5(4) grant of citizenship and the other asking for naturalization dating back to the time of her birth, are in review.
If denied again, she said she will launch a court challenge, as other notable Lost Canadians have done, and get the law changed at great expense to the Canadian taxpayer.
For more on this and other stories about Lost Canadians, see the full series on the Vancouver Observer, here.