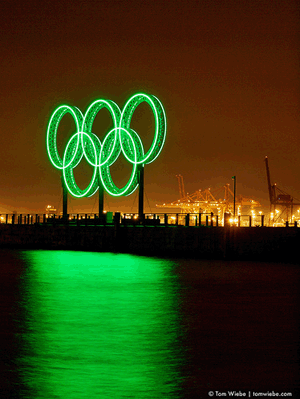 It started with a gold rush and it will end with a gold rush.
The Vancouver 2010 Winter Olympics will be the last mega-event in the Interstate 5/Highway 99 corridor, a region dependent for more than a century on epic spectacles to stimulate infrastructure spending on buildings and transportation.
Mega-events rely on massive infusions of capital and large tracts of real estate on which to build. But the region has densified, and wide-open, accessible spaces available for development are harder to find. Though they will leave a substantial highway, rapid transit and sport venue legacy, the staggering costs and minimal benefits of February 12-28 Games will mean little appetite for anything on such a scale in this region.
101 years of expos and games
Seattle was the terminus of the Klondike stampede of 1897-1898, when 120,000 prospectors hopped aboard ships for Skagway, Alaska and made their way by foot and steamer to Dawson City, Yukon. Many came home empty-handed.
A group in Seattle proposed a 10th anniversary fair. The Alaska-Yukon-Pacific Exposition took place more than a year late in 1909 and drew 3.7 million over four and a half months to a 101-hectare site eventually turned into the University of Washington.
Vancouver's 1954 British Empire Games will forever be known for the Miracle Mile at Empire Stadium. If anything put Vancouver on the map in the English-speaking world, this was it. The first big summertime multisports event in North America after World War II was featured in the first edition of Sports Illustrated. Empire was demolished in 1992, but the University of B.C.'s outdoor pool is one of the last remaining legacy venues.
Seattle's science-themed 1962 Century 21 World's Fair is the best example of a nearly intact legacy. The monorail, which goes from the Westlake Centre food fair to the Centre House food fair (through the Frank Gehry-designed Experience Music Project) is not the only remaining legacy. The landmark Space Needle, Pacific Science Centre and fountain are just several of the functioning remnants on the Seattle Centre campus. The futuristic fair drew 10 million visitors. Plans are underway for a 50th anniversary celebration in 2012. No doubt it'll include a screening of Elvis Presley's It Happened At the World's Fair.
Washington scored a world's fair hat-trick a dozen years later when Spokane hosted Expo '74 on 100 acres of downtown Spokane.
A dozen years later, Vancouver had Expo '86 along a former railway site that stretched from the Granville Bridge to Quebec Street. It was the last great expo in North America. Elements of Expo '86 are in use for the Olympics, such as Science World (temporarily Sochi World), the Roundhouse (Casa Italia) and Canada Place (main press centre). The inukshuk designed by Rankin Inlet's Alvin Kanak stood at the northern pavilion in 1986 and was moved to English Bay. It also moved graphic artist Elena Rivera MacGregor to design the winning logo for the 2010 Games.
Timing was perfect for Expo '86
Expo '86 is credited with being the catalyst for Vancouver's makeover, though the timing couldn't have been better. In 1984, Britain agreed to shift Hong Kong back to Chinese control by 1997. Three years after Expo, the Tiananmen Square massacre unfolded while the world was watching, prompting tens of thousands of Hong Kongers to search for the most convenient safe harbour. Tycoon Li Ka-Shing already found it when he bought most of the old Expo site in a controversial sale. Masses followed him to begin new lives in Vancouver and further transformed the city and its suburbs into a Pacific Rim powerhouse.
Ted Turner of CNN fame brought his Goodwill Games to Seattle in 1990. It was a cold war alternative to the Olympics, which hit another low in 1980 with a U.S.-led boycott of Moscow during that version of an Afghan war.
Victoria hosted the Commonwealth Games in 1994 -- 50 years after Vancouver 1954. When that was over, some on the mainland predictably said "what's next?"
Sport B.C. executive director John Mills wanted to fix the city's aging sport infrastructure -- especially the demolished Empire Stadium property -- and thought a bid for another big Games would do the trick. Consultant Roger Jackson concluded Vancouver could try for either summer or winter, but winter would be easier to win because of Toronto's desire for the Summer Games. Tourism Vancouver jumped on board and the torch was eventually passed to Arthur Griffiths, who received the Canadian Olympic Committee nod over Calgary and Quebec City in 1998.
Cost-benefit ratio has diminished
The strategy behind Vancouver's Games was actually not so much about sport as it was to stimulate real estate and tourism in a province that had long wanted to diversify from a resource-based economy. But at what cost?
The last tally by the Office of the Auditor General found it was costing taxpayers at least $2.5 billion, but anyone with a calculator can add up $6 billion in direct and indirect Olympic costs. The recession, the inconveniencing of a whole city to make way for a 30 percent bump in downtown traffic and the inevitable post-Games paying of the bills will mean that memories of the Canadian gold medal-winners on home ice and snow will ultimately be the reminders of the last mega-event.
PriceWaterhouseCoopers estimated the Games would pump $4.2 billion into the B.C. economy from 2002 to 2020. That sounds like a lot until you consider that the province's gross domestic product was almost $198 billion in 2008 alone. If the retail industry suffers in B.C. during the Games like it did in Utah during Salt Lake 2002, then the benefits will melt further.
Vancouver and Seattle have reached a maturity -- not to mention a density -- that will end that reliance on mega-events. No active bids are on the table, nor are they likely to be. The nearest big event could be 2017 in Edmonton. Land and community will in the Alberta capital could be enough to support a bid for a world expo on the theme of energy sustainability, supply and demand.