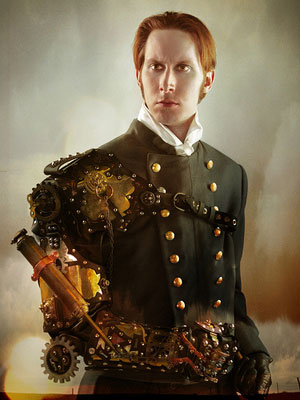 [Editor's note: The Tyee is proud to co-publish with Rabble.ca a multi-part investigation of Maker Culture -- the do-it-yourself movement fast evolving in North America and beyond. This is episode three of 11, running Fridays.]
If you weren't making things 100 years ago, you'd be dead. Your home, your food, your clothes and even your toys were all made by you or someone you knew. Somewhere along the way, humans seem to have forgotten that we were makers, and instead became consumers.
Now, when some people build, sew and bake they are making a conscious choice to return to our maker roots. This movement is MakerCulture. Today, makers challenge the mainstream and make instead of buy.
What used to be a necessity is now a lifestyle. But how were these people inspired, how did they learn, and how did they get to where they are now?
Here are the stories of some modern-day makers.
Sewing it all together
Some of us shop only designer, some of us shop only bargain bin, and some of us hardly shop at all (well, for clothes at least). These people are makers of clothing and accessories.
Beth Graham, a yarn seller at Shall We Knit in St. Jacob's, Ontario started knitting seven years ago when she noticed all her friends were doing it, and she wanted to jump on the band-wagon, she said. Graham now knits socks, scarves, and sweaters because she can make exactly what she wants.
"Socks I can make myself, I can fit to my large, skinny feet," said Graham. "And they fit better, and they feel better, and they look better, I think."
Graham is like a lot of makers, she makes items for herself instead of buying similar products in places like Wal-Mart. Other makers, like Jackie Vass, make products for themselves and for others. Vass started making jewelry four years ago after her and her husband retired from the pottery-making business. She currently sells her work at St. Jacob's. 
Since she also wears the jewelry she makes, she often sells pieces right off of her neck, she said. "Then I go put another one on, and some days I've gone through three necklaces," said Vass with a laugh.
But there's more to MakerCulture than simply making for yourself or for profit. There is also an element of sharing between makers. Marie Sharpe, the head costume designer at the Arts and Culture Centre in St. John's, Newfoundland, began making her own clothes as a teenager and turned her passion into a career. Although she makes most of the costumes for various shows herself, she uses donations from the community to build her collection of costumes.
The costume bank has become a place for people to bring things that are precious to them, said Sharpe. If people in the community have things from their parents who passed away, they know the heirlooms will be taken care of here, she said.
"[People would say,] 'I don't want to put dad's top hat in the Good Will, or mom's fur coat, or mom's beautiful evening gloves,'" said Sharpe. "'She loved this stuff so much. I could give it to a charity for it to go in a bin. But if I give to you, you'll use it in a show, and then it lives on.'"
Make, break and remake: A child's discovery of how things work
Several decades ago, Darin White's mother rolled out of bed, dressed her kids for school and downed a quick coffee. For once, she was going to make it to work awake and on time. Just a quick shower, and she'd be on her way. Then she noticed a four-year-old Darin tinkering with her hair dryer. He had been quiet and strangely captivated so she thought nothing of it.
It was then she discovered that the once a fully-functioning hair dryer was now in a million indiscernible pieces.
"I wanted to know how the thing worked," laughs Darin White, looking back on the now-infamous incident he aptly refers to as his first 'maker' experience. When he took the hair dryer apart and hooked its motor up to a battery, he remembers being blown away by what he saw.
"I could actually see the different components moving," he remembers. "It was absolutely amazing."
These days White works as a security product manager at Research In Motion and is the acting director of Kwartzlab -- a hackerspace located in Kitchener, Ontario where like-minded individuals collectively pool their knowledge and creativity in order to see the projects they have been dreaming about come to life.
When he wasn't deconstructing appliances around his parent's house as a child, he was building and creating with his Lego sets or his 150-in-1 Electronic Project Kit from Radio Shack.
His curiosity for how things work has led him to where he is today, and he admits a lot of what he worked on as a child was purely trial and error.
"I never really had anyone explain to me exactly how things worked," says White. "And that's exactly what I am doing now with people young and old at Kwartzlab. I kind of bootstrap them into a project where they know all the little intricacies of the projects they're working on."
Like White, Mark Pavlidis, a software developer and consultant for Pavlidis Consulting, grew up with an insatiable desire to know how things worked.
"It was just a natural tendency to deconstruct things and learn as much as I could about how my toys worked so I could eventually build my own," says Pavlidis.
On Christmas morning, when most kids are busy playing with their new toys, Pavlidis remembers reading manuals from front to back so he could know his new toys inside and out.
"As a child I used to call them 'constructions' instead of 'instructions,'" laughs Pavlidis. "For as long as I can remember this curiosity has been ingrained in me... and I continue to build upon it in whatever I do."
Makers and bakers
The wide aisles of wholesalers like Costco and the narrow lanes of the grocery stores may be busy, but a growing number of people don't want to be a part of that lifestyle.
The process of making food from scratch is no longer just a pastime -- it is part of a bigger movement. Some people are against the idea of buying and eating mass-produced food. This is where Maker Culture comes into play.
Making food our own food is a practice that's been around for centuries. But mass-produced food, impersonal packaging, and buying in bulk may be alienating people and getting them back to the basics.
Centuries ago, people were growing and catching their own food out of necessity, but now when people cultivate their own food from scratch they are making a choice. Noreen Awan is one of them.
"I've been baking my whole life, I started in my mother's kitchen," she said. Awan has made the choice to do away with all store-bought cakes and make her own from scratch instead.
She is the owner of Buttercream Cupcakes in Waterloo, Ontario at the St. Jacob's Farmers Market. Awan concocts a new flavour of cupcake every month and she ices each cupcake every morning at 5 a.m. 
"Doing it myself means a lot. When you have your own business, you're responsible for absolutely everything, you're responsible for marketing as well as your item... I put everything I have into it," she said.
From picking the freshest ingredients to presenting the completed cupcakes, Awan makes sure she is part of the whole process from start to finish. By combining baking and making, Awan shows how she has made the choice to produce her own baked goods, sell them and go against mainstream mass production.
Chocolate maker Adri Horne also has a stall in the market and has been making chocolate from scratch for fifteen years. The quality of the product and love she has for the process is what keeps her making chocolate, she said.
Making, selling and, of course, eating her own chocolate, shows that Horne is another maker who isn't content with what is sold in stores. Like many others, she is literally taking ingredients into her own hands and making something different.
MacGyver as ProtoMaker
Angus MacGyver needs to light a fuse, but he has no matches. He removes the crystal with his Swiss army knife, and holds it so that sunlight is concentrated into a fine beam. He aims the beam it at the fuse, and successfully lights it.
MacGyver was the ultimate do-it-yourselfer. But he was also just a TV character on a show that depended on special effects. We often forget about the people responsible for making those effects as part of their everyday job; they are the real makers.
Cam Waldbauer is a manager and special effects technician for Vancouver-based Objects Inc., and Maker Culture flows through his veins.
He never had the chance to work on MacGyver, but has done special effects work on shows like Viper, and the Hollywood films 2012 and the new A-Team. Cam is a self-described maker; a fabricator, welder, and machinist. He said that he first learned to weld when he was five years old, and he says that MacGyver played a huge role in the emergence of the Do-It-Yourself ethic and garage machinists.
"I think it kind of intrigued people, you know, just kind of showing you could build something out of nothing, even though us in the film business know that there's never something out of nothing."
SteamPunk: Re-making the past
Maker Culture represents a fusion of the past, present, and the future; makers are in the process of creating a new and exciting future for the entire planet.
There is a movement which fuses these concepts of past, present, and future. That movement is SteamPunk, and it embodies the very ethic and ideas of Maker Culture and Do-It-Yourself that this entire project is focused on.
SteamPunk devotees imagine and invent a Victorian world where the primary form of power is the steam engine and where the science fiction devices of H.G. Wells and Jules Verne are alive and well. And, oh yes, computers, like those imagined by Charles Babbage, were actually built and functioning.
G.D. Falksen is a history student and author of fiction, whose work spans a wide range of genres, including SteamPunk, pulp adventure, historical fiction, horror, sci-fi and fantasy. He described SteamPunk as "essentially yesterday's future -- or perhaps 'the day before yesterday.' The advantage of modern SteamPunk is that we know where technology ultimately goes and how society develops, and we're able to take modern tech systems and concepts and re-imagine them using a Victorian aesthetic."
[Video: California SteamPunk convention]
He also says that many of the current technologies that comprise the MakerCulture ideals are not new ideas.
"One thing that is so fascinating is forensics, mass-production, information networks, mass transit, office life, etc., were anticipated by the 19th- and early 20th-centuries. Part of the fun of SteamPunk is envisioning the present or even the future in a Victorian context, and then to see just how closely these modern concepts match with historical fact and imagination."