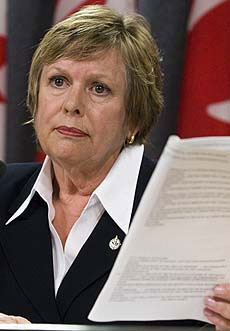 When Simon Fraser University, a publicly funded institution, wanted a provincial law changed, they hired a former president of the British Columbia Liberal Party to lobby on the school's behalf.
Andrew Wilkinson is one of three people who has registered in recent years to lobby provincial officials for SFU, an effort that has cost the school hundreds of thousands of dollars in the last two years. A lawyer in the Vancouver office of McCarthy-Tétrault, besides being a past president of the B.C. Liberal Party, he worked as a deputy minister for the Liberals in Victoria before joining the firm in 2006.
The University of B.C., the B.C. Institute of Technology and Okanagan University College have also had lobbyists registered with Victoria during the Liberals' time in office, most of them in the last three years. So has UniverCity, a corporation associated with SFU.
"You'll have to talk to SFU about it," said Wilkinson, reached by phone. As a lawyer, he has to respect client confidentiality, he said.
Asked in general about why public institutions might need the help of lobbyists in Victoria, he said, "I don't want to get into random commentary about the registry."
Lobbyist 'fast and convenient'
"As I understand it, you are expected to put your case forward through some kind of representative like an Andrew Wilkinson," said Don MacLachlan, a spokesperson for Simon Fraser University. A few hours later he called back and said, "My impression was mistaken. It isn't required, but it's a fast and convenient way of doing it."
Wilkinson knows how to get things done in Victoria, MacLachlan said. "He understands the government process and so on and so forth."
The particular issue Wilkinson worked on had to do with parking fines. The University of British Columbia was in a court case that eventually found it lacked the authority under the University Act to fine illegal parkers. Other schools covered, including SFU, would likely be affected, said MacLachlan. SFU's solution was to hire Wilkinson to seek a change to the act.
"The channel you'd use to seek an amendment to the University Act would be to use someone like an Andrew Wilkinson," said MacLachlan. "You don't send the president of the university to talk to the premier about it."
He could not say how much Wilkinson had been paid. The firm he works for, McCarthy-Tétrault, received $430,000 from SFU in the fiscal year that ended March 31, 2008, he said, and according to statements that will become official once they are presented to the school's board of governors on Thursday, $363,000 for the year ended March 31, 2009.
He recommended calling Judith Osborne, SFU's Vice President, legal affairs. She did not return The Tyee's call by posting time.
SFU's $140,000 to Progressive Group
Wilkinson is one of three well-connected Liberals to lobby for SFU.
Mark Jiles registered as a lobbyist for SFU "to promote a new health science building in Surrey." It was an assignment that had him talking with cabinet ministers Bill Bennett, Ida Chong, Kevin Falcon, Shirley Bond and Murray Coell in their pre-election roles.
Jiles managed Premier Gordon Campbell's constituency campaign in 2005 and has donated over $8,000 to the B.C. Liberal Party since that time, according to Elections B.C.'s donation database. He is also president of the Progressive Group, the same company Patrick Kinsella is associated with.
MacLachlan said SFU's detailed schedules of payments to suppliers, which are unavailable on the school's website but can be inspected at its administrative offices, show Jiles' Progressive Group received $67,762 in the most recent fiscal year and $70,011 the year before that.
SFU previously had John Moonen registered as a lobbyist. The registration, covering a period of five years, was to talk about "facilities funding". The registry lists his contact with ten cabinet ministers including the premier, as well as several backbenchers and agencies.
"I know in John Moonen's case we were getting advice on what government's priorities were or seemed to be," MacLachlan said. The school paid Moonen's company $27,184 in the fiscal year that ended on March 31, 2008, he said.
Moonen, who also has registered to lobby for several municipalities, The Tyee reported yesterday, is a former federal Liberal candidate. He and his company, John Moonen & Associates Ltd., gave over $16,000 to the B.C. Liberal Party between 2005 and 2008.
Minister unfamiliar with lobbyists
SFU is one of a few publicly funded institutions that have lobbyists registered to represent their interests.
Okanagan University College had Alex Pannu registered on its behalf in 2002 and 2003, and the University of British Columbia had lawyers Donald Lidstone and Gregg Cockrill registered between 2007 and 2009.
The B.C. Institute of Technology has had three lobbyists registered on its behalf in the last few years. They include former ministerial assistant Steven Puhallo and former deputy minister to the premier Ken Dobell. The third is Josh Christensen, whose Facebook page describes him as a fan of Premier Campbell, Solicitor General Kash Heed, Health Minister Kevin Falcon and Finance Minister Colin Hansen.
A BCIT spokesperson said he would look into what the lobbyists did for the school and what they were paid, but he did not have answers by posting time.
Advanced Education Minister Moira Stilwell, first elected in May, was unavailable Friday for an interview. A spokesperson sent comments "attributable" to her.
"I'm not familiar with the lobbyists registered with the post-secondary institutions," the statement said. "We maintain an open and accessible ministry, and we balance the needs of B.C.'s students, institutions, and taxpayers on a daily basis."
Help in a complex world
Universities paying lobbyists makes sense when the relationships between institutions and the government are complicated, said Gary Mauser, an SFU business professor and authority on political marketing. "The word lobbyist is used as an insult, but it's also a very descriptive term for people who help improve communications," he said. "The world is complex. You need help. Whether that's intrinsic or not I can't tell. I think it is."
That may well mean hiring people who are politically well connected, he said. "It would be sensible to hire guys who are connected with the current political stream. That's just mere functionality."
As a university professor, he said, he approves of his school spending money on lobbyists if it brings more resources to SFU, but not without some caution.
"The worry is, What else is going on? Is there a way people are making money under the table? Is there a way this is underhanded? I don't know that and I have no indication that is the case," he said. "Universities have no money to reward people under the table like some other groups might have."
That public institutions are hiring lobbyists at a time when funding is scarce is "bizarre," said the New Democratic Party's advanced education critic Dawn Black. "To me it speaks to the chaos this government's in," she said. "It seems quite incredible to me. I wouldn't think publicly funded institutions would need to hire a lobbyist to get the attention of this provincial government."
"That's public funds and student tuition fees that are being used to fund lobbyists," said Shamus Reid, the chairperson of the Canadian Federation of Students-British Columbia. "It's resources that should be going into education... that are being directed to lobbying the government."
The practice is particularly troubling given the underfunding of post-secondary education in the province in recent years, he said.
"It's certainly frustrating for students to see resources directed into these kinds of activities," said Reid. "We shouldn'be be making back-room deals. The government should be recognizing education is a priority and investing in it."