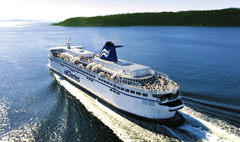 Passengers on smaller BC Ferries routes are suffering, ferries are failing to discourage car usage, and the company's future revenue looks uncertain. And yet BC Ferries is still consulting with the public better than ever.
Those were some of the contrasting points made at a generally amiable yearly public meeting of BC Ferry Services Inc., held at the Simon Fraser University downtown Vancouver campus on June 25.
Of the 40 people in the audience, a few came to the public microphone to raise questions for BC Ferries president and CEO David Hahn.
First up was Tony Law, chair of the coastal communities ferry advisory committee (which coordinates the 12 local ferry advisory groups in B.C.).
"I've been doing this for 12 years and the consultation process is first rate compared to when we started," he began. "Your proactive communication and collaborative problem solving is working."
Yet there were some outstanding problems also. "The elephant in the room is the galloping increase in fares and the decrease in traffic," said Law. "Management in your annual report may have uncertainty on a link between the two, but we have a high degree of certainty."
Cost of fuel, more than fares, hurt traffic: Hahn
Hahn disagreed that fares were the determining factor of how much people travel -- although it might have some impact -- because the larger factor was the skyrocketing fuel prices that discouraged British Columbians from driving.
In its annual report, BC Ferries projected a revenue rise of 10.5 per cent in fiscal 2009/10. Law said "I'm not sure we share that optimism." He urged the province to take more responsibility for the cost of capital replacement.
"There also has to be a new BC Ferries strategy on the minor routes. Without some kind of serious intervention, we foresee serious damage over the next few years to those communities that depend on the ferries."
Hahn replied that "We are a service provider, so we don't make those public policy decisions. The government will make those over the next 30 months or so."
Bus connections need work
One private citizen at the microphone complained that BC Ferries seemed to be resisting the B.C. government''s policy of weaning more people away from driving cars, for the goal of environmental sustainability.
He urged the company to coordinate its schedules more closely with those of BC Transit. If a bus approaching a ferry is a few minutes late, he said, the ferry is never delayed for those passengers, and BC Ferries should create a new "transit czar" who would look at all transit linkages.
"It seems you have a fear of people taking public transit," he said. "There's no bus schedules available on the ferries, and if you're doing that to keep people in cars, that's pretty disgusting."
Hahn denied that this was BC Ferries' intent, although he admitted the company in theory could encourage people to stop driving cars, which would cause BC Ferries to lose driver revenue.
On scheduling, he said the ferries could not afford to wait for late busses, for doing so would create havoc with their own routes. "It would be better if transit matched our schedules, not we match theirs."
He noted that bus schedules are widely available elsewhere, including online, and "there's some personal responsibility for people to manage their own travel."
What's a fair fare?
Another citizen complained of differential fares amongst various ferry routes, and he proposed that BC Ferries adjusted the fares to closely match the travel distances.
"There have been debates over many years over what is called 'fare equity,'" replied BC Ferries finance vice-president Rob Clarke. "The genesis of some of those fares is well steeped in political tradition. But we're not in the political business. And distance does not always match cost of providing service, and it should not be the only factor."
Clarke concluded that a financial concession granted to one community must be subtracted from another to compensate for it, and there would be little agreement amongst them on who is more deserving.
The chair of the Southern Gulf Islands advisory group reported that people living on islands on the "minor" routes, on very low incomes, are in much distress, for they are very tourist dependent and traffic has fallen.
Measuring the past year's performance
Highlights from the fiscal year of 2008/09, as presented by BC Ferries' executives, include:
Both vehicle traffic and passenger traffic declined from the prior year as expected. Dramatically higher vehicle fuel prices earlier in the year, rising unemployment, reduced consumer confidence, lower levels of tourism, and the decline within the B.C. economy contributed to this reduction.
BC Ferries carried more than 8.1 million vehicles and 20.7 million passengers on 187,000 sailings.
Ships completed 99.67 per cent of scheduled sailings, and had an overall customer satisfaction rating of 86 per cent.
Continued environmental initiatives, including the use of cleaner-burning low sulphur fuels in vessels, the use of electric cars by employees at our major terminals, extensive recycling programs, wet waste composting, environmentally-friendly cleaning products and the use of biodegradable hydraulic oil.
Over the last three years, BC Ferries spent $1.2 billion in total capital expenditures, reflecting significant investments in infrastructure to revitalize the fleet and terminals.
Added two new Super C-class ships to the fleet in 2008: the Coastal Inspiration and the Coastal Celebration. The new ships, along with sister ship the Coastal Renaissance that entered service in March 2008, marks the successful completion of the Super C project ahead of schedule and $26 million under budget.
These vessels are among the largest double-ended ferries in the world, with each vessel 160 metres in length, with a capacity of 1,650 passengers and crew and 370 vehicles. They feature a diesel-electric propulsion system that is one of the largest and most economical of its kind in the world.
Introduced the Island Sky, a new intermediate-sized vessel that entered service on the Earls Cove-Saltery Bay route on the Sunshine Coast in February 2009.
Welcomed the arrival of the Northern Expedition in March 2009. The new 150-metre cruise-ferry offers a travel experience for customers on the northern routes with 55 modern staterooms.
Completed a $31 million dock upgrade project at four northern terminals. The project, which was completed ahead of schedule, was the largest berth upgrade BC Ferries has ever undertaken.
Returned the Queen of New Westminster to service after a $54 million upgrade.
Retired several older ships from service. Two of the ships, the Queen of Esquimalt and Queen of Tsawwassen, have since been sold. In April 2009, the Queen of Vancouver and the Queen of Prince Rupert were also retired from service. These two ships, along with the Queen of Saanich, are currently for sale.
Consulted regularly with 12 Ferry Advisory Committees.
Facts passed over at AGM
A few recent news items regarding BC Ferries, not raised at the meeting, include:
BC Ferries is appealing an order that it reinstate the former captain of the ill-fated Queen of the North to his job as ship's master. WorkSafeBC ordered Colin Henthorne back on the job earlier this year. He was dismissed in April 2008 after raising concerns about health and safety issues, an inspection report said. The report did not indicate on which vessel Henthorne was working at the time he raised the concerns. But WorkSafeBC said his dismissal was "not directly related to the sinking of the Queen of the North" two years earlier, in which two people died.
Five BC Ferries vessels were involved in "near collisions" with other commercial ships in 2008 requiring evasive action, said the federal Transportation Safety Board. No fault of BC Ferries was noted, and no event was serious enough to warrant a followup investigation.
BC Ferries voiced regret at not telling its unionized workers about its plan to permanently cancel some ferry runs between Nanaimo and Vancouver before it was leaked to the media. The union said it had "absolutely no consultations" about the cuts, which will impact some of its members.
Related Tyee stories: