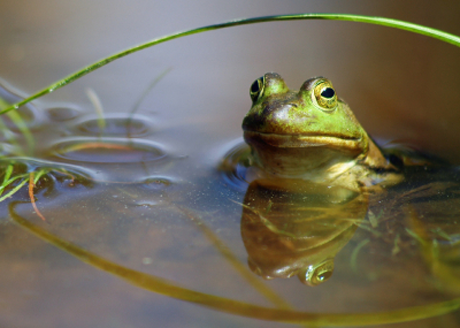 *Story updated at 12:47 p.m., June 18, 2009.
What's a bog worth?
For anyone who has ever paddled a canoe or caught frogs in a pond, assigning a dollar amount to nature may seem, well, unnatural.
Then again, there will always be those who look at a bog and see a muddy spot on the map ripe for turning, literally, a concrete profit.
But for some experts focused on fighting climate change, the value of preserving such ecosystems is enormous.
In fact, many economists say it's a value we can no longer afford to ignore. When human activity wipes out critical ecosystems the larger, true cost should be charged to someone. This is the basis of triple-bottom line accounting.
Putting a price on nature and its vital functions isn't some abstract academic notion. We're now trading carbon on a global market, and a similar model is being used in the U.S. for ecological services, like water filtration, or flood control.
Some conservationists say it's a system B.C., and the rest of Canada should adopt.
Others say we'd just be playing a "mug's game" by injecting different values into the same consumption-based market.
It's a debate that is bound to become more fierce as the realities of global warming are increasingly intertwined with economic priority setting by public officials. And it's a calculation that has led some to already place a dollar value on Canada's entire Boreal Forest. For just some of the ecological work it does, the price tag is $77 billion.
The price of biodiversity
So back to the question: what dollar value should we put on, say, a bog? To be more specific, what are the wetlands worth along the Fraser Valley, which happens to be one of the most biodiverse places in the province, one whose flora and fauna is at risk from rapid development?
According to one report on the Lower Fraser's natural capital, 70 per cent of its river wetlands had been diked by the 1970s, and in the 1990s another 1,000 hectares of wetlands were lost.
That same report pegged the value of that wetland at $400 to $1,200 per hectare per year, based on the "free" service it provides filtering phosphorus and nitrogen out of our drinking water.
But although the value of a wetland is one thing, the cost to protect it is another, depending on how much restoration work, if any, must be done, and on the value of land.
And land in the Fraser Valley is expensive, says Mark Angelo, head of the Heart of the Fraser. His organization identifies land with "exceptional natural and historical value" and raises funds to acquire and protect them.
Although land owners sometimes donate all or part of their property, the process "invariably involves raising lots of money," says Angelo.
The concept of a wetland market or banking system, is an interesting one, says Angelo -- one he thinks that should be explored here.
Wetland banking in the US
In the United States, two key pieces of legislation have helped create a market for ecosystem services.
The Clean Water Act and the Endangered Species Act mandate that if developers can't avoid destroying wetland or endangered species habitat, they must compensate for it by protecting and maintaining a piece of that ecosystem somewhere nearby.
In the U.S., wetland mitigation is worth approximately $3 billion per year, and there is also a national mitigation banking association.*
Last December, U.S. Agriculture Secretary Ed Scahfer created an office of ecosystem services and markets.
Ecosystem Investment Partners is one investment firm that manages a portfolio of watershed and land mitigation in which people can invest -- like a mutual fund, explains partner Adam Davis.
They earn a return on those investments by selling wetland or biodiversity credits to companies that need to meet comply with the environmental regulations.
"There are a lot of people who are doing the same kind of thing that we do in the sense that they provide credits for the clean water act or endangered species act," says partner Adam Davis.
"Conservation biologists and ecologists have been telling us for years that intact ecosystems are valuable, that they do things for us," says Davis.
"But that value has been essentially invisible. Without ecosystem markets, i''s worth zero to protect."
Ecosystem values 'contingent' on markets
Canada's Boreal Forest, for example, is estimated to be worth $77 billion in water filtration and flood mitigation properties alone.
But these are contingent values, says UBC professor Kai Chan, who holds the Canada Research Chair in biodiversity and ecosystem services. Without a market -- which Canada doesn't have -- they don't exist.
"And in B.C. at the moment, the only markets that apply are voluntary ones," says Chan. "These basically apply just to carbon, and to people who want to offset their emissions."
The Pembina Institute made recommendations to the Alberta government to require tarsands developers to offset their destruction with biodiversity credits.
"They have not moved on that," says Simon Dyer, director of Pembina's oilsands program.
But he did note that the Alberta government recently announced its intention to create a no net-loss policy for wetlands in the province -- which is at least recognition that there are limits with air and water, he says.
"If we want to continue to develop those resources we need some sort of cap and trade system," says Dyer.
On a federal level, the Department of Fisheries and Oceans has a no net loss policy that requires the loss of fish habitat in one place must be compensated elsewhere.
"There's a lot of concern that often times fish compensation measure that are directed by DFO aren't actually really adequate," says Lara Tessaro, a staff lawyer with Ecojustice Canada. She points to Teseko's Mining Ltd. Prosperity project as one example: The company wants to use an existing trout pond as a tailings pond, and it has proposed it can compensate by building another pond.
Tessaro scoffs at this -- "you can't truly compensate the loss of something that's genetically, ecologically unique" – and herein lies a major criticism of ecosystem markets; that there are some things you simply can't replace.
Who calculates and pays the price?
Michael Barkusky, an accountant and executive member of the Canadian Society of Ecological Economists, says while there is not much dispute about the need to account for ecological services, the cost is complicated to calculate. The politics of who will cover that cost is another factor.
"Although it's the provincial and federal government that often makes decisions about major developments, it is the municipal governments who often bear the brunt of the cost of losing ecosystem services like the loss of water filtration or loss of habitat," Barkusky says.
"It's also future-oriented," he adds. "If you were to count the ecological costs of the South Fraser Perimeter Road, it's not something that would be felt today or tomorrow, it's right into the future."
There have been reports about whether the U.S. system really does protect wetlands. Ecological service markets are also still tied to global markets, which are ultimately based on consumption.
Jeff Matthews, the director of sales and marketing for Wildlands -- a mitigation bank that manages 27 banks in the U.S. -- says that, although private development dollars have diminished in the past year, there is still credit demand from public infrastructure projects like highways and transmission lines.
Playing the 'dominant game'?
Won't mitigation banks reach a point when all wetlands have either been protected, or developmed? Matthews says yes -- theoretically.
"For the foreseeable future we can't predict an end because there is so much undeveloped land."
And perhaps some of that land should just stay undeveloped. Michael McGonigle, eco-research professor of environmental law and politics at the University of Victoria says that injecting ecosystem values into our market is still playing the "dominant game."
"We're always valuing ecosystems in economic terms," he says. "The economy, to be worth anything, has to be modeled in ecological terms, not the other way around."
"I'll say it. I'm already marginalized. The next topic has to be: growth is not sustainable."
Related Tyee stories: