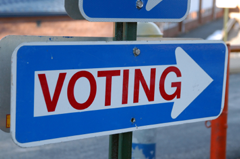 It would be fair for British Columbians to assume that only Canadian citizens voted in Tuesday's provincial election. After all, non-citizens can't vote in Canadian elections, right?
Well, it turns out that's not always the case. In fact, fraudulent voting in Canada is easier than some might think.
On May 13th, the day after the B.C. provincial election, Suzanne Norman, a supervisory voting officer at Armstrong Elementary School, filed an official complaint with Elections BC after learning that several people at the Vancouver polling station where she worked had been registered to vote despite being ineligible.
The concern was first brought to her attention when a man approached her explaining that his wife had received a Where to Vote card -- an official document that allows someone to vote -- despite the fact that she was not a Canadian citizen.
"He said, 'She's not a Canadian citizen, she's not eligible to vote, why does she keep getting these cards?'" Norman told The Tyee.
Later, a second man approached one of Norman's colleagues asking about regulations surrounding citizenship and voting eligibility and informed the official that three of the people voting in the room were not Canadian citizens. He chose not to challenge their vote.
But with four allegedly ineligible voters holding ballots in just one room, it is a situation that Norman, who has twice worked for Elections BC, says is a loophole that could easily be taken advantage of all over the country.
Faith, penalties and risks
In many ways, the Canadian electoral process operates on a certain level of faith in voters. It's simple to register if you are not eligible; they just trust that you won't.
Elections BC gets their voter list from the Elections Canada National Registry, which is built from vital statistics, and a variety of partner sources including Citizenship and Immigration Canada, provincial and territorial motor vehicle registrars, and the Canada Revenue Agency (CRA).
If not on the list, however, voters must only present photo identification and proof of residence to register for the voters list, and are not required to prove their citizenship, age, or other eligibility. If no proof of residence is available, a family member or registered voter from the same electoral district can vouch for them.
Voters and vouchers must sign a solemn declaration confirming their eligibility, the breach of which can result in a $20,000 fine, two years in jail, or both. However, there has not been a single charge of fraud in over 27 years. Only a handful of people have been challenged on their eligibility, despite the indication that it is happening in the province.
Voter fraud facts are scarce
Norman claims, however, it is entirely possible that the people voting ineligibly have no idea they are committing a crime. Two of the alleged ineligible voters she saw on election day had the oath translated to them by family. No translators were provided by Elections BC to ensure what was translated was actually what the voters were signing. Others without a strong grasp of English may see a voter card they have received despite being ineligible and assume rules have changed and they are allowed to vote.
"When they sign the oath, do they know what they're signing? We don't even know," says Norman.
Kevin Atcheson, policy analyst and researcher for Elections BC, said in correspondence with Norman that they make every effort to hire election officials who can speak the common languages spoken in their community, and to reach out to other ethnicities in ad campaigns.
"Elections BC's ads regarding voter qualifications, voting opportunities and where to get additional information are published in the ethnic media in several languages. During an election, Elections BC ensures that voter assistance is available through our toll-free phone service in many languages," Atcheson wrote. "There are also extensive materials available in voting places and on the Elections BC website translated into sixteen different languages to ensure that language does not become a barrier to exercising a citizen's constitutional right to vote."
Norman says that's not enough.
But Kenn Feris, spokesperson for Elections BC, admits while the system may be flawed, the integrity of it remains strong.
"We've never been given any information about systemic voter fraud in British Columbia and no one has ever come forward with facts to support voter fraud," Feris says.
He maintains that in order to keep voting accessible, a certain amount of faith must be put in the system.
"They sign a solemn declaration when they come to vote and we need to trust them and their word."
If they have gotten on the list and received a Where to Vote card but are not eligible, he said, they have done it themselves either directly at the polls or through one of the partner sources.
Achetson explained further, "All registered voters receive a Where-to-vote card. The only way someone can become a registered voter on the provincial voters list is by directly registering with Elections BC, registering to vote at a local government election where Elections BC registration forms are used, or by being on the federal voters list. Regardless of the source of the registration, at some point the voter has made a declaration that they are a citizen."
Voters, vouchers, and translators must all sign the oath, but to require more with no other options would be unfair and leave voters at a disadvantage, says Feris.
"We administer the Election Act, and we administer elections as a fair and equitable as possible. There are checks and balances in place and beyond that we do what we can to make voting accessible and fair. But there is a level of individual responsibility to be aware of what they're signing when they sign a solemn declaration."
A fine balancing act
So the system based on faith, with seldom administered punishment and such obvious loopholes begs the question. What should be held higher in a democratic election: security of the ballot, or access to it?
Dr. Dennis Pilon, a political science professor at the University of Victoria who specializes in BC politics and electoral reform, describes it as a concern, but a fine balancing act.
"The fact that [ineligible voters get registered] is obviously a problem," he says. "This is a question to ask [Elections BC] and say how is it possible that someone can get through that rigorous process?"
However, Pilon claims that, despite the unfairness of ineligible voters being registered, it is not a cause for great concern.
"There is no academic evidence to suggest that fraud is widespread in Canada," he says, unlike the United States where claims of fraud are often analyzed as partisan politics to make it more difficult for voters -- mainly democrats -- to register.
"In our voting system it's highly unlikely that someone could organize a campaign that could make any type of impact through voter fraud."
So we walk the tightrope of democratic fairness. Should Elections BC take steps to stop the people falling through the cracks into the election pit that don't belong there in the next election? Absolutely. But does it outweigh keeping a system open and accessible to everyone? Pilon says no.
"On the one hand we want to protect the security of the ballot -- we don't want people walking in from all over and voting when they're not supposed to. But on the other hand we want to balance that with access to the ballot, to avoid an elitist system."
Suzanne Norman was right when she said, "This is wrong. It's just wrong. Something has to be changed."
But the big picture is just as integral.
"We just need to put it in perspective," Pilon says simply. "We need to come up with a solution that isn't worse than the problem."
Related Tyee stories: