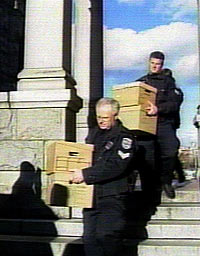 Mystery magnifies danger, as a fog the sun. --Charles Caleb Colton, 1780-1832
There are many mysteries yet to be solved in the B.C. legislature raid case, even nearly six years after it happened and following disclosure of more than 300,000 pages of evidence to the defence.
And whatever the results of the May 12 provincial election, there is also much danger for Premier Gordon Campbell and his BC Liberal Party if and when the mysteries are unravelled.
That may happen soon, because while the corruption charges against former B.C. government ministerial aides David Basi and Bob Virk have yet to be heard despite years of legal procedures, the Supreme Court of B.C. is gearing up for a long and fascinating trial that could begin very soon.
Basi and Virk stand accused of leaking confidential government documents critical to the $1 billion privatization of BC Rail to CN Rail in 2003 to lobbyists acting for another bidder, OmniTRAX.
Lobbyists Erik Bornmann and Brian Kieran are alleged in police documents to have provided benefits and money to Basi and Virk, who were intimately involved in the sale through their roles respectively as aides to then-finance minister Gary Collins and then-transportation minister Judith Reid.
Government communications aide Aneal Basi, David's cousin, also faces charges of money laundering connected to the case.
Dodging bullets through two elections
The Campbell Liberals have amazingly dodged the bullet through not one but two provincial elections -- 2005 and 2009 -- as special prosecutors, defence lawyers, other legal counsel for the province, BC Rail, the federal RCMP and still other parties parade through the courtroom of Justice Elizabeth Bennett with more reasons for delay than rainy days in Vancouver.
But one way or another, the denouement cannot be delayed much further.
But of all the mysteries, one alone could lead to the acquittal of Basi, Virk and Basi and explain one of the biggest, longest and most frustrating political scandals the province has ever seen -- the "Consolation Prize" -- what may be the Maltese Falcon of the case -- either incredibly valuable or simply a hoax.
The consolation prize?
The defence's key argument in attempting to exonerate Basi and Virk is that they were only following orders to keep OmniTRAX in the bidding for BC Rail -- orders that included giving lobbyist Erik Bornmann inside information about the process.
The bidding was seriously tainted -- Canadian Pacific dropped out publicly days before the announcement CN Rail had won the contest in November 2003, saying the process was unfair.
It has subsequently been discovered, in part through documents recently obtained by the New Democratic Party opposition through a court order, that Burlington Northern Santa Fe Railway -- which was partnering with OmniTRAX in its bid -- also dropped out privately before the process was completed.
BNSF said it was "extremely dismayed with the handling of the BC Rail Transaction.... because of the lack of fairness in which the process has been conducted."
And newly released documents also show that Canadian Pacific Railroad wrote in a letter to Ken Dobell, Premier Gordon Campbell's senior deputy minister, that the "actual value of the bids" in the $1 billion privatization of BC Rail in 2003 was known by winning bidder Canadian National and others before the B.C. government made its decision.
So, the defence alleges, the only way to keep the last bidder in the process and maintain a facade of a real competition was to promise OmniTRAX a "consolation prize" it would receive for cooperating with the government.
That consolation prize allegedly was the Roberts Bank Port Subdivision rail line, a spur line owned by BC Rail and worth up to $70 million.
Defence theory: just following orders
Lawyers Michael Bolton for David Basi and Kevin McCullough for Bob Virk have repeatedly argued in court that their clients' political superiors ordered the consolation prize be given to OmniTRAX.
The RCMP told B.C. Liberal Transportation Minister Kevin Falcon that the separate privatization process for the port subdivision had to be cancelled because it had been compromised by leaks of confidential government information.
And in police search warrant InformationTo Obtain documents sworn by RCMP Corporal Andrew Cowan, the residence of Bruce Clark -- then a federal BC Liberal executive and brother to then-B.C. Liberal cabinet minister Christy Clark -- was searched because:
"I believe that Clark received documents pertaining to a Request for Proposal and presentations regarding Roberts Bank. I believe that Clark has had meetings with Basi. I believe the items sought will be found at..." then giving Bruce Clark's Vancouver home address, the ITO concludes.
As always, it must be strongly cautioned that the ITO contains unproven allegations that have never been tested in court and that Bruce Clark faces no charges in the matter.
So, was the Roberts Bank Port Subdivision rail line a "consolation prize" for OmniTRAX?
So far there is no "smoking gun" that incontrovertibly proves the defence theory correct, although there is considerable evidence that points in the direction of a viable hypothesis.
But one piece of information contained in the NDP release of 8,000 pages of information previously obtained by defence lawyers through freedom-of-information requests has not been discussed anywhere so far except by blogger Laila Yuile, and posted online by the NDP.
Handwritten notes tell a tale
Yvette Wells was executive director of the Crown Agencies Secretariat, closely involved in the sale of BC Rail, working with cabinet ministers, senior government officials and others.
Wells' hand-written notes were obtained by the NDP and defence and are now public record.
On October 22, 2003, Wells attends a meeting with others and records the initials of those present in her notes as "KM/BS/CT/YW".
It appears to indicate that the other participants may have been: Chris Trumpy, the deputy minister most involved in the sale, Kevin Mahoney, BC Rail's then-vice-president and an unknown individual -- "Bob S," who was apparently in the Transportation Ministry.
Wells' notes include a reference to "CIBC" -- CIBC World Markets was the agency hired by the province to deal with financial aspects of the BC Rail sale.
Here's what Wells recorded in her own handwriting:
- "why didn't we disclose all bids to everyone?
- why parts of one and not others?.......
- dilemma:
- don't want to mislead other bidders
- don't want to tell them CN are getting other info -- don't want them to do work, spend $.
- don't want them to drop out b/c if can't resolve issues - we may go back to other bidders.
- CN got data from CIBC that they shouldn't.
- Bob S. contact on issue"
Wells' notes, the defence will no doubt argue, explain why a "consolation prize" was desperately needed to keep OmniTRAX in the bidding and preserve the view that it was "competitive" right through to the final decision.
But it will take sworn testimony in front of Justice Bennett and the tabling of other evidence uncovered by the defence but not yet made public before we will know if the most expensive consolation prize in B.C. history will also prove to be the ticket to acquittal for David Basi, Bob Virk and Aneal Basi.
Related Tyee stories: