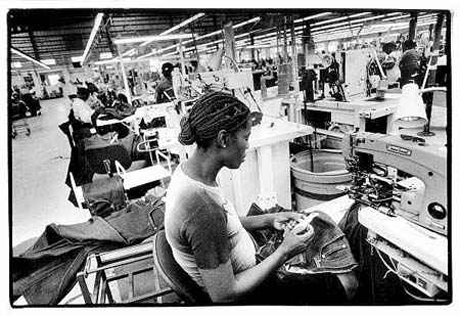 Haiti and British Columbia are about as different as two places get.
One is a temperate jungle, a "have" province in one of the richest countries on earth. The other has evolved into a tropical desert, an economic and ecological basket case.
One takes pride in its tumultuous history as the only country born of a successful slave rebellion. The other tries not to think too much about how the West was won.
But they do have at least one thing in common: a fierce debate over increasing the long-frozen minimum wage. The specifics differ but the arguments are essentially the same: a living wage versus the threat of job losses.
"We cannot go from 70 gourdes to 200 gourdes from one day to the next," I was told recently by George Sassine, president of Haiti's biggest business lobby, while he enjoyed a cigar on the terrace of a swanky hotel high in the hills above the capital, Port-au-Prince. "It would send the wrong message and create too much of a shock."
Those totals, by the way, correspond to US$1.75 and US$5. Per day.
So given that the job loss argument apparently never goes away no matter what the minimum wage, how low is too low? Or to put it another way, is there a point at which even the most ardent capitalists decide the floor could really use a little bump?
In B.C., at least, the answer appears to be no.
"We would never think the creation of a minimum wage was a good idea in the first place," said John Winter, the president and CEO of the B.C. Chamber of Commerce. "Businesses are not in business to pay wages, but to pay for productivity represented by the wages."
Similarly, Niels Veldhuis, a senior economist at the Fraser Institute, described minimum wage increases as "a very blunt tool" for dealing with poverty and dismissed as "a total myth" the notion that people would be making three or four bucks an hour if there was no earnings floor. He believes a flexible, investment-friendly, competitive market will allow workers to demand a fair price for their labour.
The provincial government's opinion is less clear-cut but Mark Thompson, professor emeritus at UBC's Sauder School of Business, said anyone who believes in a minimum wage thinks the balance between decent low-end wages and job protection is way out of whack right now.
Though he said the government would have to speak for itself (The Tyee tried repeatedly but without success to arrange an interview with Labour Minister Iain Black), Thompson pointed out the Liberals are, at any rate, getting their numbers from people who are ideologically opposed to a minimum wage.
He also said the Liberals had justified their refusal to increase the minimum wage, a pledge reiterated during February's throne speech, by saying they didn't want to "upset the apple cart" when times were good, and by brandishing the threat of major job losses now that the economy is in rough shape.
"Take those two statements together and it means they never want to increase the minimum wage," Thompson said.
Jim Sinclair, president of the B.C. Federation of Labour, which is at the forefront of the campaign for a 25 per cent increase to $10 an hour, couldn't agree more: "Freezing it for eight years means you reject a minimum wage."
Not even treading water
B.C.'s minimum wage hasn't budged since just before the Liberals won the 2001 election. At the time, $8 an hour was the highest floor in the country. But B.C. was the only province not to vote an increase in 2008 and now sits at the bottom of the heap, offering about half of what the Canadian Centre for Policy Alternatives says a person living in Vancouver or Victoria needs to afford housing, food, clothing and transport.
Thompson points to the substantial number of homeless people who have jobs, about one in six according to a 2007 Victoria area survey.
"If they're homeless, they're sure making a low wage," he said.
In Haiti, nobody even tries to put quotation marks around the term "working poor," as the Fraser Institute does here. Unlike in B.C., there is general agreement that the minimum wage is too low. It's the extent of the increase that's proving prickly.
Because the currency has devalued since being unpegged from the U.S. greenback, the minimum wage hasn't just gone down in real terms but in dollar terms, according to Paul Chéry, secretary general of the Haitian Confederation of Workers (CTH). Whereas a minimum wage worker earned US$3 per day a quarter century ago, that amount is now US$1.75 a day.
"That's unbelievable," Chéry told me from behind his desk in his spartan Port-au-Prince office. "It's a crime."
Meanwhile, the cost of living has shot up in this import-dependent country, though the prices of some basics have dropped a little since triggering widespread rioting last year. For a minimum-wage earner living across town from the industrial park, which is the heart of Port-au-Prince's textile industry, one day's work would get you to and from work, with enough money left over for two loaves of bread and a bucket of water.
A bill that would see the minimum wage nearly triple passed easily through Haiti's lower chamber earlier this year. But it still has to get through the Senate and that is likely to prove tougher.
"There is a lot of pressure from business to go with 150 gourdes," according to Camille Chalmers, an economist at the State University of Haiti. "That would be a shame."
He said the proposed change to US$5 would still be insufficient but would be a significant improvement over the current minimum he described as "obviously insufficient for daily necessities," adding that some workers spend as much as 85 per cent of their salary on transport.
Dismissing the minority
Both here and there, the vast majority of people would not be affected by minimum wage legislation. In B.C., the average wage is almost three times the minimum and the proportion of people earning $8 an hour dropped from 7.7 per cent in 2002 to 2.7 per cent in 2008.
In Port-au-Prince, 92 per cent of the economy is informal, according to Chalmers. And nationwide, only 200,000 out of an active population of 5 million work formally, according to Chéry.
"All the rest are in the informal sector, here and there in the street, trying to make a living," he said.
Oddly, in both places, opponents of the increase point to these numbers to buttress their case against making a change. At the same time, they say a hike would be costly because it would put upward pressure on surrounding income levels.
"Those businesses that pay $10 an hour because the minimum wage is $8 an hour will be forced to raise their pay," according to the chamber of commerce's Winter.
The B.C. Federation of Labour's Sinclair thinks the relatively small though significant number of people involved -- roughly 300,000 people provincewide earned an hourly wage of $10 or less in 2007 -- should make it easier and less painful to make the change. But the question is first and foremost a moral one, in his view.
"The point is, people are living and working in poverty and that's not OK," he said.
The nurturing hand of the market
"The issue when you go to work is do you get paid enough to stay out of poverty," according to Sinclair.
But for Sassine, the business lobbyist, that's not the real key.
"The philosophy is, do we want 100,000 jobs paying 200 gourdes (US$5) or 200,000 jobs at 100 gourdes (US$2.50)? What's better?" he asked. "200,000 people working if I were a politician."
Towards that end, he thinks a new piece of American legislation could be the key to restoring the textile industry he says was decimated when Bush the Elder imposed an embargo in 1991 and 90,000 jobs vanished virtually overnight.
In theory, it could create 100,000 new textile jobs over the next four years through preferential tariffs and access to the American market. (SEE SIDEBAR)
The CTH's Paul Chéry backs the new legislation with faint praise that highlights just how well the market takes care of people in a bad economy. He said the law isn't what Haitians wanted but unemployment is so severe, they have no choice.
"Maybe people don't earn enough but at least they work," he said. "They earn their bread with dignity."
Ciceron Roland, who has spent the last few months sewing the trims on shirts for minimum wage to support his wife and two kids, echoed that sentiment. For him, it's just a question of putting food on the table.
"You can't really do anything with that wage, but it's better than nothing," the 27-year-old said while on break at the industrial park. "So we come."
Related Tyee stories: