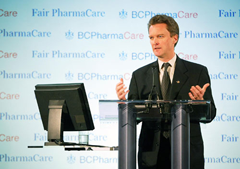 Contracting out much of the administration of the Medical Service Plan and PharmaCare programs was supposed to provide better service at a fixed price. Now it appears payments to the company that won the contract are escalating far beyond what was budgeted.
"This is the best solution in the short and long-term and will be an integral part of an effective, sustainable health care system for British Columbians," said then health minister Colin Hansen in a 2004 press release.
Hansen, now the finance minister, was announcing that Maximus B.C. Health Inc. had reached a 10-year, $324-million contract with the province. Maximus had "21st century technology and business practices" and would bring in a new system to replace "the outdated registration and claims processing" done by the government, he said.
It was a flagship contract signed by a government led by Premier Gordon Campbell that has overseen a trend towards a greater role for the private sector in delivering government services. The private sector applies business smarts that give the public better service at a lower cost to taxpayers, the government argument goes.
But in the case of Maximus, signed at a time when the province was contracting out well over $1 billion worth of government services, it does not appear to be working out that way.
Swelling costs
According to what Hansen announced in 2004, payments to Maximus should average $32.4 million a year.
In the first full year of the contract, fiscal 2005-2006, B.C.'s public accounts show payments totalling $28.8 million, slightly under the expected average.
In that first year, Maximus was the subject of numerous stories about poor service. Despite a contract saying calls would be answered within three minutes, wait times were much higher. Then NDP health critic David Cubberley called it "circus Maximus, service minimus" in the legislature (and a press release).
Health Minister George Abbott said the government was fining Maximus under the contract, though it was never disclosed how much of a penalty the company paid. Abbott was quoted in at least one news story saying the contract would soon provide better service at a lower cost.
In 2006-2007, according to the public accounts, payment to Maximus crept up to $33.8 million, exceeding the expected average by a modest amount.
But then in 2007-2008, payments spiked upwards. The government paid the company $42.1 million within the fiscal year. Another $10 million was invoiced in April 2008.
The province's public accounts are normally released in July, so the official figures for 2008-2009 will not be available until then, but a Health Ministry spokesperson said in an e-mail that the accounts will show another surge with a payment to Maximus of $51.2 million for the fiscal year.
That's a 22 per cent increase since last year's already high payment, and about 60 per cent over the $32.4 million a year expected when the contract was announced.
Negotiated changes
An explanation for why the payments to Maximus have ballooned was not forthcoming from the company.
"You'd probably have to talk to the province for those details," said John Kirby, the vice-president for business development at Maximus Canada. "I'm not in a position to release those."
Maximus' contract with the province says that the company may not release information without the government's approval, he said. The company has been meeting its service-level requirements and the client seems happy, he said.
A Health Ministry official took a list of questions, and a day later provided some answers. The payments are all under the original contract, she said by e-mail, but that contract has been expanded since it started four years ago.
"There have been change orders to the original base contract over time -- negotiated and agreed to by both parties -- to improve service to British Columbians and meet enhanced government requirements for the protection of personal health information," she said. "This is the major driver of increased payments to Maximus under the agreement."
She offered the eDrug project, part of the PharmaNet system, as an example. "As services are added to the original base contract, it should be expected there would be an increase in payments," she wrote.
Asked for a full list of what has been added and at what cost, she said she would need more time to find that.
"The government of B.C. has been very satisfied with the work that is being done by Maximus B.C.," she said. "They have been meeting all contractually-obligated Service Level Requirements for close to three and a half years."
Outsourcing costing more: NDP
An NDP incumbent MLA running in the new constituency of Victoria-Swan Lake, Rob Fleming, said there are two possible explanations for why payments to Maximus would be growing so fast. Fleming chaired the legislature's committee on public accounts.
One is that "They're fixing a system that has continually encountered problems," he said. The other is that "The ongoing outsourcing and privatization of systems in the public service is not saving us money. It's costing us more."
Speaking anecdotally, he said, "I know from people trying to register for MSP or make billing enquiries, they're waiting a horrendously long time on the phones."
He added, "Gordon Campbell has staked his reputation on the delivery of public services through this model."
A call to Liberal Health Minister George Abbott, a candidate in Shuswap, was not returned by posting time.
The Maximus contract is supposed to run from April 1, 2005 to March 31, 2015. Continuing to pay the company $50 million a year -- assuming no further escalations -- would put the total payments over $450 million, some 50 per cent higher than Hansen announced they would be back in 2004.
And payments have grown by over 20 per cent in each of the last two years.
That contract was entered at a time when the province was signing over $1.2 billion worth of deals with companies including EDS Advanced Solutions, Telus, Sun Microsystems and IBM (see appendix B in this 2008 report from the auditor general on alternative service delivery).
Corporate profits up too
Maximus B.C. Health Inc.'s U.S.-based parent company, Maximus Inc., filed its most recent annual report with the SEC in December 2008. Revenue for the company was up 19 per cent in fiscal 2008 from what it was in 2007. Much of the increase was attributable to the Operations Segment, which the report notes includes all of Maximus' foreign subsidiaries.
The Operations Segment's income grew by $50.1 million between 2007 and 2008. And while money from foreign-based projects made up 13 per cent of the parent company's revenue in 2006, it had grown to 16 percent by 2008.
Two consultants are registered to lobby for Maximus Inc. in B.C., Christopher Smith and Michael Bailey. Smith is the son of former Social Credit cabinet minister Brian Smith and has worked on Liberal campaigns. He was door-knocking this week for Oak Bay-Gordon Head incumbent and cabinet minister Ida Chong.
According to the ministry's original announcement, the Maximus contract was the result of a year-long procurement process. The company's responsibilities include responding to public inquiries, registering clients and processing medical and pharmaceutical claims from doctors and other health professionals.
The contract, it said, was to keep operations based in Victoria and 230 staff would transfer from the government to the company, remaining covered under the B.C. Government and Services Employees' Union collective agreement.
Another Maximus subsidiary, Themis, provides family maintenance enforcement program services in B.C., as well as a similar program in Ontario.
Related Tyee stories: