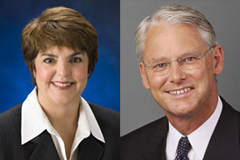 In separate interviews conducted for Trade Talk, the magazine of the B.C. and Yukon Building and Construction Trades Council, I asked the leaders of B.C.'s two major parties to lay out their positions on issues of interest to trade union members in the province. Here is a preview of articles that will appear in Trade Talk when the new issue is out next week.
CAROLE JAMES, NDP
If elected to govern B.C. this spring, the NDP would move to expand the Brilliant Dam in the Kootenays and put an immediate moratorium on private "run of the river" power projects, restoring to BC Hydro the right to generate new public power, James said.
"We need to move ahead with public power projects. Hydro is a great resource that gives B.C. a competitive advantage. Site C still needs review and consultation with First Nations, but we don't need to wait. We could start on the Brilliant Dam right away, and that would create jobs." (The current Campbell Liberal government moved in November of 2002 to ban Hydro from any new public power generation projects.)
'Basics like infrastructure'
James said the NDP would act quickly to create 2000 units of affordable housing by the end of 2009. She said an existing government trust fund of $250 million could be used to start the housing program.
"Buying up existing single room occupancy buildings is fine, but it doesn't do anything for people on the streets. We will act to build new affordable housing," she said, and added, "We believe it is critical in these difficult times to see that scarce public dollars go back to basics like infrastructure."
James pledged her government would raise the minimum wage to $10 an hour and index it annually for inflation. She also promised a full review of the Liberals' changes to the provincial Employment Standards Act, to re-visit changes at WorkSafeBC that have dramatically decreased the possibility for lifetime pensions for injured workers, and to restore full labour involvement in training and apprenticeship programs.
"When we are government, there will no longer be a piecemeal approach to training and apprenticeship. There will be full labour involvement, with everyone at the table. Training and apprenticeship represent an important investment, and it is important that investment be well made."
Billions in Green Bond projects
James said she is concerned about the way that the current government policies on project tenders and RFPs (requests for proposals) work to make it difficult for local B.C. firms to compete.
"We will take steps to encourage partnerships between smaller BC firms that will allow them to bid, and we will look at giving points on bids to firms that commit to local hiring."
James said her party's controversial opposition to the Campbell government's carbon tax makes sense.
"The gas tax is unfair. It penalizes low-income British Columbians and those without transit options. Even the government's own figures show that with their proposals, emissions will only be reduced by 2.7 per cent by 2020. We'll bring in a real climate action plan, including our Green Bond program that will raise a billion dollars a year and create effective climate change projects."
GORDON CAMPBELL, BC LIBERALS
The premier said he'd presided over "the most active building environment we've ever had in British Columbia" during his time in office, and cited his government's $14 billion dollar capital plan that is "about building" and will generate 88,000 jobs over three years, "virtually all in the construction trades."
He said he had not read a recent study from the Canadian Centre for Policy Alternatives and the B.C. Building Trades Council that called for reforms to construction industry safety practices, and he expressed skepticism about the usefulness of on-site safety enforcement. "I don't think it's something where you say we've got, to be candid, a whole bunch of people coming around and throwing fines at people. I think it gets them to avoid the issue."
Campbell did say he would read the report if it were sent to him, and expressed willingness to meet with union representatives to discuss safety issues and training.
'Up front, P3s are slower'
The premier was unwilling to commit to the proposal by his own B.C. Competition Council that there should be a Ministry of Construction in his government. "Maybe. We would have a thousand ministries if we dealt with every problem like that. I just can't say yes, we're doing that."
He was a bit more positive about a second B.C. Competition Council proposal that bidding on public projects be broken up into smaller units more accessible to local firms, especially in a time of economic crisis when it is urgent to move quickly on infrastructure spending. "When you hear people talk about 'shovel ready,' that's by definition almost always smaller bids," he said.
However, the premier noted that the P3 (public private partnership) approach, strongly championed by his government, can slow timelines for projects. "Up front, they are slower, for sure."
Aimed to 'empower' workers
Campbell said that he was opposed to increasing the minimum wage, arguing that wages are up in B.C. and the number of people earning the minimum wage has decreased.
In describing his government's attitude toward organized labour, the premier said "We're not trying to work against them, but we're also not trying to work for them." He said "we've got great trade unions, we've got great trade workers," in the province, but held out little hope for reform of the changes in labour law he brought in early in his first term. Union organizers say the law has made it harder for them to recruit new members.
"My goal is to empower the [union] members and I think we did that," Campbell told Trade Talk.
Campbell was asked about the changes his government brought in during its first term that effectively eliminated lifetime pensions for injured workers and reduced the amount available for shorter-term WorkSafe payments by 13 per cent. Would a re-elected Liberal government at least restore the level of support for injured workers to 2001 levels?
"I won't commit to that today," the premier said. "I think we have a relatively fair system. Workers are now getting taken care of far more rapidly than they were before."
A welfare rate increase, he said, was "not in the books."
Related Tyee stories: