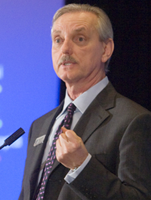 With two weeks to go in a provincial election supposedly about the economy, Statistics Canada dropped what should be a bombshell: the provincial economy was already in recession in 2008.
"In British Columbia, [Gross Domestic Product] fell 0.3 percent, its first decline since 1982," said an April 27 newsletter from StatsCan, the federal government's research agency. That was worse than every province except for Ontario.
Nationally the GDP grew an average of 0.5 percent, putting B.C. well below the pack.
The decline shows B.C.'s economy is in worse shape than many observers thought, and politicians claimed, and has been weak for longer. It also adds a new level of doubt about the accuracy of the provincial budget for 2009-2010 upon which the Liberals are campaigning.
As recently as November Finance Minister Colin Hansen was insisting the provincial economy was in relatively good shape. "British Columbia, according to all the leading economists, can still anticipate positive economic growth through this very difficult time," he said then.
Even in February of this year, when Hansen released a downgrading of the economic forecast for 2009, the province's 12-person economic forecast council was still on average predicting 1.3 per cent growth in 2008 and a flat economy this year.
What does Hansen make of StatsCan's new figures?
"They were obviously lower than we would have anticipated for 2008," he told The Tyee. "Most economists agree B.C.'s economy will lead Canada in 2010 as we emerge from the recession," he said. "There's no question we're in it, it's how strongly do we come out."
Forecasters humbled
"It was a little bit of a surprise," said Jock Finlayson, an executive vice-president of the B.C. Business Council and a member of the province's forecast council. "We're just digesting the data that lies behind it now."
The recession is global, and it's big, he said. "Contrary to what some people thought, we've been fully captured by it here in Western Canada," he said. "There may have been some people who felt we were insulated from the U.S. downturn, but now that it's become a global downturn we're not insulated from it.
"I think that view which may have made some sense when it was first articulated has really been bypassed by events."
The declining numbers, and the consistently optimistic but wrong projections, has many forecasters wondering what they missed, he said. "This last 18 months is a very humbling time for people who are trying to forecast."
A weak forest sector is part of the story, but not all of it, he said. "Forestry was weak before 2008." There have also been drops in prices for all kinds of commodities, including metals and natural gas. Construction has slowed too.
Construction was still growing in 2008, pointed out Marc Lee, an economist with the Canadian Centre for Policy Alternatives in a blog post. "With the sharp drop off in new building permits and construction starts, this sector will turn negative in 2009," he wrote.
"We'll see an appreciable decline in B.C. this year in the real GDP," Finlayson said. The contraction will be at least two percent, he said, a significant revision from what he predicted back in January. "It could easily be more than that."
Trouble for Liberal budget
Such a large revision would also spell big problems for the provincial budget, Finlayson said.
When Hansen presented the budget it was based on a "conservative" estimate that the provincial economy would contract by 0.9 percent in 2009, followed by a rebound in 2010 and 2011.
"It will be very challenging it seems to me to reach their numbers post election," said Finlayson. "To meet the deficit targets, I'm not saying it's impossible, but it would be very hard to do...I would suspect that post election whoever's in power will have to take a fresh look at the budget."
Premier Gordon Campbell insisted last week that if his party is re-elected they will "pretty much" stick to the February budget and keep within the projected deficit. "I can tell you this: the deficit for 2009-10 will be $495 million maximum."
If Finlayson is right, revenues will be down by another billion or so and a Campbell government would have to do some heavy cutting to stick to the deficit promise.
Even when presented, the budget, which got rid of the $750 million forecast allowance from previous years and other wiggle room, was seen to be tight as noted on The Hook, by the Tyee's Will McMartin who called it toxic fudge, by Chief Economist Helmut Pastrick at Central 1 Credit Union and by the Dominion Bond Rating Service.
Big deficit, or cuts?
As part of his work for the credit union, Pastrick also sits on the province's economic forecast council. Back in January he was predicting a one percent GDP contraction for 2009. Before the StatsCan update he'd already dropped his forecast to a 2.2 percent drop.
"I'm going back to the drawing board to incorporate these new numbers and I'm sure everyone else will as well," he said.
Nor does he think Campbell's deficit pledge will stick. Back in February Pastrick wrote a report on the provincial budget that said, "A deficit of $1 to $1.5 billion or 0.6 percent of GDP in 2009/10 is the more likely outcome due to revenue shortfalls."
"I'm still of that view," he said. And with the new StatsCan figures, he added, "It makes it even worse."
He also pointed out that the StatsCan figures for 2008 will be revised over the next three years as more data comes in and is added to the analysis. They could easily shift by as much as plus or minus one percent, he said, meaning the provincial economy may yet be in positive territory, or it may be declining faster than thought.
"No one really adequately anticipated the financial crisis," he said. "We all work of current information, the latest and best available, and that's what Statistics Canada's numbers are."
But Finance Minister Hansen said on Monday the February budget was based on what remains a conservative estimate of strength of the province's economy. "There's a lot of prudence built in to all levels of those revenue forecasts."
"At this point I'm not anticipating any dramatic departure from what we tabled in February."
He also suggested the economy has improved in the past few months. "We haven't seen the kind of deterioration in the economy that we were seeing in the last months of 2008."
No time for issues
What the financial weakness means on the campaign trail remains to be seen.
Calls to the NDP were directed to finance critic Bruce Ralston who did not call back by posting time.
"Obviously it isn't helpful for any incumbent government to be faced with a worse than expected set of numbers," said Finlayson. "There's not a lot of good news out there."
He hastened to add though that most people understand that the crisis is global and though politicians often claim credit when things go well, provincial policies play little role in the economy.
"We're not much more than a grain of sand in the worldwide economy," he said. Some $50 trillion value in financial assets virtually disappeared in 2008. "Against that backdrop the claims and counterclaims in the B.C. election don't add up to all that much."
According to StatsCan, only Ontario had a greater drop in GDP than B.C. in 2008, with a shrinking of 0.4 percent. Saskatchewan's economy led growth, with a 4.4 percent surge.
The Tyee reported in March 2008 that despite signs the province was entering a recession the government was doing little to acknowledge the severity of the situation, let alone to address it.
It's worth noting, however, that at least one Liberal candidate argues that social services are dependent on a strong economy.
"In all reality people that have a mental illness cannot take care of themselves and as a society we need to make sure those services are there," said Dallas Henault during an April 24 all candidates' meeting in Victoria-Beacon Hill. "But only when we have the funds to provide them that, so we have to make sure we have a strong economy, that we have a strong base there to ensure we can provide those services."
Before the election Henault worked for the Liberal Party as executive assistant to the executive director, Kelly Reichert.
Related Tyee stories: