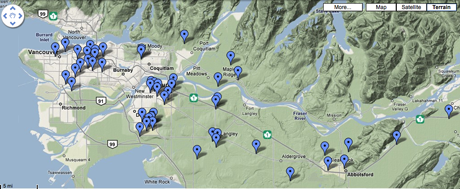 Keith Roy is feeling nostalgic these days.
The Vancouver realtor recalls the good old days in his city, when the only gun that went off was the nine o'clock cannon in Stanley Park.
These days, Roy feels like he reads about a new shooting almost every morning.
"That's not the city I grew up in," says Roy. "I shouldn't have to be concerned about driving at 10 o'clock at night and going to the store and worrying about being in the wrong vehicle at the wrong time."
In late January, a gunman opened fire on a passing car near a busy commercial area of Abbotsford. The car skidded into a restaurant parking lot off South Fraser Way.
Since then, a review of police and RCMP reports suggest there have been upwards of 50 shootings in the Lower Mainland -- almost one for every other day so far this year.
Not all have resulted in death or injuries. Nor are they all directly gang related. But for many, the wave of violence has cast a shadow over the region, one that, according to at least one foreign news report, has swapped Vancouver's "cuddly, eco-friendly" image for one of "blood-spattered streets littered with shell casings and corpses."
"I'm tired of waking up every morning and hearing about another shooting in Vancouver," Roy says.
And it appears he isn't alone.
Spurred on by the ongoing violence, crime has vaulted to become one of the top two issues in this election campaign, recent results from two polling firms suggest.
A Mustel Group poll conducted early this month suggests B.C. voters think crime is the number two issue in this election, behind "the economy."
And an Angus Reid Strategies poll also pegs "crime and public safety" as the number two issue -- at 19 per cent, it's well back of the 36 per cent attributed to the economy, but noticeably higher than perennial favourites like health care, taxes and the environment.
While it may be a stretch to say that crime will be the ballot-box question in this campaign, at the local level, it's an issue that could galvanize support one way or another in a few key urban ridings hit hardest by the violent shootings.
Whichever party is able to convince voters that it can best deal with fear for public safety stands to swing key seats in its favour.
Violence where voters live
One of those ridings is where, on a sunny day in February this year, a bizarre scene unfolded before horrified residents in a South Vancouver neighbourhood. By the time the afternoon was over, one man had been shot in what family members insisted was a case of mistaken identity, while another man's dead body lay in plain view in the middle of the street, covered by a police tarp.
Weeks later at a community centre a few minutes away, the B.C. Liberals announced veteran police officer Kash Heed would run for office in Vancouver-Fraserview.
This South Vancouver riding is extraordinarily diverse, with almost 70 per cent of residents older than 15 identifying as first-generation immigrants, according to 2006 census figures, more than double the provincial average. A higher-than-average percentage of seniors also live in Fraserview.
And, with the departure of MLA Wally Oppal to run for a seat in Delta South this year, it's a riding with no incumbent -- and one of several potentially problematic ridings the B.C. Liberals must hold on to. Not surprisingly, Heed has been leaning heavily on his law enforcement reputation to leverage votes. In a world where strategists must limit their messages to a few keywords, the words "gang," "safety," and "crime" appear no fewer than 21 times on his campaign website.
Just one day before the South Vancouver shooting, a woman was shot dead behind the wheel as her Cadillac passed through an intersection right beside a popular Surrey park. Particularly horrific in this case -- the woman's four-year-old son was sitting in the back seat.
The shooting falls right on the border of the new Surrey-Fleetwood riding. NDP MLA Jagrup Brar will nudge over from his old Surrey-Panorama Ridge riding to contest this battle. Although he won his old riding handily enough in 2005, outdistancing his nearest competitor by double-digits, this new riding is drastically different, containing none of his old Panorama stomping grounds and almost half of the former Surrey-Tynehead riding.
Inversely, the electoral boundary redistribution now complicates B.C. Liberal MLA Dave Hayer's re-election campaign to the north, with a chunk of neighbouring Whalley now a part of Surrey-Tynehead.
It's a riding that hasn't escaped this year's violence either. On an early Tuesday evening in February, 21-year-old Raphael Baldini was gunned down in his white Range Rover, parked in the Guildford Mall parking lot. The shooting had a link to another chilling murder: The October 2007 "Surrey Six" slayings, in which two innocent bystanders also had their lives ended. Baldini, investigators say, was named on the lease of the apartment in which the murders took place.
Dueling crime platforms: Libs and NDP
This year, 10 ridings were home to two or more high-profile shootings (see fact box and click on map).
But which party is best able to grasp the issue? Winning votes on crime isn't so much a cerebral debate on policy; it's a nebulous topic that plays to voters' fears and sense of personal security.
And this year, voters may have a tough time distinguishing between the B.C. Liberal and NDP platforms.
In their 55-page platform booklet, the Liberals promise to crack down on gangs and guns. The party's seven broad, key points:
More police officers, including 168 officers hired with federal funds
More prosecutors
More jails and secure courts
Tougher laws and sentences
Crackdown on illegal guns
Outlaw armoured vehicles and body armour
New gang hotlines and rewards programs
The NDP's 56-page platform, meanwhile, points out that the Liberals have overseen closures of B.C. jails and courthouses. But the NDP promises are nearly identical, right down to the number of officers it wants to hire:
Hiring 168 new officers
Creating an anti-gang prosecution team
Cracking down on "the revolving bail door" for gang members
Tougher laws and penalties for gang-related crime involving guns, body armour and armoured cars
Studying the feasibility of regional policing in Metro Vancouver
Sending out-of-province criminals back to their home provinces to face outstanding charges
It's left criminologist Rob Gordon feeling underwhelmed.
"There's nothing here that sets me on fire," says Gordon, a professor at SFU's criminology department, who calls the focus on new hires without looking at fundamental organizational issues "pre-election posturing."
'I'm not taking it anymore'
"What is required to deal with organized crime is a proper organized crime agency that is going to focus its efforts on organized crime activities on a regional basis. We don't hear anything about that," Gordon says.
University of the Fraser Valley criminologist Darryl Plecas, meanwhile, is happy with what he sees as a rare consensus on crime from both parties.
"I can't recall where we've seen the public being more in-your-face about these things," Plecas says. "The public has said, 'I'm not taking it anymore,' and politicians have responded."
But politically, it doesn't leave voters with a clear choice.
"I thought to myself, crime is certainly not going to be an election issue, because [the B.C. Liberals and the NDP] seem to be on the same page."
That may be a problem if or when either party decides it needs to gain ground on the issue.
"It's like neither party is trying hard to win the crime issue," says SFU political scientist Kennedy Stewart.
The caution isn't necessarily unexpected.
"In a two-party race, both parties have to run towards the middle. You say what your opponents say on most issues. They're both deciding that crime probably won't be the thing that they'll fight the election on."
How many new cops?
Voters can be forgiven for being confused over basic questions, like which party is more committed to hiring additional police officers.
Both the NDP and the B.C. Liberals have used a figure of 168 new police officers.
For the NDP, it's a promise to hire.
For the Liberals, it's a recap of a February promise, itself a response to the wave of violence that was just beginning to engulf the Lower Mainland. The figure was an announcement of how the province would spend previously allocated federal funds; at least 90 of those 168 officers have already been hired.
The Liberal platform also touts some 1,100 new officers hired across the province since 2002, a figure that includes 560 new hires by municipal forces, which approve new expenditures through city hall's yearly budget process
But Solicitor-General John van Dongen insists it's fair for the province to take credit for the hires, since the province redirected traffic fine revenue to the cities for policing.
"It's a lot of money -- $210 million over five years," van Dongen says. "It's money the province has forgone."
Toughest on crime?
While the Liberals and New Democrats are proposing similar ideas on crime, the poll results suggest it's the left-of-centre NDP that must make up ground if the party wants to fight for the issue.
According to the Mustel Group poll, 49 per cent of respondents associated the B.C. Liberals with doing the best on crime, with 25 per cent picking the NDP. Twenty-one per cent of respondents were undecided, while five per cent picked the Greens.
The Angus Reid poll, too, suggested the Liberals' Gordon Campbell, at 31 per cent, was better suited to tackling crime, while 21 per cent chose Carole James.
But NDP MLA Mike Farnworth, whose Port Coquiltam riding has also seen a high-profile shooting death this year, bristles at suggestions that his party isn't likely to win the crime issue.
"I don't see crime as a right-wing or left-wing issue," said Farnworth, the NDP's critic for public safety and the solicitor-general.
"I think that the NDP needs to be talking about these issues. We need to be letting people know we take gang violence seriously, that we are concerned about it, that we do believe it is an important issue."
Although the Angus Reid poll suggested more British Columbians trusted Campbell to tackle crime, the firm's Mario Canseco points out that almost half of respondents, 45 per cent, were unsure who would be best.
"That leads us to believe there's a big group out there waiting to see what happens. They're trying to figure out who's going to provide safety specifically in these urban areas," Canseco said.
"It's an issue that's out there for the taking. It depends on what the leaders convey to the public and who can connect."
Related Tyee stories: