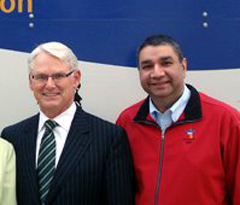 At first glance, this year's May 12 election looks a lot like the 2005 provincial contest. It features the same party leaders. They arrive bearing similar messages.
But the BC Liberals enter this contest with 33 safe seats, according to The Tyee's review of data that considers how the 2005 vote would have played out in the 2009 ridings. All Gordon Campbell has to do is to carry those seats plus 10 more and he wins another four years as premier.
Here's a quick look at six problematic ridings the BC Liberals will fight hard to keep:
Boundary-Similkameen
The BC Liberal Party has been running former area director Joe Cardoso as their candidate in this new riding (which bears the same name as an old riding). But Gordon Campbell's party stripped the nomination from Cardoso after learning that he criticized Premier Gordon Campbell in a 2005 letter to the editor of the local newspaper.
Cardoso has since signed on to run for the B.C. Conservative Party, and immediately became among that party's strongest candidates. He has claimed that more than 100 former BC Liberal Party members have left the party to support his new campaign.
The BC Liberals are now running former Osoyoos mayor John Slater, an 18-year veteran of local politics. Slater owns Desert Edge Nursery and is active in the Osoyoos Chamber of Commerce.
The NDP are running Lakhvinder Jhaj, who with her husband operates two convenience stores. Jhaj ran unsuccessfully for the party's candidacy to represent the Penticton-Okanagan Valley riding in 2005.
Robert Grieve is running for the Green Party.
Delta South
Independent Vicki Huntington won 33 per cent of this riding in 2005, losing narrowly to BC Liberal Val Roddick (who took 37 per cent). In so doing, the conservative former Delta councillor erased any notion that Delta South would remain a safe seat for the BC Liberals.
This year, Huntington faces off against Attorney General Wally Oppal, who lives in Delta, and is competing here rather than in the Vancouver-Fraserview riding he won in 2005. Oppal, who has spent the past two weeks dodging questions about the controversial BC Rail sale, may find it difficult to campaign as aggressively as he will need to in order to defeat Huntington.
Ladner resident and NDP candidate Dileep Athaide is destined to finish a distant third.
Kootenay East
Kootenay East is a polarized riding, with right-leaning voters concentrated in Cranbrook and left-leaning voters in Fernie. The addition of the St. Mary's Indian Reserve, which was added to the riding as part of the 2008 redistricting, could tip the balance of power if the First Nations vote turns out.
BC Liberal incumbent Bill Bennett is fighting off a two-front assault in the riding he has held since 2001.
NDP candidate Troy Sebastian, who lives on the St. Mary's reserve, is attacking from the left. Sebastian has worked as director of treaty, lands and resources for the Ktunaxa Nation Council, and was the NDP candidate in Okanagan-Vernon in the 2001 election.
B.C. Conservative Party Leader Wilf Hanni is attacking from the right. Hanni, who works as an oil drilling supervisor, lives in Cranbrook and was active in the Social Credit Party in the 1970s. He joined the BC Conservative Party in 2004 and became party leader in 2005.
Surrey-Tynehead
Redistricting has nudged some of Surrey-Whalley into this riding, transforming it from a very safe seat for the BC Liberals to one that leans BC Liberal by perhaps six points.
Incumbent Dave Hayer has held the seat since 2001, when the BC Liberals swept the province. Hayer, a former publisher of the Indo-Canadian Times, is a former director of the B.C. Chamber of Commerce and the Surrey Chamber of Commerce. He is one of two Canadians to have received the Pravasi Bharatia Samman Award from the government of India, and has been named among B.C.'s most influential Canadians of South Asian descent.
Hayer is being challenged by NDP candidate Pat Zanon, who was CEO of the South Fraser Health Region, and chairs the board of the Coast Foundation Society. She has been president of both Surrey Memorial and Langley Memorial hospitals.
Port Moody-Coquitlam
BC Liberal incumbent Iain Black will likely retake this rejiggered riding by a margin of about 6 per cent, if the 2005 vote repeats.
He faces NDP challenger Shannon Watkins, a Port Moody councillor from 2005-2008.
No Green Party candidate challenged this riding in 2005, and thus far none has been named this year.
Vancouver-Fraserview
BC Liberal Wally Oppal narrowly defeated the NDP's Ravinder Gill to win this heavily ethnic riding by just a few points in 2005. Oppal's decision to move to his home riding of Delta South leaves no incumbent to defend one of the most dynamic neighbourhoods in the province.
Former West Vancouver police chief Kash Heed is expected to run for the BC Liberals. Heed worked in the Vancouver police force for almost three decades prior to taking the West Van job. He should do well in a riding dominated by extended families who are opposed to liberal drug laws and shocked by recent shootings, many of which appear drug related.
Heed would face NDP candidate Gabriel Yiu in a riding where more than half of the residents are Chinese. Yiu is a Hong Kong-born florist and newspaper columnist who was named as among 25 future leaders by the Vancouver Sun. Yiu worked in the Chinese Head Tax Redress Campaign during the 2006 federal election, helping pave the way for the historical redress. And he coordinated the campaign to oppose a funding cut to the Mount St. Joseph Hospital's Emergency Room.
However, South Vancouver's Chinese voters have tended to vote BC Liberal, while the area's South Asian voters (who make up about a fifth of the population) have tended to back the NDP. Thus Heed's entry into this race would create an interesting new dynamic in which identity politics would appear to be at odds with ethnic voting trends.
The Green Party is running drug-rights activist Jodie Emery in Fraserview. Emery, who ran as a B.C. Marijuana Party candidate in the 2005 election and the 2008 byelection, has worked as an editor of Cannabis Culture Magazine, and is married to activist Marc Emery. Her presence will likely influence the outcome of what would otherwise be a very tight race.
Related Tyee stories: