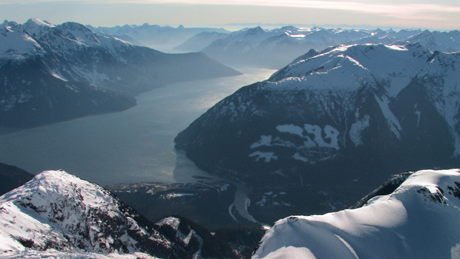 If you think the reach of the Bute Inlet power project matters only to residents of a remote southwest corner of the province, you'd be wrong.
It's a huge undertaking, with more foreign dollars invested than in any other hydro project in the country, and, if completed, more power generated than the controversial Site C dam would produce.
Now, a collection of groups opposed to the project are gunning to make it an election issue.
With a splintered environmental movement, a mounting public relations campaign from industry, and two major political parties offering little up for debate, it's not going to be easy.
Heavyweight enviro backs run-of-river
Tzeporah Berman ruffled feathers last week when -- amid a series of public meetings about the Bute Inlet project -- she told radio host Bill Good that the opposition from environmental groups, "the whole kind of save our rivers piece," needs to be rethought.
"Yes we need to do it smart, yes we need to be careful about our rivers. But we need to support the move to green power."
The Tyee requested an interview with Berman and was told she was on the road, touring power projects. Her website, Powerup Canada, is focused on reducing greenhouse gas emissions in Canada, and asks readers to write the government and ask for a green stimulus package similar to President Obama's.
The independent power industry, too, is focusing on the creation of green jobs. The Independent Power Producers of B.C. posted a video on its website, focused on the job creation aspect of power development.
Opponents 'insidious': industry rep
At an industry meeting in late January, McInnes talked with frustration about the public environment assessment process.
"They don't seem to want to get anything built," he said of people who opposed the project. Later, he said he the industry as a whole expected some push back from the public, but said he "didn't think they ever realized it would be done it such an insidious way."
When asked what he meant, McInnes said that the public-versus-private question is part of a hidden debate. In public, negative commentary is "made to look like people are being critical" about damage to the environment, while environmental assessment meetings are used as a "forum to have a debate about public-versus-private."
Debating public vs. private power
It's true that a large part of the opposition is focused on the private aspect of the Bute Inlet project, and other developments like it -- but it has been no secret.
The Wilderness Committee has four criteria for renewable energy; it should be regionally planned, environmentally appropriate, acceptable to First Nations and publicly owned.
Craig Orr of the Watershed Watch Salmon Society says while his organization is mainly looking at the environmental and social impacts of run-of-river development, "we believe it should be public."
And B.C. Citizens for Public Power recently launched a networking website, BC Guardians, to link people and organizations that are "working to expose and oppose the adverse environmental, social and economic impacts resulting from the privatization of B.C.'s publicly owned electricity sector."
Executive director Melissa Davis took some flak at a Bute Inlet public meeting this week (one of two Lower Mainland meetings organized by the Wilderness Committee, Watershed Watch Salmon Society and Save Our Rivers Society -- a response, said moderator Vicky Husbands, to the fact there isn't room in the environmental assessment for broad public debate.)
Issue 'crossing party lines'
Someone from the audience asked why BC Citizens' for Public Power had not "nailed down" the NDP on private power.
"This is an issue that's crossing party lines," said Davis, and she also pointed out that the NDP has already called for a moratorium on private power development.
Shane Simpson, a Vancouver MLA and the NDP environment critic, said the "urgent need" to end privatization would be a top priority in its platform, which the party is currently finalizing.
But it hasn't offered specifics about how its government would manage these resources if they were in power.
"The NDP has not been strong on this," said Rafe Mair, one of the panelists at the meeting.
"I think that's part of what has to happen."
The jobs angle
Last week North Island Liberal MLA candidate Marion Wright released a press release stating the run-of-river hydro projects provide opportunities "at a time when people are reaching out for career training and gainful employment."
"I'm shocked that the NDP and MLA Claire Trevena want to pull the plug on these opportunities.
"We are very clear on what we want to see," she said. "We want to make sure that there are new ways of generating power and that we have a very good supply for the grid, so I really don't understand what she's saying about job killing," Trevena told the Courier Islander.
Coming from all sides are calls for better planning for renewable energy development.
Private power for export
Industry wants to see clearer policies and directives around export. Last month The Tyee reported on McInness's call for a renewable export plan from government.
"We love to sell our coal and natural gas to people outside our borders. I don't see why we wouldn't sell renewable energy," said McInnes.
Since then, Energy Minister Blair Lekstrom has refused repeated requests for an interview on the subject.
From an environmental perspective, there needs to be better land-use planning around renewable energy, says Nicholas Heap, a climate change policy analyst for the David Suzuki Foundation.
It has endorsed the use of low-impact renewable energy, including run-of-river hydro, as part of the solution in B.C. for reducing greenhouse gases.
Heap said they are not opposed to private development and supported First Nations and municipal renewable energy development.
"We have problems with the existing regime for the development of renewable energy in B.C.," he added. "We wrote the minister about these concerns... in particular the lack of land-use planning for renewable energy on a regional or province-wide basis."
'Water to become a huge issue'
Craig Orr, a biologist who used to work with BC Hydro, also emphasized the need for better planning.
"This [the Bute Inlet project] is a reconfiguration of the hydrology of these watersheds... and water is going to become a huge issue in this province."
"Talk and log is the old saying," he says. "We don't want to talk about how we can make these projects appealing to the public. We need to make sure they will stop on run-of-river until the public has a chance to look at this."
Related Tyee stories: