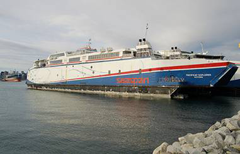 A few months ago, the Saudi Gazette ran a story which may prove to be of some interest to British Columbians wondering if the PacifiCat fast ferries might ever find a buyer.
The subject was a new ferry service planned for the Red Sea between Egypt, Sudan and Saudi Arabia. The routes would likely be well travelled, with many Egyptians and Sudanese making pilgrimages to Mecca and many Saudis visiting relatively liberal Egypt.
The route has been somewhat underserved since 2006, when an Egyptian-run ferry sank drowning over 1,030 people.
"A Saudi-owned and managed ferry transport company will be launched and operational in the first quarter of 2009 as soon as the board of directors is duly constituted," the article said. "A newly formed company IBHAR... co-owned by several prominent Saudi businessmen, will get off the ground with an initial five ferry boats plying across the Rea Sea from Jeddah to ports in Egypt and Sudan, each having a capacity of 1,200 passengers and five hundred tons of cargo including 500 cars."
Could three of those boats be the PacifiCats, built by Vancouver shipyards for B.C. Ferries in the 1990s at a cost of some $450 million, then auctioned back to Washington Marine Group for under $20 million?
The numbers aren't quite right -- the PacifiCats carry more like 1,000 passengers and 235 cars -- but were close enough to get people talking.
Purchase from Canadian company
The main source for the article was Capt. Mohammad Abood Babiadan, IBHAR's managing director. For readers of Arabic, his company's plan is available in a presentation he made to a meeting in Saudi Arabia last March. I'm told the plan includes expansion into serving the Persian Gulf, but does not say what ships the company will use.
According to the Saudi Gazette article, "Babiadan disclosed that a letter of understanding was signed earlier with a Canadian company for the purchase of four 5-year-old ferries after a technical group from Saudi Arabia has had an ocular inspection of the boats."
It noted that the ships were roll-on/roll-off ferries, where loading and unloading are possible at both ends of the vessels. The PacifiCats are also that type.
The article pointed out buying used ferries could save a three-year waiting period to have a new ship built. Assuming the PacifiCats, for example, will sell for closer to $20 million than to $450 million, it would also save the Saudi company a few dollars.
PacifiCats considered
Babiadan could not be reached at his Capt. Abood Centre for Marine Studies phone number, but he did respond to e-mails.
"We have been approached by a broker of these ferries in case we are interested to utilize for our service in the Red Sea," he confirmed. His company has considered the ships, he said, but has not made any commitment to buy them.
"We are not the one ready to conclude the deal at the present time, due to the fact that steps to complete establishing the company are not yet settled." IBHAR is also looking at other ships, he said.
He added that he's aware the brokers continue to shop the PacifiCats around. "We know also that maybe other buyers from different areas could be more desperate," he wrote. In a subsequent e-mail he said he did not know who other buyers might be.
Washington Marine Group vice-president Spiro Risvas confirmed there has been recent interest in buying the PacifiCats, but said there's nothing to announce yet. "There are people interested," he said.
The company has two brokers working on the sale, one based in Vancouver, one in England.
BC Ferries international spin-off
Efforts to sell the PacifiCats do not appear to be related to B.C. Ferry Services Inc.'s work in the United Arab Emirates. Victoria's Monday Magazine in the fall reported that Doug Allen, who acted as president and CEO of B.C. Ferries during the 2003 transition from Crown corporation to quasi-private publicly owned company, is the "point man for the deal to provide a ferry service for hundreds of privately owned islands being built offshore in the Persian Gulf."
A colleague in Allen's Victoria office said he left for Dubai on Jan. 8, but declined to say how long he would be there.
The Road and Transport Authority of Dubai closed a competition on Jan. 8 seeking "a high-calibre international marine transportation organization with a proven track record" to run a ferry service. The tender said a decision should be made by Feb. 8.
A call to the B.C. Ferries media line was not returned by publication time, but the company's most recent financial disclosure makes it clear the company is looking for opportunities abroad. "In September 2008, we established BCF Global Services Inc. (BCF Global) as a wholly owned subsidiary to provide consulting and management services both domestically and internationally," it said. "BCF Global will take advantage of our expertise and long history in the marine transportation business to pursue new business opportunities relating to the development, operation and maintenance of ferry systems."
No doubt B.C. Ferries officials could tell potential clients a thing or two about buying the boats Washington Marine Group has for sale.
Related Tyee stories: