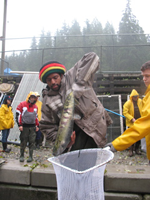 Sandie Hollick-Kenyon wipes down the belly of a dead female chum salmon before slitting it open, letting thousands of beautiful, glistening pink eggs inside spill out into a plastic bucket.
In a few hours, she will take these eggs from here, the South Alouette River near Maple Ridge, to the Mossom Creek hatchery in Port Coquitlam, where they will be fertilized, incubated and eventually released as fry and smolts -- approximately 86,000 to 110,000 chum and coho in total. This egg-take operation is small potatoes compared to that of the major hatcheries in British Columbia. There are 19 of these facilities in British Columbia that altogether produce hundreds of millions of young salmon each year.
Any time people nurture salmon into existence, it would seem to obviously be a good news story for B.C.'s beleaguered salmon fishery.
But the role played in our coastal environment by these hatcheries -- as well as by smaller community and First Nations hatcheries -- is controversial. Some say the hatcheries do more harm than good. They are a sign of our failure to protect wild salmon habitat, and are in fact hurting some wild salmon stocks, charge critics.
Others counter they are a way to get people involved in watershed conservation, and without them, some stocks would simply disappear. One Department of Fisheries and Ocean officer likened hatcheries to "chemotherapy for the rivers," in other words, not an ideal situation, but better than the alternative.
Case against hatcheries
Is the cure doing more harm than good? According to Gordon Ennis, managing director of the Pacific Fisheries Resource Conservation Council, the jury is still out.
The council published two reports and held a series of public meetings on B.C. salmon hatcheries in 2005.
Ennis says some research supports the belief that hatchery fish impact wild stocks by competing for the same food resources, and bolstering commercial fleets that harvest abundant hatchery stocks as well as dwindling wild ones.
According to a 2004 DFO report, hatcheries have been used as a "major tool" to increase freshwater survival of wild, native stocks of coho, chinook and chum salmon. When managed in conjunction with habitat conservation, the report finds, hatcheries should maximize stock survival in the long run.
"The other big issue is with respect to genetics, whether hatchery fish are changing the genetic makeup of fish in the rivers, and how fit those fish are in the long term," says Ennis.
"But in our view, the information doesn't exist to be definitive as to what the impacts are or aren't."
"If you're going to have a program where so much money is being spent, it's incumbent to know the answers that we don't know yet," he adds.
Restoring a barren salmon stream
The program Ennis is referring to is the Department of Fisheries and Oceans Salmonid Enhancement Program (SEP). It was created in 1979 with the goal of doubling the number of salmon on B.C.'s coast, and has a current operating budget of $26 million per year.
Ruth Foster and Rod McVickars started the Mossom Creek Hatchery 30 years ago with grant money from the newly launched SEP.
They were initially looking for a place to do field work with their Centennial High School students when they stumbled across the creek, Foster tells me.
Mossom Creek was puzzling, a perfectly healthy waterway with virtually no salmon.
"We concluded it had been fished out," said Foster. "In the '50s and '60s people were accustomed to coming to these little streams and just picking up dinner."
We're standing just under the tent where Hollick-Kenyon is supervising egg removal, at a site just adjacent to the river. Foster has to speak up over the clamour from a group of Grade 5 students who are here to observe, take part in, and videotape the egg-take as part of a class project on salmon.
Hundreds of kids like these ones have been involved with the hatchery. The current hatchery manager, Janet Rickards, first got involved when she was a student (and still calls Ruth "Mrs. Foster").
"A lot of today's kids never ever get outside. We're losing touch and we always say that you only care about what you know about," says Foster. "What we've seen over more than 30 years of working with kids in one place, in Mossom Creek, is that they do develop a sense of place and caring."
Along with the school group, about a dozen community volunteers have come out to help on this rainy Friday morning in late-October.
A fish fence guides weary and battered chum heading upriver into a concrete pen adjacent to the river, where they are netted, killed with a blow to the head from a rubber club and then hung head-down on a metal rack to bleed. The sperm, or milt, from males is simply squeezed out an opening near the base of the tail; the females have to be opened up.
Once all the eggs and milt are collected, from 12 females and 15 males, we bring them back to the Mossom Creek hatchery. The take, incubation and rearing process is all supervised by Hollick-Kenyon, the DFO community advisor for the Burrard Inlet and Salmon Arm region.
Hatcheries getting lower returns
Hollick-Kenyon says the ultimate goal is for small hatcheries like Mossom Creek to not have to operate anymore because healthy watersheds will one day be able to produce naturally-spawning salmon.
Of the 6,000 to 10,000 coho smolts released each year, she estimates the survival rate is less than one per cent. This year, approximately 20 have returned.
Chum, of which 80,000 to 100,000 fry are released each year, fare a little better with returns of 400 to 600 adults. Even those numbers have declined in recent years, says Hollick-Kenyon.
"In this case, what's more important than production is community involvement and education," she says. "People can come up here and learn about their watershed and the value of a clean and healthy watershed. The fish are a tool, an engaging tool to get people involved."
Even large hatcheries, where production for commercial and sport fisheries is the main objective, are facing low returns this year.
Nitinat River hatchery is Canada's largest salmon hatchery, producing chum, coho, chinook and steelhead, and it is a major contributor to the commercial chum fishery. Nitinat used to take 40 million chum salmon eggs per year, but this year that number will be closer to ten million.
"This year we didn't have the adult returns in chum, and we had to be satisfied with what we had," explains operations manager Hans Galesloot. Those 10 million eggs are still only one-third of the lowered target for this year, which was 30 million.
Galesloot also blames "vagaries in the ocean," for the poor returns -- but these vagaries are not well understood, nor is the impact of climate change on salmon and other fish stocks.
He says he remembers clearly the "battle cry" of the SEP to double the salmon in British Columbia's waters.
"There were some years of glory, but there have been some years of diminished returns. It's been a tough haul."
'It's about people trying to feel good'
Craig Orr, executive director of the Watershed Watch Salmon Society, says that while small hatcheries do serve an educational purpose and maintain runs that would probably peter out altogether should the hatchery stop producing.
"It's about people trying to feel good about doing something for the fish," says Orr. "The conservation benefits are not really proven out there."
As for large hatcheries, he says pumping out millions of fish will not be effective if mortality rates in the ocean continue to rise.
Orr says likening hatcheries to "chemotherapy" for a river is an interesting analogy.
"I've heard people say that hatcheries are also a symbol that we failed to protect the natural productivity of the rivers," he says. "I think that's accurate as well."
Related Tyee stories: