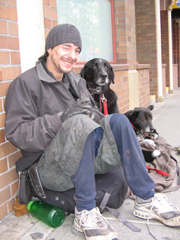 Paul "Duncan" Giesbrecht was suffering from schizophrenia and addicted to crack cocaine and crystal meth when he was released from the Vancouver General Hospital's psychiatric ward in early September. He was sent back onto the streets with the promise that a room for him and his two dogs was on the way.
He would never move in.
A week before Giesbrecht was set to get into supportive housing in the Downtown Eastside, his body was found washed up on a shore of Stanley Park. The 32-year-old homeless man died on Sept. 15.
On the morning that Giesbrecht's body was discovered, staff at the Princess Rooms, a transitional housing facility in the Downtown Eastside for people with a history of homelessness and health problems, were busy preparing his room.
"There was a one-week period of time during which somebody was leaving his room and his room was being tested for bed bugs," says Mark Smith, executive director of RainCity Housing, which runs the Princess Rooms. "He was waiting for that week to end and he passed away during that time."
The cause of Giesbrecht's death is still unknown. Vancouver Police Department spokesperson Laurel Kennedy would not release any information about his death because "it may have been a suicide." The only information she would give is that it "was not suspicious in nature."
While Giesbrecht's life circumstances certainly made him a suicide risk, Giesbrecht's friends and family don't believe he took his own life. With housing on its way and with two dogs to take care of, Giesbrecht was looking forward to finally getting off the streets. Although the questions surrounding his death may never be answered, Giesbrecht's friends and family say he was failed by a system that let him fall through the cracks.
'We were street kids'
Born in Portage la Prairie, Manitoba, Giesbrecht and his twin brother Michael spent the first part of their lives on the street and bouncing from foster home to foster home. Luckily, the two were adopted together at the age of seven and were taken into a good home. But when Paul's mental illness began to take hold of him at 16, he returned to the streets.
"We were street kids and when the schizophrenia hit and he started having issues, he went back to where he was comfortable," says Michael Giesbrecht, who runs a funeral home in rural Manitoba. "When you hit rock bottom, where else are you going to go?"
As a young man, Paul Giesbrecht got into drugs and trouble. His brother says it wasn't long before he was in over his head and his life in danger. In 1999, he skipped town for the streets of Vancouver, where he spent his days in the Downtown Eastside or panhandling downtown and his nights in Stanley Park with his two dogs.
Giesbrecht quickly became known for his sense of humour and his compassion towards other homeless people and animals. At an emotional memorial for Giesbrecht in the Downtown Eastside's Blood Alley on Sept. 26, attendees ranged from homeless people and Downtown Eastside residents to social workers and animal control officers. All of them spoke of him as someone who was intelligent and caring.
Man's best friend
As Geisbrecht's brother walked around Carrall and Cordova streets on a recent afternoon, homeless people approached him to offer their condolences, and let him know how much his brother meant to them.
"I can't believe he's gone," said a teary-eyed Michaels Platts, who said he was a "street brother" to Giesbrecht. "He was the heart, soul and inspiration for all us down here."
While Giesbrecht's Downtown Eastside friends spoke about how he was always helping them work through their problems, city workers and staff from the SPCA talked about how much he cared for two dogs, Shadow and Spike -- mother-and-son collies who never left his side.
Kim Monteith, a regional animal supervisor with the SPCA, said people often call the society when they see a homeless person with animals for no other reason than the owner doesn't have a roof over their head. But Monteith said she looked forward to calls about Giesbrecht because it gave her a chance to catch up with him and his dogs.
"Even with his health issues, his dog were his number one focus," said Monteith, "He refused to stay somewhere unless he had his two dogs with him. It would have been easier to find [housing] with just one dog, but he would say, 'Nope.' And then they did [find him housing] and then..."
Her voice trails off.
'He was very tortured'
Giesbrecht was well liked, but his psychosis came with a dark side. He was very paranoid and used crack and crystal meth to self-medicate. Michael Giesbrecht says his brother felt prescription drugs didn't help. Medical research shows that while crack cocaine helps temporarily relieve some of the problems with schizophrenia, such as depression and energy, in the long run it "worsens the severity of hallucinations and delusions, and deepens anxiety and depression."
At times, Giesbrecht displayed aggressive tendencies and had a number of run-ins with police or people who challenged him on the street. Eventually, his illness and drug use began to catch up to him. Judy Graves, who runs Vancouver's homeless outreach program and who knew Giesbrecht well, says his health drastically deteriorated over the past year.
"He was very tortured," says Graves. "He had voices in his head and was really paranoid."
At one point, Giesbrecht checked himself into a mental illness hospital, but checked himself out the next day. But for the most part, he told people he didn't believe he had an illness. Graves says an agency should have stepped in and used the Mental Health Act to apprehend him for his own safety. But none did.
However, both Graves and Monteith say Giesbrecht caught a break last June when he got into a fight downtown over his dogs. Two undercover police saw him ram a shopping cart into his opponent and arrested and charged him with assault. But instead of taking him to jail, they took him to VGH.
The missed opportunity
Giesbrecht's health improved immensely at the hospital. He stopped smoking crack and began receiving the proper medication and treatment. When a skunk got caught on the hospital windowsill, Monteith says Giesbrecht called the SPCA and then helped the officers get the animal down.
It was here that staff at the Vancouver Intensive Supervision Unit, a multi-agency initiative that works with "mentally disordered clients serving adult sentences," worked to get him a place at the Princess Rooms -- no easy task since the two dogs had to go with him. But before the room could be secured, Giesbrecht was released from the hospital and sent to the Yukon Shelter just off Cambie Street.
Giesbrecht did not last there long. He picked up his dogs from Animal Control, got some crack and headed back into Stanley Park. He passed away less than two weeks later. Park staff knew something was wrong when they saw his two dogs wandering around without him. His body was found washed up near the Girl in a Wetsuit sculpture.
"In the gap between hospital and housing, he was living outside again, alone except for the dogs, and falling through the cracks in the system," says Graves. "Even under treatment, there wasn't a vacant room available for him when he was discharged from the hospital."
A 'lack of accountability'
While Giesbrecht came tragically close to getting the support he desperately needed, his friends and family say the system failed him. A decade on the streets of Vancouver had gone by before he was forcibly taken to a hospital. By that time, Giesbrecht was entrenched in the streets, making him difficult to reach.
"You can't help but feel that there's a system failure with mental health," says his brother, Michael. "We don't want to deal with it, we don't want to discuss it, let's just hide it."
Graves says the only branch of government that was able to actually help Giesbrecht was the city's Animal Control department, which housed his dogs when he was in prison and the hospital. But up until the day he died, no one was able to house him.
Last October, a group of health professors from the University of British Columbia, Simon Fraser University and the University of Calgary released a report called Housing and Supports for Adults with Severe Addictions and/or Mental Illness in B.C. that outlines the kinds of problems that someone like Giesbrecht faced.
Commissioned by B.C.'s Ministry of Health, the report states that there are an estimated 11,750 "absolutely homeless" people in the province who suffer from severe addictions and/or mental illness (SAMI), but only 7,741 units of supportive housing available to them.
"The current housing and support service arrangement has evolved on an ad-hoc basis, resulting in lack of co-ordination and accountability," says the report. Adding that, "The current patchwork of localized services means that many individuals with SAMI fall through the cracks and do not get the help they need."
Deinstitutionalized and at risk
Much of the blame for the province's mental health woes is put on the decision made nearly a half-century ago to deinstitutionalize Riverview Hospital for the mentally ill. While health advocates wanted patients released from the prison-like institution, the province never provided the proper community support to catch the patients when they came out. Many ended up homeless or in the Downtown Eastside. Many got addicted to drugs.
With homeless numbers skyrocketing across the province, the provincial government has recently put more effort into addressing the problem. In the past two years, it bought 16 SRO hotels in the Downtown Eastside, opened the 30-bed Burnaby Centre for Mental Health and Addictions, started the Community Court to help redirect addicts into treatment, and, with the federal government, invested $10 million into the Downtown Eastside for people with mental health and addiction problems.
But these services came too late for Giesbrecht. In an interview with The Tyee, Housing Minister Rich Coleman said Giesbrecht's case is an exception.
"It's not a common occurrence," said Coleman. "It's more the frustration for some of our folks that some of the people won't go into a shelter because of whatever personal reasons they have about not wanting to be in a shelter or certain types of housing. That's always going to be a challenge for us."
Saving lives and money
But while mental health advocates say Coleman and the B.C. Liberal government have made a number of important strides over the past year to tackle the problem, they add that the province still has a lot more to do.
Nancy Hall is a member of the province's Mental Health Review Board and was the province's mental health advocate before being fired by the Campbell government in 2001.
"The people who are the most disabled are being excluded," she says. "The level of supports that is being offered is insufficient. We closed the institutions and we haven't built the community system."
Hall says the government needs to invest more money in Assertive Community Teams (ACTs) to reach people like Giesbrecht who don't necessary want to be reached, and get them treatment and into housing. She says money can't be an issue.
"Nobody questions what we spend on cancer care or on someone who needs heart surgery, we just do it," she says. "I'm saddened to see that it could become a debate around who's worth it."
The authors of the Housing and Supports report say building a supportive housing program for people with mental illnesses and drug addiction would not only save lives, but save the government money. With the average homeless person costing the province $55,000 a year in heath care, prison systems and emergency shelters, providing the adequate housing and support would only cost $37,000 a year -- saving the government roughly $211 million a year.
A brother's loss
Giesbrecht's friends are now waiting for the coroner's report for some kind of clue on how and why he died. But it will be months before they get any answers. In the meantime, his friends can only grieve his loss and know that they rallied around him when he was gone. In just a few days, they managed to raise the $2,000 needed to fly the dogs back with his brother to Manitoba. But once again, people were able to take care of his dogs and not him.
The dogs now live on a farm and Michael visits them everyday. However, it hardly substitutes for the loss he feels.
"I got his dogs here, but I would rather have him," he says.
Paul "Duncan" Giesbrecht fell through Vancouver's cracks. His friends and family hope his story will mean another person won't.
Related Tyee stories: