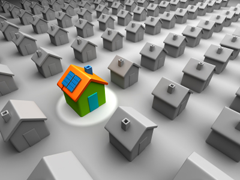 A fading economy and high fuel costs have a lot of Canadians worried about how to save money while staying warm this winter.
Politicians running against the Harper government clearly sense the heat. This election, NDP, Liberal and Green parties all propose new policies they say will help reduce homeowners' energy bills.
Environmental groups, meanwhile, hope voters will see the link between saving energy bills and lowering carbon emissions.
According to one Pembina Institute report, using data compiled by Natural Resources Canada and Environment Canada, buildings account for about 11 per cent of Canada's total greenhouse gas emissions.
Another report from the Commission for Environmental Co-operation, pegs this figure at 35 per cent.
"By and large, with the exception of the Conservative platform, which doesn't have many details, the other four parties have... incorporated some degree of energy efficiency program," says Tim Weis, director of renewable energy and energy efficiency policy with Pembina.
The federal government creates building code models for the provinces to use, says Weis, and it has the jurisdiction to support green building initiatives through incentives.
Energy saving platforms
Stephane Dion, whose Liberal party supports a carbon tax, has promised a total of $575 million for energy efficient retrofits, including $10,000 in refundable tax benefits for homeowners.
Elizabeth May, whose Green party also supports a carbon tax, has proposed a $550 million national program to help retrofit buildings.
Jack Layton and the NDP are campaigning on a cap-and-trade program, which would set a $35 per tonne price on carbon and cap emissions from large industry. Layton has promised $1 billion per year on public transit and a home retrofit program.
On Tuesday, Harper released his party's platform, which proposes intensity-based targets http://www.ctv.ca/servlet/ArticleNews/story/CTVNews/20070604/intensity_emissions_070603?s_name=&no_ads= for greenhouse gas emissions. Harper did not announce any more money for the Conservative's federal renewable energy program, which runs out of funding this year. He has campaigned on the stance that a carbon tax would be catastrophic for the economy.
Tories axed Canadian Building Incentive Program
Natural Resources Canada used to have a program called the Canadian Building Incentive Program, which gave financial incentives to buildings with energy efficiency measures, including a $60,000 grant for reducing energy consumption by 25 per cent.
The program was cancelled in 2006 when Stephen Harper's minority government came into power.
"Which is a hell of a shame," says Victoria architect Terence Williams. "I often used that [grant] to undertake the LEED certification process on behalf of clients."
Williams served as the principal architect on Dockside Green, a mixed-use development in Victoria that is aiming for LEED platinum certification.
He says more and more housing developers realize there is a huge market potential for these types of green buildings; buyers understand there will not only be lower operating costs, but they will also be in a community of like-minded people.
However, Williams says there is an even greater need for programs that address energy efficiency in single-family homes.
Fears of an economic meltdown shouldn't block incentives for green innovation, he adds. "The economy has overshadowed concerns about sustainability," says Williams. "I don't understand that... it need not cost more to build better."
Energy retrofit for seniors, low income residents dropped
Although the Conservatives later replaced the Canadian Building Incentive Program with a similar program, the new one is more limited in scope with a smaller budget -- typical of the cuts Harper made to many climate related initiatives that had been proposed and voted through in Parliament under the previous Liberal government.
In 2006, the Harper government scrapped the EnerGuide program, which subsidized the cost of energy audits for homeowners, and provided grants of $200 to $4,000 for energy efficient renovations.
These grants were reinstated a year later under the Conservative's EcoEnergy Retrofit program, but are only issued after the homeowner has undertaken an energy audit and made efficiency upgrades on his or her own dime.
Also, previous EnerGuide funding aimed specifically at senior citizen and low-income housing didn't make the new program's $227 million budget cut.
Green council wants to halve energy use
Voters are worried about how rising energy costs will crimp their lives, says Thomas Mueller, president and CEO of the Canada Green Building Council. "Canadians are really concerned about the cost of operating their car. Even though oil prices have fallen, they will inevitably go up again, and people will pay equal attention to how much it costs to operate their homes."
The council aims to have 100,000 commercial and industrial buildings and one million homes achieve LEED certification by 2015, halving the energy and water use in those buildings.
There aren't any federal financial incentives to achieve LEED certification, but Mueller says business cases prove again and again that lower operating costs outweigh those associated with improved efficiency.
'It helps people make changes'
Andrew Weaver, who holds the Canada Research Chair in climate modelling and analysis, says when it comes to saving energy and cutting carbon emissions, it's not enough to provide people subsidies on retrofits or other upgrades.
"The reason why [incentives] don't work is because you're doing something that you're going to be doing anyway," said Weaver.
"There's really only one way of dealing with global warming and it's to put a price on emissions."
But people don't necessarily have the wherewithal to make energy efficiency improvement, says Weis, even if they face higher heating costs as a consequence.
"A lot of the built infrastructure that's already out there in Canada is fairly inefficient," he says. "The question is figuring out the right level of incentives and how it is targeted."
"Generally, the government handing out money might not be the best route," concedes Mueller, but he says grants and tax incentives aimed at energy efficiency can avoid the 'free-ridership' phenomenon if they are applied in conjunction with market-based solutions.
"In that regard, I think a cap-and-trade system in Canada would be a step in the right direction," says Mueller.
"You need a package. If energy costs go up when there's a price on carbon... and an incentive comes in then, it actually helps people make changes."
Related Tyee stories: