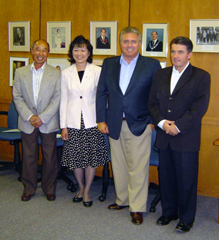 When a few people in Conservative cabinet minister Gary Lunn's riding wanted to hook their high-priced homes up to the region's water pipes, Lunn came through with a $1.1 million grant from the federal and provincial governments pulled from a fund for sustainable green projects.
Lunn brags on his website that he "delivered" for his Saanich suburban constituents. But now members of the Mount Newton Neighbourhood Association, representing nearby residents, is asking the federal and provincial government to cancel the grant. They say the project's hardly green, will benefit only a few wealthy homeowners, and was "approved on erroneous grounds."
The group members worry piping in water will lead to much more development in a quiet area that was never zoned for dense housing.
The more than a million dollars in taxpayers' money is to cover two-thirds of the cost of providing water service to 64 homes on Senanus Drive, a well-to-do area on the west side of the Saanich Peninsula, north of Victoria. Satellite maps of the area show it includes several large waterfront homes, at least seven of which have their own private docks.
On the day the grant was approved, the federal government's announcement quoted Lunn saying the project would "improve the quality of life for the residents of Saanich and surrounding areas." The money, he said, would help "build healthy, clean and prosperous communities." At the time, local MLA and cabinet minister Murray Coell, Central Saanich Mayor Jack Mar and provincial minister Ida Chong joined a photo op with Lunn to celebrate the announcement.
But critics of the plan say the government didn't follow its own criteria in giving out the money. The Canada B.C. Municipal Rural Infrastructure Fund (CBCMRIF) aims to put 60 per cent of its grants into "green local government infrastructure" with a goal of creating "sustainable, competitive and healthy centres of economic growth."
'Approved on erroneous grounds'
In a three-page September letter to the provincial and federal officials responsible for the program, Victoria lawyer Irene Faulkner asked on behalf of the neighbourhood association that the grant be cancelled. "The grant application and the related municipal process is deficient in a number of areas and in violation of numerous rules and policies of CBCMRIF," she wrote. "In that the grant proposal was approved on erroneous grounds, the appropriate remedy is to rescind the grant."
The people on Senanus Drive want more water than they can get from the wells they now use, but Faulkner said the "green" grant money should not be used to just expand water service without looking at ways residents can conserve more.
And while Lunn and the other politicians claimed they were bringing "safe drinking water" to the 64 homes, Faulkner's letter said there was no evidence included with the application that there was any health risk from the water already available.
"Key reports were omitted from the application package, while other reports which have earlier been shown by the District to be inaccurate were included," she wrote.
Faulkner also wrote that while the majority of homes in the area would see their taxes go up by 25.4 per cent to cover the service, the 21 most expensive homes, with an average assessed value of $2.2 million, would see a tax increase of just 6.8 per cent. "If federal and provincial funds are advanced, such funds will benefit a handful of wealthy landowners to the detriment of the majority of the neighbourhood residents -- a most inequitable and undesirable result."
She concluded, "As the mandate of the CBCMRIF program is to advance the public agenda toward sustainability, and the current proposal has significant deficiencies and represents a serious retrograde step, to allow the grant to stand would, in our view, set a very dangerous precedent."
*Lunn did not return calls, but did answer a question about the grant in a scrum following Conservative leader Stephen Harper's October 8 visit to Victoria. "I think everybody should have a right to water," he said. "It was a local granting program, now it's with the local governments. The federal money is there and secure... We're very proud of supporting it." On his election campaign website, Lunn lists the water project as an example of how he has "delivered" for the local community. Calls to Central Saanich Mayor Jack Mar, a supporter of the water extension, were not returned.
'Entitled to water'
Area resident and developer Gordon Denford said there's no question Senanus Drive needs a better water supply and the grant should stand. The fears of the Mount Newton Residents' Association that supplying city water will lead to unchecked development are unfounded, he said.
He dismissed the MNRA's letter opposing the grant. "It's what I consider to be political lobbying," he said. "The material they've submitted is very selective."
The residents are entitled to water, he said, and conservation won't meet their needs. "It just burns me," he said. "Everybody talks about this sort of crap. It makes me boil when I consider the struggles some people have."
Many people in the area truck water in from the municipal supply at Sooke Lake Reservoir, he said, and because of the expense they are careful about how they use what they have. "Believe me, you don't waste water around here," he said. "We have to be careful with our water and we have been for 15 years."
But asked about a few common conservation measures, Denford's own record appeared mixed. He has a "low pressure" shower head but said he did not know how much water is used in his home's toilets. He has a garden with "special plants... because the water in the well was killing them." He does not, however, make any attempt to catch the large amount of rainwater that comes off his roof. "How many people do that?" he asked. "Does anybody do it? How many people in the Capital Region are obliged to take rainwater off the roof?"
While the CRD does not "oblige" anyone to conserve water, except in years when there are watering restrictions, it has been a major push for the regional government for several years.
When asked in general what he's done to save water, Denford replied, "Why do we have a water system at all if all we have to do is catch our rainwater and recycle the water from our bathtubs?"
Reducing demand key to solution
Central Saanich Coun. Zeb King said municipalities need to address demand for water, not just supply. "There is research and evidence of places in the world that are doing things differently," he said.
Providing water to Senanus Drive, as Lunn supports, would mean changing the largely rural municipality's policies that are meant to control development. Senanus Drive falls outside the "urban containment boundary" that maps where city infrastructure like water mains is allowed. Nor does the official community plan for the municipality include any more development in the Senanus area.
While the planning documents can be broken, there should be really clear criteria before doing that, he said. "If every single person started to demand that and claim that, and council agreed without any criteria, we'd have water lines everywhere in the municipality outside the urban containment boundary."
Before extending water service, he said, the municipality should look at the reasons for doing it and whether other solutions have been exhausted. In the case of Senanus Drive, he said, any problems with well water may have been caused because people drew too much water from the aquifer. Is the problem the aquifer then, he asked, or the fact people continue to consume too much?
Area resident Lori Waters said it makes no sense to put public money into providing water to a small number of homes when it is not at all clear there really is a problem. "We're funding a project right now that's benefitting a bunch of multi-millionaires. That's not the best use of our public funds. That's not why we have public funds."
The grants are supposed to favour green infrastructure, but Waters said she wonders how well the projects are vetted. "It's in no way as green as they suggest," she said. "It doesn't make any sense from a green perspective."
Other green grants questioned
The Tyee reported in January that money from the same fund is being used to widen a road in Nanaimo, a project with dubiously green credentials. While city planners argued the expansion would reduce congestion and greenhouse gas emissions, critics pointed out larger roads inevitably lead to more traffic and environmental damage.
A look at the list of projects that have received funding reveals many involve road improvements, airport expansions or renovations to public buildings with few obvious environmental benefits. Indeed, many of them may on balance damage the environment.
"I don't think there's been a big mind shift on why we need to do things sustainably," said councillor King. "It just becomes the branding of these grant proposals."
That's shameful, he added, when there are so many good green ideas that need funding. "It's extremely frustrating from the perspective of somebody who's been trying to get action from governments in general to address climate change and other environmental problems," said King. "That to me is very frustrating. You hope something starts to shift. If it's only the package, that's very frustrating."
*Information added at 10:20 a.m., Oct. 9, 2008.
Related Tyee stories: