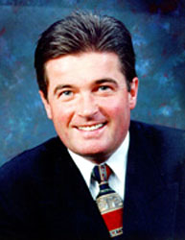 Gary Lunn, the federal minister of natural resources, is trying to push nuclear power, rev up the oil sands, and make way for more pipelines and supertankers on B.C.'s coast. He also happens to represent one of the most environmentally conscious ridings in the country, Saanich-Gulf Islands.
No surprise, he's now the target of a concerted green campaign. But no matter how well enviros might brand him "Dirty Gary," it's far from certain that Lunn can be toppled.
When the next election comes, Lunn will be facing not one, not two, but three small 'g' green opponents. And with the progressive vote split three ways, many say Lunn could stroll to a fifth consecutive win.
The story of how that happened raises many questions. Like how does a guy like Lunn win a riding that contains areas synonymous with earth love and sustainability? And if the environment is the challenge of a generation, how come environmentalists can't cooperate to take out a man they all say is one of its biggest foes?
Nuclear waste burial
Lunn has never been popular with environmentalists. But lately, he's gone from bad to worse.
On June 14, Lunn approved a plan to bury future nuclear waste in 50 metre pits below yet un-chosen Canadian towns.
The announcement spurred concerns among some that not only was Lunn green lighting a new generation of nuclear power in Canada, but that nuclear power could soon be used to fuel more explosive growth in Alberta's carbon spewing oil sands.
The idea is one Lunn has spoken highly of in the past.
The minister did not return calls for this story. But in an interview in January, he told CanWest News "[w]e burn a lot of natural gas to extract that oil from the sands right now. So there's a great opportunity to pursue nuclear energy -- something that I'm very keen on."
Lunn has also come under fire for other oil sands initiatives.
The fastest way to move oil from northern Alberta to Asia would be via pipeline to one of B.C.'s northern ports. However, since 1972, there has been an understood moratorium on oil tankers in B.C.'s northern passage, making it impossible to ferry the oil to the open sea.
Or at least that's what everyone thought. Lunn now says that the moratorium is an environmentalist myth, a great green yeti, if you will.
Earlier this month, Lunn told the Times Colonist that the moratorium never existed. Instead, he argued, there has only ever been a "voluntary exclusion zone" banning tanker traffic coming down from Alaska. In that view, there is nothing in place to stop tanker traffic originating from Canada.
Elected four times
That has raised some serious hackles back home.
But before getting to the campaign to de-throne Lunn, it's worth looking back and asking the question, how did a pro-nuclear, pro-oil tanker, pro-oil-sands-growth Conservative win this purportedly green riding in the first place?
The answer is that he hasn't. At least not really, and not yet.
Lunn has won four consecutive elections in Saanich-Gulf Islands. But up until the 2006 campaign, he had never been on the winning team.
Allan Tupper, a professor specializing in Canadian politics at the University of British Columbia and the editor of the journal Canadian Public Administration, said in an interview this week that in the shift from opposition to government, the electoral "context changes quite dramatically."
In other words, in opposition, a member can take voter friendly positions without having to back them with action. You can't do that as a cabinet minister. The next election, Tupper pointed out, will be the first where Lunn has a record, both for him to run on and for opponents to attack.
And attack it they will.
Fear of tanker spills
Spearheading the anti-oil tanker drive in Saanich is Will Horter, a Victoria-based lawyer and president of the Dogwood Initiative. Horter's organization is furious about what they call a backdoor reversal of environmental policy.
"The federal government of Canada considered for 35 years that this was a moratorium," Horter said in an interview this week. According to Horter, federal documents that predate Harper all back his position.
But does the issue matter to voters?
Horter thinks so. And to prove it, Dogwood has analyzed the poll-by-poll results from the last federal election so they can target areas where Lunn was strongest with door-to-door campaigning, petitions and public meetings about the off-shore moratorium.
Horter says that most people they speak to don't know about the moratorium and are overwhelmingly against the idea of oil tankers on B.C.'s coast. In face-to-face interviews, he said, many are telling them that they voted Lunn last time, but won't now.
The question, though, is who are they going to vote for instead.
We three greens
In interviews over the past week, all three of Lunn's likely opponents in the next election said they intend to attack the incumbent on the green file. And all three pitched themselves as either the best candidate to unseat him, or the only one that can be trusted on the environment.
In the last election, Lunn cruised to an easy victory, despite capturing just 37 per cent of the vote. That's because progressive support was split three ways, Liberal, NDP and Green. It was the same, give or take a few per cent, two years earlier in 2004.
So even if some voters abandon Lunn, if they don't all flock to the same opponent, it probably won't matter. The candidates, however, don't look like they're going to make the voters' job any easier.
Julian West is the candidate for the NDP. In an interview, he acknowledged that vote-splitting could happen and that it could help Lunn win. But, that said, he sees himself as having the best chance to knock Lunn off.
The Liberals, West argued, can't be trusted on the nuclear issue. And what's more, they, unlike the NDP, have never won the riding. The Green party, meanwhile, which West, a former Green candidate, says he respects, do not have a legitimate shot at winning.
The Liberals, however, feel the environmental bona fides of their candidate make them the best choice. Briony Penn was heavily recruited by all three parties before deciding to go Liberal. Penn is a prominent environmental activist who lectured for years at the University of Victoria and made headlines in 2001 by protesting a logging development on Salt Spring Island with a bare-breasted horse ride through downtown Vancouver.
In an interview, she said she intends to campaign on the "two n's": No nuclear and No tanker traffic. The Liberal Party changed, she said, when they elected Stephane Dion as leader. She chose to run under his banner because he offered the best opportunity to topple Lunn.
So that leaves the Greens.
Vote splitting?
There was a time when the Green Party saw Saanich-Gulf Islands as the most fertile soil for their electoral flowering. The party captured 16 per cent of the vote in the riding in the 2004 campaign and hopes were high they'd do better in 2006.
Instead, they went the other way. Under the same candidate, Andrew Lewis, the party's share of the vote fell that year below 10 per cent. With their preferred candidate having defected to the Liberals, few now rate the Greens chances in the riding highly.
Matt Price is the director of the Conservation Voters of B.C., an organization that promotes winnable green friendly candidates in the province. Price said last week that while his group has not yet begun the process of considering endorsements for the next campaign, the Green Party has in the past had a hard time earning their support. The group endorsed then provincial Green leader Adrianne Carr in the last election. She finished third in her riding.
With Penn having dropped out of the running, the party's nomination will almost certainly go again to Andrew Lewis when the riding association holds its meeting in July. And Lewis, for his part, angrily rejected suggestions that he is a vote-splitter and said he has no intention of stepping down and backing another candidate.
And it is the Liberals, Lewis said Tuesday, who are splitting the vote. Lewis added that he has come under significant pressure to quit the race and support Penn. When asked from whom, he replied: "Will Horter, for a start."
"I find it disgusting," Lewis said. "It's anti-democratic. Why don't we try fixing our electoral system?"
Horter, however, denies pressuring anyone. "I think it's inappropriate and I think it's not accurate," Horter said. "We [the Dogwood Initiative] do not engage in partisan activities."
The Green leadership, meanwhile, is standing behind Lewis, sort of.
"I think Briony chose the wrong party," deputy leader Adrianne Carr said Tueday. "I think she's truly a Green."
How green are voters?
Carr and leader Elizabeth May both lobbied Penn hard to consider the Greens. But that having failed, Carr said, they will not consider a deal for the riding that would see their candidate drop out.
Of course, even if the green vote magically coalesced around a single candidate, there is still no guarantee Lunn would fall.
The voters in Saanich are hardly homogenous, according to David Schreck, a B.C. political analyst and former NDP MLA. Just because residents are small 'g' green, he said, does not mean they are not also big 'C' Conservative. "The two are not mutually exclusive."
B.C.'s own much vaunted reputation as a green province may also be overrated, according to a recent poll conducted by Angus Reid Strategies. Twenty-five per cent of Canadians listed the environment as the most important issue facing Canada in the survey. In B.C., only 16 per cent said the same. So whether enough voters will make Lunn's environmental stance the one issue they vote on to make a difference remains an open question.
'Comfortable seat'
So what's the fairy tale ending for the green-thumbs of Saanich and the Gulf Islands? Will Gary Nuclear vanquish his three green challengers? Or will one of the trio pull away from the pack to best the Tory minister? David Schreck, for one, thinks he has an answer.
"By no means am I a Conservative booster," he said. But "it would be a surprise if [Lunn] lost what has been a very comfortable Conservative seat."
Related Tyee stories: