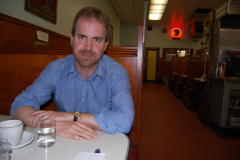 Michael Byers would appear to be a pretty smart guy. He holds a prestigious Canada Research Chair at the University of British Columbia. He writes highly acclaimed books such as last year's Intent for a Nation: What is Canada For? And he is a regular contributor to smarty-pants journals such as the London Review of Books.
So why would such a smart guy turn down not one but two offers to run in an easy riding for the Liberal Party of Canada, and choose instead to compete in one of the toughest four-way electoral contests of this election as a New Democrat?
And is he at all uncomfortable about his decision to trade a prominent university chair for what -- assuming he bests two local incumbents and B.C.'s most popular Green -- will in all likelihood lead to seat in the back benches of Parliament?
The Tyee put those and other questions to Byers over a luxurious breakfast at Hastings Street's infamous Ovaltine Café.
Tyee: Why would you turn down a relatively easy riding with a shot at a cabinet post to jump into one of the toughest local races in Canada? Are you a masochist?
Byers: "Well, first off, I disagree that there is very little chance the New Democrats will form a government. I think that Canadian politics is in a period of enormous flux and almost anything is possible. That's what makes it exciting.
"This is arguably the most important election in Canada for decades. And so much is changing so quickly that I don't think anyone should make any assumptions about what the outcome should be."
What did the Liberals offer you? And who made the offer?
"I was approached by the Liberals twice. First in February of this year, by Mr. Dion's advisor on Northern affairs. During that first approach, a cabinet post was explicitly mentioned. I brushed them off fairly quickly at that time.
"The second approach was much more concerted. I was invited to meet face-to-face with Mr. Dion. I considered an invitation to meet with the leader of Her Majesty's Official Opposition as both flattering and important.
"Mr. Dion asked me to take a serious look at West Vancouver-Sunshine Coast. When someone in that position asks you to do something, you do it. I met with both Bruce Young and [top Dion strategist] Mark Marissen. I consulted closely with my wife. And I decided it was not something I could do.
"Though I actually like Mr. Dion as a person, and I believe he is trying to do the right thing."
Why not?
"Mr. Dion and I spoke frankly about climate change and about Afghanistan. Unfortunately, we didn't agree on either.
"The issue at the moment was Dion's approach to climate change. I took a look at his Green Shift document and decided it was the wrong approach at the wrong time.
"He is proposing to put a tax on fuel that had already surged by nearly 200 per cent, therefore adding additional stress to individual Canadians and to the economy as a whole. So while I think it would have been appropriate to introduce a carbon tax when the liberals can to power in 1993 -- and oil was $20 a barrel -- to do it now would be a price shock that would impose additional economic stress and social inequity."
So on that one point, you agree with Stephen Harper?
"Where I agree with the prime minister is that we need to have caps and a trading system for carbon among large polluters. Where I disagree is the speed and depth of those cuts.
"The prime minister's cap-and-trade is smoke and mirrors that really involves no policy changes until long after he is prime minister. The NDP's cap-and-trade is pretty rigorous, and therefore more in line with the European Union or what is being proposed by Barack Obama in the United States."
And your second disagreement with Dion involved Afghanistan?
"I was very, very disappointed with his last minute decision to support the extension of the mission to 2011. I regarded that as an act of political expediency. And acts of political expediency do not belong in decisions on the lives and deaths of young Canadians.
"There are young Canadians dying in Afghanistan because Stephane Dion did not have the guts to face the Canadian people."
OK. But it's still a long walk from saying 'No thank you' to Dion to saying 'Vote for me' in Vancouver-Centre. How'd that happen?
"Well, then, as sometimes happens -- I guess it was a remarkable sort of coincidence, or perhaps some people might call it fate -- just a few days after I told Mr. Dion 'No,' I received a phone call from Randall Garrison to tell me that... for personal reasons, he was pulling out of the race for Vancouver-Centre. [Byers says he'd been advising Layton on foreign policy issues for about five years, and remained "blown away" by the NDP leader's understanding and commitment to policy.]
"Jack phoned an hour or two later. The message was, sometimes the universe unfolds as it should. It felt just right. When we made the decision, I went for a run in the forest at UBC. I probably ran farther and faster than I'd run in 10 years 'cause it just felt so good. I was born to do this."
You were born to take on longtime Liberal incumbent Hedy Fry, who has served the riding since 1993, Conservative challenger Lorne Mayencourt, who served the same neighbourhood as a BC Liberal in Victoria, and Green Party deputy leader Adriane Carr, who has deep support in the riding?
"If I were running in some safe seat, I wouldn't be adding anything. I'd just be coasting.
"I think that Vancouver-Centre is a New Democrat riding, demographically. And I believe that it's important to add ridings. I don't want a safe seat. I want to earn it. And I want to help the party. I want to help us form government. Also, I think this high-profile race is a good opportunity to talk about ideas."
No doubt. You rarely miss an opportunity to talk about Afghanistan, housing, the environment...
"We know who caused Canada's housing crisis. And one of the people who caused it happens to be the sitting MP in Vancouver-Centre. In those crucial years from 1993 to 1996 when the deepest cuts were made to Canada's housing programs, Ms. Fry was a member of Parliament.
"Likewise, the Liberals, with all due respect, had their chance to ratify Kyoto and did nothing. Which party leader was the environment minister who refused to cooperate with California on mandatory standards for fuel efficiency for vehicles?
"Another reason..."
OK. OK. Still, this is a tight four-way race. It could come down to a margin of less than a hundred votes between the first and second-place finishers. Each of your three competitors has experience running voter turnout operations. Why should anyone believe you're going to beat the busloads of voters that Marissen is infamous for delivering?
"The New Democratic Party is making the biggest across-the-board effort in Vancouver-Centre. We want this to be our next Outremont. [The Quebec riding won by NDP candidate Thomas Mulcair in a fall 2007 byelection.]
"And look what we did in Outremont. We didn't just win a safe Liberal seat. We won it by 22 per cent.
"I have a phenomenal team around me.... We're raising more money than the Liberal Party of Canada. We have organizational skills that are not matched by the dysfunctional Liberal party, either nationally or in the riding."
This is shaping up to be a dirty race. Are you prepared to fight back?
"I have thicker skin than most people would ever imagine... I have been pilloried by Bill O'Reilly. I'm not afraid of Hedy Fry."
I heard you came to Conservative candidate Lorne Mayencourt's defence after the Liberals circulated a grainy video on which he waffled about Insite. Is that true?
"That video made me cringe. It was an attempt to sensationalize a legitimate point: The contradiction between Mr. Mayencourt's record and that of Stephen Harper. Why not just be upfront and say, we see a conflict here?
[Byers appeared on a CKNW radio show alongside Fry and Mayencourt just days after the video surfaced on YouTube.]
"When we were off-air, I made the point to Hedy that dirty politics weren't appropriate, that Lorne and I had both been smeared by the Liberals, and that it was time to stop. She was very defensive."
It is interesting how the best conversations in radio so often happen off the air. Anyway, even if you beat Fry, Mayencourt and Carr, you go on to what will quite likely be a backbench seat in the third- or fourth-place party in Parliament. And if Harper wins a majority, you'll be there for four years. How is that a better platform from which to advocate your ideas than your chair at UBC?
[Byers predicts a "balance of power" minority government situation in which the NDP will play a role with the Liberals and other parties in passing legislation.] "But if that is the outcome, I am going to do the very best job I can to hold Harper and his government to account in the public eye. And, at committee, to ensure that he gets away with the absolute minimum that he can get away with.
"The Ottawa Citizen has called me an incessant thorn in the prime minister's side. That's without even being a member of Parliament. I'm going to be Stephen Harper's nightmare."
Related Tyee stories: