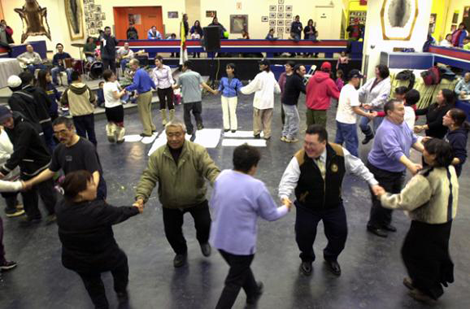 Prime Minister Harper is increasing Canada's military presence in the Arctic. But he's yet to address the other bulwarks of sovereignty: social and economic development, environmental stewardship, and -- above all -- honouring our commitments to the people of the North.
Last week, we travelled from Baffin Bay to the Beaufort Sea. We spent our time listening and learning, not preaching and proclaiming.
We met with Paul Kaludjak, the president of the Inuit land claims organization Nunavut Tunngavik. He told us how, in the 1993 Nunavut Land Claims Agreement, the Inuit transferred their claim to aboriginal title over one-fifth of Canada. In doing so, they explicitly sought to strengthen this country's sovereignty there.
In return, the federal government made a number of commitments that have not yet been fulfilled.
For instance, the agreement requires that the per centage of government jobs held by Inuit match their share of the population. But though the Inuit currently account for 85 per cent of the population, only 45 per cent of the jobs are held by them.
Justice Thomas Berger, acting as a conciliator for the federal and territorial governments, has identified the root of the problem as being that only 25 per cent of Inuit children graduate from high school. He concluded that the situation demands bilingual Inuktitut-English education from Kindergarten to Grade 12, regardless of any increased cost.
Economic negligence
The education crisis is exacerbated by a housing crisis -- as was poignantly explained to us by Elisapee Sheutiapik, the mayor of Iqaluit. A burgeoning population, high construction costs, inadequate funding and federal foot-dragging have created a situation where as many as 14 people are crowded into small, poorly ventilated homes.
Imagine trying to do homework under those circumstances. And consider the health and social consequences, including astonishingly high rates of tuberculosis, lung cancer, depression and domestic violence.
We met with Paul Okalik, the premier of Nunavut, who told us how successive federal governments have ignored requests for a deepwater dock at Iqaluit, the largest community in the territory. Such a facility, by facilitating the off-loading of construction supplies, fuel oil, gasoline and dry goods, would substantially reduce the astronomical cost of living.
A deepwater dock would also attract cruise ships, many of which currently bypass Iqaluit. This would enable the further development of Nunavut's tourist and artisan industries.
A melting future?
In Auyuittuq National Park, park manager David Argument showed us dramatic evidence of climate change: rapidly retreating glaciers, melting permafrost and new forms of vegetation.
In nearby Pangnirtung, we met with Mayor Manasa Evic, who told us how caribou have all but disappeared from the area, and how rising ocean temperatures have led to the collapse of a multi-million dollar commercial ice fishery.
Across the North, existing infrastructure is creaking at the seams. Mr. Evic explained how successive federal governments have ignored pleas to extend and, ideally, move Pangnirtung's runway. The current airstrip -- at 2920 feet -- is painfully short and surrounded by houses, fuel tanks and a school.
He also told us of his community's unsuccessful campaign for a small vessel harbour to enable fishing boats to offload their catches directly on shore. This would greatly improve safety while reducing costs at the local fish plant, which prepares and packages shrimp and Arctic Char for the U.S. market, and employees 40 Inuit.
In Rankin Inlet, we met with Mayor Lorne Kusugak, and learned how the municipal and territorial governments have been working with Manitoba on a plan to build a 400 kilometre long transmission line to bring hydropower from Churchill. Yet the plan, which would eliminate the need to ship in large quantities of diesel, has run into a brick wall in Ottawa.
Arresting Norwegians
In Cambridge Bay, we met with Mayor Michelle Gillis. She led us to the local RCMP who had just arrested five Norwegian adventurers intent on challenging Canada's authority over the Northwest Passage. The adventurers sailed their yacht, the Berserk II, into the waterway without seeking permission.
Fortunately, two members of the crew snuck onto shore, thus setting foot on indisputably sovereign Canadian soil. They -- and the rest of the crew -- were promptly arrested.
The incident demonstrated how our civilian authorities are fully capable of upholding Canadian laws in the Northwest Passage -- if they have appropriate equipment and political support.
In this instance, the light icebreaker used in the operation, the 21 year-old CCGS Sir Wilfrid Laurier, was up to the task. But our older, heavier icebreakers are at the end of their life-span.
True Arctic security
Instead of supporting the Coast Guard, Mr. Harper is building ice-strengthened patrol ships for the Navy. Yet armed naval vessels are not suitable for dealing with the actual threats associated with international shipping, which range from illegal immigrants to oil spills. Nor are they able to fulfill the other roles played by Coast Guard icebreakers, from maintaining navigation aids to supporting Arctic research.
Again, sovereignty is only partly a military issue. In each of the five communities we visited, we heard about the problems suffocating Inuit youth, including depression, drug and alcohol abuse, and a staggeringly high suicide rate. We learned about the limited funding available for prevention and rehabilitation programmes in Canada's largest, most remote and impoverished region.
Despite having a population of only 32 million, Canada has the world's eighth largest economy. This is a phenomenally wealthy country. Until the Inuit are able to live at developed country standards, our claims to Arctic sovereignty will impress no-one.
'Oh Canada'
Still, there were many positive aspects to our trip. We witnessed the strong protective instinct that the Inuit have for the flora and fauna of the North.
We sang "Oh Canada" in Inuktitut with 100 school children and felt their deep love for this country.
We met community and territorial leaders of intelligence and integrity, all of whom have a clear sense of all that Nunavut could -- and must -- be.
Mr. Harper is wrong to assert that Arctic sovereignty is a question of "use it or lose it." The Inuit have been using the Arctic for thousands of years.
It's their historic use and occupancy of the sea-ice that provides the basis for Canada's claim in the Northwest Passage. It's they who have given us all that they have, in pursuit of a quintessentially Canadian dream.
Related Tyee stories: