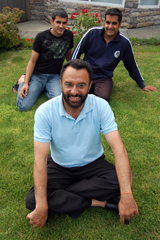 Kashmir Dhaliwal, who announced his candidacy for Vancouver city council this morning, lives on the city's south slope. It's a part of town that has for decades been under represented on council.
"In the last five elections, only 10 per cent of the candidates who ran for city council were from south of 41st Street," Dhaliwal told The Tyee last week. "Ninety per cent were from the northern part of the city."
The lack of civic representation is particularly striking in Dhaliwal's neighbourhood, near the century-old Ross Street Temple. Though the city's 32,515 South Asian residents comprise the city's second-largest minority (after Chinese-Canadians) none have sat on city council since the 1970s.
But Dhaliwal, a former sawmill worker who now builds houses, said his candidacy for the Vision Vancouver nomination is about more than fair representation for Indo-Canadians.
"I want to represent not only South Vancouver, but all communities in all parts of the city," Dhaliwal said. "I want to act like a bridge between communities."
An arranged immigration
Dhaliwal, 54, moved to Canada in 1983 to meet the woman who would become his wife.
"It was an arranged marriage," he said. "In those days, most marriages were arranged."
He'd earned an MA in history before leaving India. But like many immigrants, he arrived with little money -- in his case, $32 -- and took what work he could find. Dhaliwal was a parking attendant for a few years, then landed a union job at Silvertree Sawmill, where he stayed until the it closed in 2005.
"I didn't get another job after that. We had a partnership in a bottle depot, plus I am doing some small developments. Right now we are building three houses," he said.
Dhaliwal is also president of the Khalsa Diwan Society, a Sikh institution that for more than a century has helped South Asians navigate new lives in Canada.
"When they started this society, the main idea was to involve all the communities -- Hindus and Muslims, Sikhs, Christians -- it was for everyone," he said.
In addition to operating the large Ross Street Temple -- which attracts 10,000 people a week -- the society provides daily meals, services to job seekers and seniors, assistance with immigration and tax paperwork, and classes in everything from yoga to English.
"We never promote anybody inside the temple," he said. "Inside the temple, we are neutral... outside the temple, we can support anyone we like."
Indo-Canadians becoming business owners
Dhaliwal has since the early 1990s been an active volunteer for provincial New Democrats and federal Liberals. He counts MP and former premier Ujjal Dosanjh among his family friends.
But for all his work at the national, provincial and temple levels, Dhaliwal did not become engaged in civil politics until becoming involved in Vision Vancouver's hotly contested mayoral nomination race early this year.
"During this nomination for mayor, I helped Raymond Louie. During that time, I met many Vision people, and I came to know the ideas of the Vision party," he said. "A lot of Vision members approached me... and after long hesitation, I decided to run."
Dhaliwal said Vision's centrist approach will appeal to Vancouver's evolving South Asian community.
"In the past... our community was a working-class community. People liked leftist ideals at that time," he explained. "Now we are entering into being a business community. You see a lot of our community involved in small developments, in the taxi industry, in the trucking industry, and in franchise businesses like Subway and Quiznos. So now they like Vision because, with one hand they support labour, and with the other hand they are supporting small business, too."
Dhaliwal said community policing is his top issue. He said the Ross Street Temple provides space to a community police office. "The results are awesome. People love it." He's also interested in streamlining small business regulations. But foremost, he wants to open up city hall.
"I want to be a councillor to whom people can have direct access," he said. "If someone has a concern -- it doesn't matter how small a matter, and it doesn't matter what community they live in -- they should be able to go directly to their councillor."
City Hall curse?
With 5.6 per cent of the city's population, South Asians represent the second-largest ethnic group in Vancouver. (Behind the Chinese, with 29 per cent.) Yet no South Asian has been elected to city council since university professor Setty Pendakur was elected on the TEAM slate in 1972.
For the last six elections in a row, Vancouver voters rejected every candidate of South Asian decent, at all levels of civic office.
The 1993 election was notable. The Non-Partisan Association swept nine council seats but lost the tenth when its Indo-Canadian candidate, Daljit Sidhu, finished almost 10,000 votes behind the next Caucasian NPA member.
During the same time, the city elected several South Asian MLAs and MPs, including Ujjal Dosanjh, Herb Dhaliwal, Rob Nijjar and Wally Oppal.
"We were at a disadvantage," explained Rattan Mall, the outspoken editor of the Indo-Canadian Voice. "While Indo-Canadians made up the majority of voters within several federal and provincial ridings, we were minorities among citywide voters."
He said Surrey is also under represented. South Asians comprise 27 per cent of Surrey's population, but account for only one of eight city councillors.
"There is prejudice," he said. "It's not as bad as it used to be. And I believe there is less prejudice in Canada than in almost any other country -- including India -- but it's never going to go away 100 per cent."
No 'monolithic community'
Mall added that Indo-Canadians themselves must shoulder some of the responsibility for their lack of civic representation.
"For a long time there was this obsession with becoming an MP or an MLA, while civic office was somehow considered to be beneath our dignity," Mall said. The titles are used in India, which also adopted the British parliamentary system.
Compounding matters, Mall said many South Asians are not eligible to vote. "Many Indo-Canadians are ambiguous about becoming Canadian citizens," he explained. "For example, in many families, the wife will get her Canadian citizenship, but the husband will not, in order to preserve his rights back home in India."
Mall predicted Dhaliwal will do very well among moderate Sikhs, who make up the majority of members at two of Vancouver's three temples.
"There's no such thing as a monolithic community here," he said.
Strategic move by Vision
Terri Evans teaches geography and political science in SFU's urban studies program. She agreed that prejudice still plays a role in civic politics.
"There is still some perceived stigma about the Sikh community. What you hear about Sikhs in the mainstream media is often still very negative," she said.
Evans said that because Indo-Canadians tend not to be as integrated into Vancouver as Chinese-Canadians, there are fewer opportunities for people to overcome those media-fuelled stereotypes.
"The community is not as transparent. Joe and Jane public have not been able to experience Indo-Canadian culture in the same way that they have Chinese culture. The community is still very temple based."
Evans also said Vision's promotion of Dhaliwal, as well as Filipino candidate Rey Umlas, and Greek candidate Demitri Douzenis, is "very strategic."
The math works like this: for most of the past two decades, the right-leaning NPA party and left-leading COPE party each drew in the range of 50,000 voters. If a Vision candidate manages to turn out an extra 10,000 or 20,000 ethnic voters, a Vision-COPE alliance could have a significant advantage in November.
'If you do not run'
"I think Vancouver had finally reached a point where a majority of the people in our city speak a first language other than English," said Councillor Raymond Louie, a Chinese-Canadian who was Vision's top vote-getter in 2002. "And as our diversity has increased, people are starting to recognize that more important than skin colour is what you bring to the table -- what values, what kind of work ethic."
Louie said he will endorse Dhaliwal, and work to get him elected.
"He's been working within the South Vancouver communities for years. I see his run for council as a natural extension of his ongoing public service," Louie said.
For his part, the soft-spoken Dhaliwal ducked most of The Tyee's questions about identity politics and reiterated his desire to build bridges between communities. When asked about the long list of Indo-Canadian candidates who failed to win seats on council, he took the optimist's stance.
"They lost by only a few thousand votes. The other 90 per cent of the people supported them," Dhaliwal chuckled. "Maybe people just didn't like them."
He added, "If you do not run, you can not win."
Related Tyee stories: