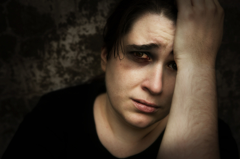 In the days before he allegedly killed his daughter, Blair Donnelly had been acting strangely at work. People noticed, but no one knew exactly what to say or do. Then, on Nov. 23, 2006, the 48-year-old Kitimat pulp mill worker acted upon a message he thought he'd gotten from God. According to reports on the trial, he'd originally planned to kill his wife, but found his 16-year-old daughter at home that night and stabbed her to death instead.
British Columbia has a growing list of horrible crimes men have committed against their wives and children. In Merritt, Allan Dwayne Schoenborn is charged with killing* his three children while his wife was out of the house; in Victoria, Peter Kyun Joon Lee murdered his wife, child and in-laws in the family home in Oak Bay then turned the gun on himself; in Quatsino, Jay Handel was convicted on six counts of first degree murder in the premeditated slaying of his children.
Donnelly's strange behavior had been noted outside of the pulp mill where he worked -- he went to church and had friends -- but it may be that those in the workplace, where people rely on each other for eight hours a day, are in a unique position to respond.
If his coworkers had been able to take action, it might have made a huge difference, said Sandra Beggs, a Queen Charlotte-based victim assistance worker, who is involved in a project aimed at resource workers in British Columbia.
Early clues, lingering trauma
The goal of the year-long anti-violence initiative called Renewing Resources for Safer Communities is to help workplaces find a way to respond to employees dealing with violence in relationships. At a recent workshop in Terrace, union members from the pulp mill in Kitimat were still feeling the trauma of the two-year-old murder, Beggs says.
The men said there had been all sorts of clues in the workplace and they had been cautious around Donnelly, says Beggs.
If the company or the union had a policy in place to help workers deal with a man they knew was in trouble, that might have helped, says Beggs.
A strong workplace policy on violence in relationships is one thing, but men must also be willing to break the cone of silence that often surrounds offensive behavior.
Whether an intervention would have helped in Donnelly's case may never be known, but silence can become the permission an abuser needs to act.
Developing workplace policies
To help encourage men to speak out against violence in relationships, the project is focused on forestry and mining -- two male-dominated industries -- says Beggs. It's not that violence is more common in these industries, but the two organizations partnered in the project, the B.C. Association of Specialized Victim Assistance and Counselling Programs and Ending Relationship Abuse Society of B.C., are committed to working in rural and isolated communities and making sure men are involved, she says.
"The majority of offenders are men, but the majority of men are not offenders," says Dr. Harry Stefanakis, the chair of the Ending Relationship Abuse Society of BC.
He was one of the co-facilitators of the workshop in Terrace and said another group came with the story of a man who came in to a workplace with a gun, removed his wife's belongings and told the employer she was quitting.
This led the company to develop policies around violence in the workplace but they wanted to do more. Stefanakis hopes other corporations will follow a similar lead.
The intent of the workshop is not to train the workers to become therapists, but to make them more aware of the community resources that are out there already, he says.
Layoffs, stress and anger
But even if a man sought help, he may be hard pressed to find a program in rural communities like Terrace.
That's why Dr. Stefanakis hopes raising awareness among men and at workplaces will help create pressure to increase resources, whether it is through government programs or corporations coming up with programs to deal with potentially costly human resource issues stemming from situations that reach crisis points.
"When someone is being abusive at home, that behavior is likely to show up in the workplace," says Robin Austin, NDP MLA for Skeena, the riding Donnelly lived in when he murdered his daughter. Austin appears in a 30-minute film along with 15 other high-profile men called Men Speak Up: Ending Violence Together as part of the Renewing Resources project.
Austin, a former social worker living in Terrace, once worked at the local jail and met men who had been incarcerated for spousal abuse. "Most felt extreme guilt. They knew it was wrong, but their lives had become so chaotic," he said.
In his experience, chaos is often brought on by financial reasons. With downturns and layoffs in the forest industry and other resource sectors, the stresses mount, says Austin. The men he met would serve three to six month sentences and then be put on a bus back into the same situation they left. In prison they had access to counselling, but at home those supports don't exist.
Social problems in his constituency can be extreme. For example, some First Nations reserves in the northwest have more than 90 per cent unemployment. "People are so isolated and trapped." he said. Women can't even hitchhike on the highway to get away from any trouble, he says, referring to Highway 16, where 18 women have gone missing over the last four decades. "It's not a safe place."
To make matters worse, the kinship system in many communities means it's even harder for a woman to find a safe place in a crisis situation.
"If the abuser is well-connected to an important family, people don't want to be seen helping the victim." Not to mention that if the social worker works out of the band office, everyone knows who is going to see her, he says.
'Men Speak Up'
Spousal assault statistics only show the tip of an iceberg. According to fact sheets provided by Renewing Resources, 10,273 incidents of violence in relationships in B.C. were reported in 2005. But statistics also show that 72 per cent of assaults are not reported to the police. Although assaults happen both ways, 74 per cent involve a male offender.
The voices of men involved in the Men Speak Up film come loud and clear. "Violence against women is simply unacceptable, and it's up to men to be part of the solution," said B.C. Federation of Labour president Jim Sinclair.
"It's not a women's problem. Women are the victims. Men are the perpetrators. Therefore they have to be part of the solution," said Liberal member of parliament Ujjal Dosanjh.
"There aren't any barriers. You can be a poor person or a rich person. You can be part of any ethnic group. It doesn't matter. It transcends all barriers," said Howard Chow, spokesperson for the Vancouver Police department.
"If the minority of men involved in violence against women realize that the majority do not accept their behavior, it will be much easier for them to understand that this is unacceptable," said Harry Bains, NDP MLA for Surrey-Newton.
The harm in turning away
But men in the film also speak of times when they didn't take action -- when they knew someone who was thinking of violence or making excuses for violence, but didn't know what to do.
"It was like the kind of stuff people don't show the world, right. What happens behind the door or the window of your home," said Corky Evans, NDP MLA for Nelson-Creston, of a situation he encountered several years ago. "There was this obvious long term, year-after-year kind of bullying."
Steve Hunt, director of the United Steelworkers Union, says one of the reasons his union got involved and why he spoke on the film, is to try to educate employers so interventions can happen before a crisis is reached.
"When someone gets fired, it might be gambling or drugs, but when we've been able to step in, we've found there might also be a problem at home," he said.
Being aware of the signs and what goes on in communities and in the workplace is the first step, he says.
The film will be available to union members at all education opportunities and he hopes that will provoke discussions around the issues.
Silence a 'tragedy'
In January of 2008, Donnelly was deemed not criminally responsible for the murder and his attack on his child was attributed to a mental disorder that first revealed itself 12 years before the slaying. But Dr. Stefanakis says the fact remains that Donnelly's behavior manifested in him killing a member of his family. Why did the message from God tell him to target his family, he asks.
He suggests there is a cultural acceptance of the power imbalance that turns women and children into the property. It's these core values that he hopes men speaking out against violence will help to address.
In the film, Dr. Stefanakis quotes Martin Luther King: "The tragedy of violence is not only the violence caused by those we consider bad, but the silence of those we consider good."
To that end, he hopes men, the majority of whom are not violent, will find the courage to speak out against actions behaviors and attitudes that lead to the abuse of women.
*The line noted with the asterisk was corrected at 4:50 p.m., June 2.
Related Tyee stories: