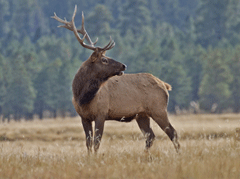 When Forest Minister Rich Coleman last year announced the controversial deal to allow Western Forest Products Inc. to remove private land from management under the Tree Farm Licence system, he promised one of the conditions was "an agreement to work with the Ministry of Environment on protecting ungulate winter ranges."
A stack of documents released to The Tyee through a freedom of information request now shows how the Environment Ministry's negotiation with WFP actually ended in the government excusing the company from protecting elk and deer on its land, despite Coleman's promise.
Early on, the Environment Ministry staff advocated placing a covenant on the areas that would have protected them even if the land sold.
But after months of negotiations, WFP agreed to have new ungulate winter ranges protected on Crown land remaining in the TFL. The new ranges are largely second growth forests, unlike the "very high quality winter habitat" the government gave up.
Investigation underway
Auditor General John Doyle is investigating the release, an investigation requested by several groups represented by the University of Victoria's Environmental Law Centre, and an official in his office says he'll report on his findings in May.
Last fall WFP acknowledged the conditional sale of 2,550 hectares near Jordan River on Vancouver Island to developer Ender Ilkay. The deal was to close in March, though the company warned investors it was "highly conditional and subject to due diligence." The Capital Regional District has since down-zoned the area, and will now allow no more than one residence on 120 hectares.
A company spokesperson said on March 31 that the deal had not yet closed. "We're continuing to work with Ender to move ahead on the project," he said. The agreement is "very conditional, as it was before."
The sale is part of a plan for the company to sell up to $180 million of what it considers its "non-core assets."
High value habitat
Environment Ministry wildlife biologists learned about WFP's July 2005 proposal to the Forest Ministry in September 2005. "In the near term," the proposal said, "WFP will use all reasonable efforts to retain the integrity and function of these winter ranges. If future road construction and harvesting activities are planned within these winter ranges, WFP will assess existing and past ungulate use and whether replacement winter ranges are required."
Translation: The company will make the decisions about preserving habitat.
The Environment Ministry's regional manager for Vancouver Island, Dick Heath, wrote back to Trish Balcaen in the Forest Ministry, "I do have some concerns with WFP's Management Commitment for Wildlife Habitat." The ministry should stay involved, he wrote, and work with the company on an agreement.
Environment Ministry staff prepared a decision note for assistant deputy minister Nancy Wilkin, dated Jan. 20, 2006. "The private land UWRs in WFP's TFLs 19 and 25 provide very high quality winter habitat or habitat of high management priority in the landscape," said the note." They have particularly high value due to their location in the watershed (lower elevation accessed by a larger portion of the migratory elk population during the most severe winters when higher elevation areas experiencing deeper snowpacks)."
Some 275 elk used one of the areas, near Antler Lake, about seven per cent of Vancouver Island's elk population.
The note cautioned, "If UWR areas are removed from TFLs, there is no certain mechanism for them to be maintained by licensees as regulations for private forest lands do not require maintenance of these habitats. For example, with TimberWest areas of winter range identified in Schedule 'A' lands were logged shortly after their removal from TFL 47."
Encumbrances avoided
WFP was unwilling to "enter into a formal agreement for protection or other encumbrances on the private land title." The company would maintain the habitat while it owned it, the note said, but it was likely to sell. "Recent restructuring of the coastal forest industry indicates that ownership may not be stable for the near future."
The recommendations and discussion are severed from the note.
A document prepared by Environment Ministry staff for a joint steering committee a month later in February that year said there were some winter range areas that had been considered for protection in 2004 that remained unlogged. They were available, it said, and the ministry could negotiate protecting them.
It was clear, however, that there were other considerations at play besides what was best for the elk and deer. In a March 2006 e-mail promising to get the Environment Ministry's position to Forests by mid-March, Heath said, "The proposed private land withdrawal also potentially impacts access to Cape Scott Park and Trish [Balcaen in Forests] has noted that we may have to decide which issue is of greatest importance to us in the context of bargaining with WFP."
'Negative effect' on populations
As the bargaining continued, Jim Langridge in the Forest Ministry had the job of telling the company about the Environment Ministry's position. On April 28, 2006, he sent an e-mail to WFP's chief forester Kerry McGourlick. He'd met with Environment Ministry officials, he wrote.
"It rapidly became apparent that . . . most, if not all, of the areas are important to the existing population of elk and deer and that elimination of the habitat will have a negative affect [sic] on those populations," Langridge told McGourlick. "The areas were selected after a quite rigorous process that you were party to and a number of trade-offs occurred during that process."
The WFP promise provided little certainty, he wrote. "It does seem that we need to enter into discussions with [the Environment Ministry] as to the replacement of the critical UWRs involved," he wrote. He also noted, "One of the areas appears to be of significant interest to the local First Nations so I will have to ensure that we are clean on the consultation front."
Between May and October of 2006 McGourlick exchanged several messages and met with Environment Ministry wildlife officials Heath and Ron Diederichs. They agreed at the outset to consider replacement areas. As late as September, Environment Ministry staff were still advocating for protecting the areas. This was dropped after McGourlick wrote that he "would have trouble selling" that approach to his WFP superiors.
Covenants rejected
Diederichs would later note, "The Ministry of Environment and WFP initially engaged in discussions aimed at retaining the existing designated UWRs under such measures as covenants or land purchase, but WFP's mandate prevented entering into this type of agreement."
Exchanging protected areas was the ministry's second choice. Nor apparently did the ministry consider the replacement areas to be habitat as good as the removed lands.
As Diederichs would write, "These areas would not necessarily be considered a 'like for like' compensation for the lands removed but would provide substantial benefit for the wildlife resource to mitigate for the effect of removing previously established UWRs from the TFL."
Still, the Environment Ministry agreed to go ahead. On October 16, 2006, Diederichs wrote to Heath, "Looks like we have a deal with WFP . . . I would suggest that interim acceptance of this proposal should come from you such that the private land withdrawal issue can conclude, with appropriate changes to the approved coverages to be addressed as soon as administratively reasonable."
He also wrote, "I found this process to be rewarding, as Kerry's approach was professional and positive."
In TFL 25, 240 hectares of elk winter range near Weeks Lake was removed from protection. In exchange, 77 hectares of range used by deer, not elk, was protected at Loss Creek.
And in TFL 19, five parcels of land totalling 155 hectares were removed from protection. Three totalling 195 hectares were added.
'I know I'm dreaming'
After Victoria's Monday Magazine wrote about the deal, Diederichs had a call from a Sierra Club representative. "He wanted to know if we had traded high value areas for "sub-optimal" areas in the process of negotiating ungulate winter range (UWR) issues during the private land withdrawal from TFLs 6, 19 and 25," Diederichs wrote in an e-mail to 11 Environment Ministry officials that was included with the FOI response to The Tyee.
"I noted that it was always a disappointment to not be able to protect all of the high value habitats, but we were pleased to get some new higher value areas protected in the process," he wrote. "I agreed that the TFLs had been well-managed for close to 50 years and had provided good management (relative to the standards of the day) for both land types (private and Crown) and that I, speaking as an individual, wondered about the future management on the private land that has been removed from the TFL."
At the time some of those lands released from the TFL were already for sale by Western Forest Products.
Diederichs concluded, "It sure would be great if the government could afford to buy the lands, keep the highest value areas and re-sell the parts of lower ecological/recreational value. Yes, I know that I'm dreaming."
Related Tyee stories: