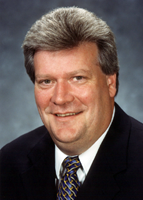 Forest and Range Minister Rich Coleman has said repeatedly that releasing 28,000 hectares of Western Forest Products Inc.'s private land from management under British Columbia's Tree Farm Licence system was done to help a company that was suffering financially.
While Coleman's decision has received much scrutiny in the media and Auditor General John Doyle is investigating, here's one detail that has so far been largely overlooked: Coleman's older brother Stan is Western Forest Product's manager of strategic planning.
Reached by phone and asked what his relationship is to Rich, Stan Coleman says, "He's my brother." The Coleman's have three other brothers and a sister, he adds, before ending the call saying he had to return to chairing a meeting.
Reached later, Stan Coleman says he is the second eldest sibling and Rich was third. Both were born in Nelson before the family moved to Penticton. "We were a very happy family. Great brother," he says. The other siblings include a teacher, an environmental engineer and a political science professor. "We're a very diversified family in a sense. I'm proud of all my brothers and sister, what they've accomplished in their lives, what they're doing."
Stan Coleman lives in Nanaimo and works out of WFP's Campbell River office. Asked how close he is with Rich, he says, "We see each other on and off."
'No involvement': WFP's Coleman
Stan Coleman joined WFP in May 2006, when the company acquired the short-lived Cascadia Forest Products Inc. Cascadia was created in 2005 when Weyerhaeuser sold its B.C. assets to Brascan, which later became Brookfield Asset Management Inc. Brookfield also now owns a majority interest in WFP.
The minister's brother worked for Weyerhaeuser in 2004 when the company benefited from another release of private land from management under TFLs. In that case, then forest minister Mike de Jong released the land against the recommendation of ministry staff.
Asked what his involvement in the releases was, Stan Coleman says, "No involvement. I have no involvement in either of them."
With the WFP one in particular, he says, "That was well under way before they acquired Cascadia." Asked what people's perceptions of the relationship might be, he says, "I can't gear with what people may make up, but I've had no involvement." Besides, he says, such conflicts are more an issue for the government, which has procedures to deal with them, than they are for businesses.
Minister Rich Coleman announced the WFP release in January 2007, about eight months after his brother joined the company. The final decision was based on a briefing note dated Dec. 20, 2006, but the discussion dates back to at least 2005.
Even if Stan Coleman says he was not involved, says NDP forestry critic Bob Simpson, he was aware the BC Liberal government was considering releasing the lands and he was advising the West Island Woodlands Community Advisory Group about the issue. According to minutes from WIWAG's Feb. 12, 2004 meeting in Port Alberni, Coleman told the group, "Weyerhaeuser is actively working with government to remove private lands as they provide a company with return on investment."
Rich Coleman did not return calls placed with both his ministry media contacts and his constituency office.
NDP's Simpson cites perceived conflict
The NDP's Simpson says at the very least there is the perception of a conflict of interest. He raised the issue of the Coleman brothers' relationship in the legislature in 2006 and met with then conflict of interest commissioner H.A.D. Oliver about it, he says, but didn't get anywhere.
He also wrote Premier Gordon Campbell a letter, encouraging him to remove Rich Coleman from decisions related to areas his brother works on. "The easiest way for him to deal with it is to appoint a minister of state for coastal forest policy," he says. That would leave Coleman free to govern forestry in the rest of the province, he says, without the appearance of a conflict. "It distances him from direct decisions."
An official in commissioner Paul Fraser's office who searched documents back to 1996, however, says there's never been a formal complaint about Rich Coleman and no record of either Fraser or his predecessor H.A.D. Oliver addressing anything to do with Coleman. "There's nothing written as far as I know." Coleman or others may have asked the commissioner about the potential conflict on the phone or in the annual meeting that each MLA has with him, she adds, but there would be no record of that.
Minister's briefing note
Rich Coleman based his decision to release WFP's lands on a briefing note prepared by senior timber forester Kelly Finck and presented by the director of the resource tenures and engineering branch, Jim Langridge. The Tyee obtained that briefing note through a freedom of information request.
The note sets out two options. The first was to consent to removing WFP's land from the TFLs, mainly on Vancouver Island. The option, "Allows WFP more flexibility regarding land use and business decisions regarding their private land, including the ability to sell land to generate revenue."
The move would give the government $2.5 million worth of roads on the private lands for no more than the estimated $350,000 cost to survey them, the note says. It also predicted a "Moderate likelihood of public opposition from communities, environmental and First Nations groups, especially regarding the increased potential for log exports."
The minister would have to look closely at whether First Nations were well enough accommodated by the decision, it says.
The second option was to refuse to release the lands. If Coleman refused, it says, "WFP would not be able to sell private land to generate revenue." Nor would the company be able to "fully implement plans for restructuring their operations on the coast."
Refusing the release would also mean no changes to ungulate winter ranges, old growth management areas and restrictions on raw log exports. With the refusal, it says, "Communities and First Nations groups are not impacted."
Coleman followed the course his staff advised and picked the first option, giving the company a break and risking public opposition.
Questions remain
There are still many questions surrounding Coleman's decision, says Eric Swanson, a campaigner with the Dogwood Initiative. "The big question is what was the reasoning," he says. "He's got the interests of corporations and not the public in mind. Until he comes out and proves otherwise, that's what everyone's got to assume."
Says Swanson, "There's no benefit to workers in B.C. or jobs in B.C. or the long-term viability of operations on Vancouver Island."
Swanson points out WFP is 70 per cent owned by Brookfield, a company that owns large amounts of property in New York City and elsewhere. "They're primarily a real estate company," he says. "[Coleman] must have known. It's publicly available information."
Several months after the release, WFP announced a deal to sell some of the land released from the TFLs to a real estate developer. The deal will close in March if conditions can be cleared. The sale includes prime lands on the west coast of Vancouver Island between Sooke and Port Renfrew, including recreation areas used by campers and surfers.
At the request of the Environmental Law Centre at the University of Victoria, Auditor General John Doyle is investigating the decision. A report was initially expected this month, but the ELC's legal director, Calvin Sandborn, says he's been told it won't be out until March or April. He says, "I know the office has been very busy interviewing people."
Related Tyee stories: