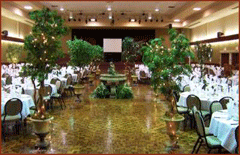 A half-dozen Vancouverites are already campaigning for Mayor Sam Sullivan's job, with a few more waiting in the wings. Both Vision Vancouver and the Non-Partisan Association have already scheduled June nomination meetings, and the Council of Progressive Electors may soon do the same.
Most hotly contested among these contests is the three-way race for Vision Vancouver's mayoral nomination. City Coun. Raymond Louie is facing off against MLA Gregor Robertson, a New Democrat, and former Parks Board chair Allan De Genova, who until recently was an NPA stalwart.
"This is a completely different race from anything we've seen before in Vancouver," said Kennedy Stewart, a political scientist at Simon Fraser University. "What's happening within both Vision and the NPA shows a maturing of the political process here in this city."
Such political maturation can be chaotic, however. For example, each Vision candidate is working to turn out between 3,000 and 5,000 new members at the party's June 15 nomination meeting. And yet the largest hall the party could book at this late date only seats 700 people.
Rules too vague?
Stewart said that Vancouver parties have been choosing their candidates in backrooms for decades: "The party executives basically picked a candidate in private, then manipulated the nomination rules to favour that pre-ordained candidate."
But this time leadership races in two parties are being fought right out in the open by candidates with different bases of support.
"This is a great season for Vancouver voters," Stewart said. "At the same time, both parties are a mess right now." Neither Vision nor the NPA was prepared for this level of competition for the mayoralty, according to Stewart.
But Vision, which was founded only a few years ago when then-mayor Larry Campbell abandoned COPE, has the most catching up to do.
Voters must have been Vision Vancouver members for 30 days in order to participate at the June 15 nomination meeting. Mayoral candidates must win 50 per cent of the vote, plus one, in order to secure the nomination.
Beyond that, Stewart said, "We don't really know what the rules are within the Vision camp."
For example, Vision suggests each new party member pay a fee of $10, but will accept as little as $1. And collection policies are unclear, leaving open the possibility that any campaign worker with a $20 bill could "sponsor" up to 20 new members.
"The federal Liberals used to get into this sort of trouble all the time," Steward said. "They would pay for people's memberships."
Hall too small?
Even the site of Vision's nomination meeting is a problem.
The party claimed 1,200 members at the beginning of the year. The three mayoral candidates are each working to recruit between 3,000 and 5,000 new members. Thus the nominating itself could conceivably attract between 10,000 and 15,000 voters.
Yet Vision has scheduled its June 15 meeting at the red-roofed Croatian Cultural Centre on Commercial Drive. The centre's website lists its capacity at only 1,000 seated guests, spread among several halls.
And no one expects the meeting to be brief.
"The Vision nominating convention will last hours, with speeches, a vote of thousands of members, a vote count and then a run-off process that could last all day," warned Geoff Meggs, a former member of the Vision executive who resigned to run for council, in a recent post on his website.
"Most people can't take that kind of time," Meggs continued. He urged Vision to explore alternative meeting formats that would allow members to cast their ballots quickly. "If a run-off is required, do it over again the next week."
Victim of success?
Vision's leadership acknowledges the challenge.
"We're a new party in the enviable position of being swamped by new memberships. We're working hard to meet these challenges, but it has not been easy," said Mike Magee of the party's executive committee.
"The Vision Vancouver executive is committed to ensuring that there is a fair and highly participatory process," Magee told The Tyee. "The voting process will be worked out with the candidates in a way that will either accommodate voting in a reasonable way at the centre, or we'll look at other options for ensuring maximum participation."
Growing pains
"It's very problematic," warned SFU's Stewart. "If the nomination process appears tainted, then you have enormous tension within the party. These sorts of tensions make it hard for a party to unify around the nominee, and tend to limit their chances of winning."
At the same time, he said these sorts of problem were normal.
"All political systems go through these growing pains," Stewart said, comparing the process here to recent development of African nations. "Vancouver is still an emerging democracy. This city was forever an NPA fortress."
TOMORROW: A look at the Vision mayoral candidates.
Related Tyee stories: