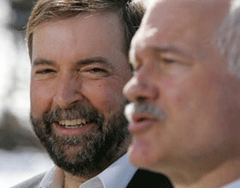 It's only one byelection win, but from where Jack Layton is sitting, it looks like a massive shift in the federal political scene.
Right now, the federal New Democratic Party leader is sitting in a quiet room off the lobby of the Hotel Vancouver, at a table with his two new deputy party leaders.
One of those deputy leaders is longtime Vancouver East MP Libby Davies. The other is Thomas Mulcair, the NDP's new MP from Quebec.
Layton is in town to show off Mulcair to the local media. The two have already done the rounds in Toronto and stops are planned for other cities in the new future.
Mulcair, 52, is a former provincial Liberal who served four terms in the Quebec national assembly and was for three years provincial environment minister. He was shuffled out of cabinet after clashing with Premier Jean Charest over plans to privatize a provincial park.
While the NDP wasn't much of a factor in the other two byelections held in Quebec on Sept. 17, Mulcair pulled off a whopping victory in the Outremont riding, taking 48 per cent of the vote. The Liberals, who had won almost every election in the riding since the Great Depression, were far back at 29 per cent.
There's a "huge shift" going on in Quebec, Mulcair says.
"People are tired of being taken for granted by the Liberals."
Dumont signaled change
Mulcair said he won because he drew away a lot of Bloc Québécois voters as well as Liberals who are dissatisfied with Stéphane Dion's "weak leadership."
But there's something bigger happening, as well, he and Layton argue.
For years, they say, Quebec politics have been divided between sovereigntists and federalists. All other political issues have been swamped by the question of Quebec independence, meaning that voters who might agree with the NDP on social issues still cast their vote according to their stand on sovereignty.
"What's happened in this byelection is we've got people looking beyond that great divide," Mulcair says.
The process started, he says, with the surge of Mario Dumont's Action démocratique, which came close to upsetting Charest in the March provincial election. Dumont landed on the provincial scene "like a ton of bricks," and caused Quebecers to look beyond the sovereigntist/federalist divide, Mulcair says.
"There's this vast social democratic influence in Quebec," chimes in Layton. "But it's been encased in the formation of that dialectic..."
He appears momentarily embarrassed at his sudden shift from English to Hegelian, but Mulcair insists that this is exactly what's been happening.
Layton nods. "My old prof Charles Taylor, he would have said there's a paradigm shift going on in terms of that dialectic.
"Really, that's what's happening here."
Focus on 'normal things'
Mulcair says he senses that Quebec politics are becoming a bit more like those in the rest of the country.
The issues that people are starting to focus on are the "normal things" that voters elsewhere focus on, he says.
This, he says, is good for the NDP.
From this end of the country, it's not clear how much of this is a genuine seismic shift and how much is the kind of wishful thinking that keeps every politician going.
Pundits in Quebec have noted that the Liberals ran a rotten campaign. They were slow off the mark and appear to have been badly out-hustled by Mulcair and his team of 500 volunteers. Much of the blame is being laid on Dion, who is starting to look like the great Canadian punching bag.
Others have noted that the Outremont byelection saw a painfully low turnout of only 37 per cent. A general election, which will almost certainly see a much higher turnout, could well produce a much different result.
Then there's the Phil Edmonston factor. Edmonston is the only other MP the party has had from Quebec. Try Googling "NDP Edmonston flash in the pan" and you'll get the idea. Edmonston, author of the Lemon-Aid books for car buyers, won a byelection for the NDP in Quebec in 1990, but was gone by the next general election.
Hot buttons: war and environment
True, Mulcair is a much more seasoned politician than Edmonston. In fact, it may well be that his win in Outremont was more of a personal victory than a win for the NDP.
"Some of it is the fact that people knew me and were comfortable with me," Mulcair concedes. "Some of it is the fact that we had a lot of Bloc supporters coming over.
"But most of it is what we were telling people on the war, on the environment."
A few minutes later he's off to the airport. He stands, bends over, and kisses Davies on both cheeks. Layton gets a big hug.
Related Tyee stories: