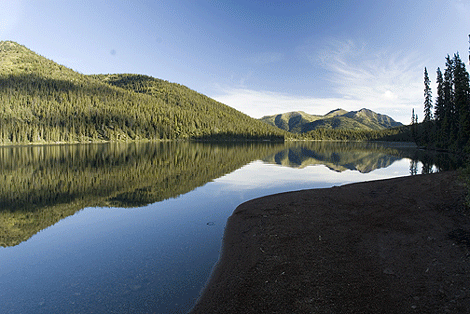 A mining plan to transform a remote British Columbia lake into a toxic waste dump has been rejected by a government review panel, but its exhaustive report acknowledges the possibility that federal and provincial ministers of environment might approve the controversial project anyway.
The unprecedented environmental assessment crushes Northgate Mineral Corporation's proposal to dig a second pit to the north of its existing Kemess Mine, located more than 400 kilometres northwest of Prince George. The Kemess North project would have unearthed $8 billion worth of gold and copper, while leaving local First Nations communities with a lake that would have remained polluted for centuries.
"The Tse Keh Nay congratulates the panel members on their brave recommendation, and calls upon both governments to follow the panel's lead and protect Amazay Lake," said Grand Chief Gordon Pierre, who represents a coalition of First Nations opposed to the tailings disposal plan.
"This is not just about protecting this lake for First Nations people; this is about protecting all lakes for all Canadians," Pierre added. "There are 20 lakes in Canada facing similar mining proposals. We are happy that a precedent has been set in Tse Keh Nay territory: Killing lakes is unacceptable."
Designating lakes as waste dumps
Northgate had planned to blast a second open-pit mine into the Omineca Mountains, near the eastern rim of the Spatsizi Plateau. A fleet of giant trucks would have hauled million of tons of earth out of the spiral hole. After the gold and copper concentrate was removed, an estimated 414 million tons of waste rock and tailings sand would be dumped somewhere.
Seizing on a federal mining regulation crafted in 2002, Northgate proposed to dispose of its waste rock beneath the waters of nearby Amazay Lake (also known as Duncan Lake). The relatively new mining provision allows the federal cabinet to issue an Order in Council that reclassifies any fish-bearing water as a "Tailings Impoundment Area," and in so doing exempts it from most environmental regulations.
Four Canadian lakes were reclassified this way in 2006; two in Nunavut and two in Newfoundland. There are as many as 20 fish-bearing waters currently awaiting such amendment nationwide.
At least four of those are in British Columbia: Taseko Mines has proposed reclassifying Fish Lake as an impoundment area for its Prosperity project, Western Keltic Mines has proposed taking part of the Andrea Creek watershed for its Kutcho project, Adanac Molybdenum has proposed reclassifying part of the Ruby Creek watershed for the Ruby project, and Imperial Metals has received governmental approval to reclassify Quarry Creek for its Red Chris project, but that decision is being challenged in federal court.
All were awaiting the results of the Kemess North environmental review; all were likely surprised by the scope of Monday's decision.
'Obligations may continue for several thousand years'
The Kemess North review was a joint assessment involving both the federal and provincial governments under the Canadian Environmental Assessment Act.
"The economic and social benefits provided by the Project, on balance, are outweighed by the risks of significant adverse environmental, social and cultural effects, some of which may not emerge until many years after mining operations cease," stated the panel's 300-page final report, release online on the afternoon of September 17.
"The Panel notes that the Project's benefits accrue for only a relatively short period (two years of construction and 11 years of mining production)," continued the report. "Key adverse effects include the loss of a natural lake with important spiritual values for Aboriginal people, and the creation of a long-term legacy of environmental management obligations at the minesite to protect downstream water quality and public safety. These obligations may continue for several thousand years...."
The joint report also raised concerns about inequity: "The Panel also notes that it may be difficult for Aboriginal people to increase their share of Project benefits, although as the region's primary residents and users, they would experience first-hand any impacts on traditionally-used resources."
At the same time, the panel recognized that conservative governments in Ottawa and Victoria could choose to ignore its 300-pages of findings. The report offers 33 detailed recommendations intended to mitigate adverse effects in the event the Harper and Campbell governments decide to approve the Kemess North Mine.
Sister mine among most profitable
"Over the next several days, Northgate will be reviewing the details of the report and speaking with the federal and provincial authorities," stated a release issued within hours of the panel report.
Kemess South, the publicly traded company's only active mine, is scheduled to wind down beginning in 2009.
"Ministers could disagree with the Panel's advice and approve the Project," stressed the Northgate release, which also noted that the panel shared its conclusion "that Duncan (Amazay) Lake is the only waste disposal alternative which is environmentally effective, and technically and economically feasible."
Northgate acquired the Kemess North site in 2000, along with the Kemess Mine. After several years of drilling, Northgate concluded that locked within 414 million tons of ore, Kemess North contains a combined "proven and probable" reserve of 4.1 million ounces of gold, and 1.46 billion pounds of copper. At current market prices, that's roughly $3 billion worth or gold and $5 billion of copper. Northgate projected its capital costs at $190 million.
Kemess South produced 310,296 ounces of gold and 81.2 million pounds of copper in 2006, earning $107 million on cash flow of only $147 million. Northgate's web site describes Kemess as "one of the most efficient open pit mines in the world" and "one of the lowest cash costs in the industry."
'Ok to kill off our people'
"Most of our people still do trapping, hunting and fishing. They eat animals, who eat other animals, who drink that water," said Chief Dolly Abraham of the Takla Lake First Nation, one of several bands opposed to the plan. "If government were to OK this mine, they'd be giving the OK to kill off our people."
The Kemess North project was strongly opposed by the B.C. Assembly of First Nations, the First Nations Summit, the Union of B.C. Indian Chiefs and the Gitxsan House of Nii Kyap, in addition to the Tse Keh Nay nations. The latter include the Kwadacha First Nation (at the confluence of the Finlay and Fox rivers), the Tsay Keh Dene (at the north end of Williston Lake) and the Takla Lake First Nation.
For each of the past four years, these groups have been convening spiritual ceremonies at Amazay Lake to express their opposition to the plan. More than 100 people attended last August's gathering.
"We are not against development in our Territories," added Grand Chief Gordon Pierre of the Tsay Keh Dene. "We are against development such as Northgate's proposal to kill a lake and the source of our communities' drinking water."
All groups called on both governments to honor the panel's recommendation and not proceed with the project. Some warned that if the mine is approved, blockades and legal action would result.
"They give out permits as if the land was theirs to give," complained Chief Abraham, whose Takla First Nation has taken the additional step of restricting access to its territory. "It's not."
'First Nations went through hell'
There is one point on which Aboriginal chiefs and mining executives agree: the Canadian Environmental Assessment Act is broken, and the assessment process is unproductive.
Grand Chief Stewart Phillip is president of the Union of B.C. Indian Chiefs. "The local First Nations who fought both the process and the project went through hell," Chief Phillip said. "And while they are no doubt elated by this decision, they are likely still feeling pain and anguish from the wounds that the process has caused them. They should not have been placed in this situation in the first place. The process through which today's decision was reached must be changed."
Michael McPhie is president of the Mining Association of British Columbia. "We think the decision shows the limitations of the environmental assessment process," McPhie agreed, noting that the Kemess process cost tens of millions of dollars and took three years to complete.
"The EA process was supposed to be technical in nature," McPhie said. "The fact is that these mines are proposing to put tailings underwater for very sound, scientific reasons. And in this case, the panel appears to have found no scientific argument against placing the Kemess tailings underwater. But the EA process in this province is being used to settle unresolved social and cultural considerations -- issues that no environmental panel is equipped to resolve."
First mine ever rejected
And in an era when the Environmental Assessment process had come to be widely regarded as a mere rubber stamp for industry, all sides appeared to be caught off guard by Monday afternoon's report.
"This is very, very unusual," said Meinhard Doelle, an environmental assessment expert who teaches at Dalhousie Law School.
"There are thousands of assessments done under the Canadian Environmental Assessment Act. As one who follows these fairly closely, I'm only aware of two or three projects that were recommended against." Those involved projects such as a nuclear waste dump and the controversial bridge to Prince Edward Island.
"I'm not aware of any other mine that has been turned down," Doelle said.
Mining Association executive McPhie warned: "This ruling sends a poor message to the international investment community."
Joan Kuyek, who directs the watchdog group Miningwatch, saw the same facts differently: "This decision could go a long way to restoring the public's faith in the environmental assessment of mining projects. Ministers now have the opportunity to enhance or destroy it."
Related Tyee stories: