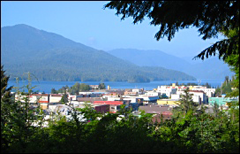 Two B.C. environmental groups accuse federal officials of mismanaging the Skeena fishery, and are calling for an independent review.
In a press conference held yesterday, Watershed Watch Salmon Society and North Coast Steelhead Alliance accused the Department of Fisheries and Oceans Canada of "caving under political pressure" when it extended the sockeye salmon fishery season on the Skeena river in 2006.
According to documents obtained under the federal Access to Information Act, some public servants raised alarms last summer that the DFO's management plan would contribute to overfishing of steelhead and coho salmon. Yet the federal agency didn't change its approach.
"We think these documents show DFO managers put politics ahead of science in making critical management decisions," Watershed Watch executive director Craig Orr said during the press conference.
Orr and colleague Vicky Husband denounced the intense political pressure from the mayor of Prince Rupert, Herb Pond, as well as the local MLA and MP, to increase the fishery. "It's very clear there's been political pressure of crisis proportion," Husband said.
The groups called for immediate actions to prevent the alleged mismanagement in 2006 from being repeated.
A DFO official denied that extending the season was unsafe or politically motivated.
'Excessive by-catch'
Last year, about 1.8 million sockeye salmon were estimated to return at the start of the season and well over three million did.
As a result, the fishery season was extended from the end of August to the beginning of September. The change in forecast meant that a commercial catch of around 41 per cent was allowed rather than 26 per cent as was allowed in previous years.
According to the groups, gillnet boats fished 29 days in 2006, over twice the 10-year average, catching salmon caught from populations too weak to withstand a major fishing effort. "This resulted in excessive by-catch of steelhead and weak salmon stocks and contributed to dangerously low returns to many Skeena tributaries," the groups said in a prepared statement.
Warnings by biologists
The documents presented to the media yesterday showed increasing concerns from public servants throughout the summer.
In an e-mail, North Coast biologist Steve Cox-Rogers attributes the lengthening of the season to successful lobbying by Prince Rupert Mayor Herb Pond.
"Our mayor flew to Vancouver to get DFO to provide more fishing time and so we ended up fishing a few more days," he wrote to a colleague. "The real issue for me is that we said we would fish selectively to minimize harvest impacts on non-target species and we caved under pressure," Cox-Rogers added.
In one of several e-mails sent to the Ministry of Environment throughout the summer, regional fisheries biologist Dana Atagi also expressed his concerns about steelhead run timing based upon some late season "index points" in the test fishery.
"This is contrary to the existing 'agreement' between the Department and the Ministry on how we jointly use the Skeena Model to determine the exploitation rate for Skeena steelhead," wrote Atagi. "This reinforces the urgency for a serious post-season debrief of the 2006 fishing season."
No enforcement monitoring
For steelhead, a harvest rate cap of 24 per cent had been used to protect the populations. The level was reached by mid-August, at a time sockeye salmons were still numerous.
But the documents also reveal that gillnet fishermen weren't keen on protecting non-targeted species such as steelhead and coho they intercepted during the extension of the fishery.
"In fact, all of the fishermen I spoke to expressed little desire to participate in reviving steelhead or coho," wrote Steve Cox-Rogers in an e-mail to David Einarson, DFO North Coast area chief.
All fishers must have revival boxes and all steelhead must be released. Yet there is no official record of compliance with this directive as there are no enforcement officers monitoring the fleet.
At yesterday's press conference, environmentalists alleged the union and some Prince Rupert authorities lobbied higher government officials for an aggressive fishing schedule aimed at helping economically depressed north coast communities. The salmon fish industry represents $110-million a year in the Skeena watershed.
Economic gains questioned
But the added fishing days, said the Watershed Watch, had a "low impact on communities" and could have far-reaching consequences. The group charged that mismanagement of salmon fisheries was "endangering the long-term health of Skeena wild salmon and the economy of the entire Skeena watershed."
DFO defines salmon conservation as the foremost management priority, followed by First Nations' constitutional right to food fisheries and, thirdly, other commercial and recreational fisheries.
The decision to change the quotas during the ongoing season therefore breached public trust, Watershed Watch and North Coast Steelhead Alliance said.
"Claim for conservation first hasn't been met in this case," said Vicky Husband.
Mismanagement denied
David Einarson, area chief of resource management for federal fisheries, denied the conservation groups' accusations, arguing that decisions in 2006 were made based on stock availability, not political pressure.
The 2006 Skeena sockeye post-season review states that "Sockeye were not particularly easy to catch in 2006 due to size/distribution issues and the fishery was afforded additional days throughout the season in order to try and achieve allocation objectives."
He said the commercial catch reached its target of 32 per cent of the sockeye run, as it did for the steelhead catch at 24 per cent. "Even with no fishery, the run would be poor," wrote David Einarson.
But Husband cautioned that with global warming and the unexpected consequences it could have on salmon, DFO should review more carefully its quotas. She called for a scientific and independent review of the Skeena salmon fishery to examine the current management model for possible flaws.
[Due to an editing error, a previous version of this article mistakenly reported that last year the Prince Rupert fishing fleet had one of its worst seasons in recent history. That was not the case.]
Related Tyee stories: