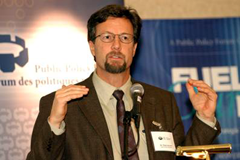 Simon Fraser University economist Mark Jaccard and his team of researchers have done something that's rare in politics.
They've reached a set of conclusions that poke holes in just about everyone's plan to fight global warming.
Jaccard upset many environmentalists in the spring when he argued that it's too late for Canada to reach its targets under the Kyoto Accord. But he pleased federal Environment Minister John Baird -- who also says that Kyoto is a lost cause.
Jaccard, Baird said at the time, is one of the best economists in the country.
Then, earlier this month, Jaccard and his team released a study for the C.D. Howe Institute that concluded that the federal Conservative government's plans to reduce greenhouse gases won't come anywhere near their targets.
The study didn't attract a great deal of media attention, but it was apparently noticed by the government.
Jaccard was scheduled to appear in Ottawa before the Commons environment committee a few days after the release of the C.D. Howe report. Instead, the Conservative chair of the party stepped down and no other Tory volunteered to fill in for him -- throwing the committee into limbo.
Opposition MPs charged that the move came out of the government's playbook on how to shut down committees that might generate negative publicity for the Stephen Harper Tories.
Tax tiff
Mind you, the Liberals on the committee who cheered Jaccard's critique of current government policies were likely less fond of his analysis of the "unfortunate record" of previous governments -- most of them Liberal -- on curbing emissions.
In any event, Jaccard and his team were back in the news a few days later, when a study they had done for the Tory government was released by Green party leader Elizabeth May.
The study, which May obtained through an Access to Information request, concluded that a carbon tax would have little impact on the national economy -- and might even prove to be a stimulus.
Seeing as May is the only party leader proposing a carbon tax -- something Baird says would ruin the economy -- the Green leader was understandably cheered to find a heavyweight economist supporting her position.
Although the Greens, along with the other opposition parties, argue that Canada's Kyoto targets can still be met, which puts them at odds with Jaccard and his team on that score...
Some days you just don't know who to believe.
Jaccard's controversial conclusions
Given the recent popularity of Jaccard and his team, it seems worthwhile to look at exactly what they are saying. Here then, are some of the conclusions reached by Jaccard and the Energy and Materials Research Group.
Past federal governments failed utterly to stop the growth of greenhouse gas emissions.
The C.D. Howe report reviews a series of initiatives that were announced by the 1988-1993 Mulroney Conservative government and the Liberal governments of 1993 to 2006.
"While these initiatives and commitments appear to have been taken in earnest," the report says, "Canadian governments have an unfortunate record on GHG targets and policies."
Since 1988, "five major policy initiatives have failed to stem the steady growth of Canadian GHG emissions....
"Emissions actually rose faster during the period of policy initiatives, 1990 to 2006, than during the previous decade, from 1980 to 1990, even though this earlier period had no GHG reduction policies."
The problem, Jaccard and co-author Nic Rivers conclude, is that these schemes all relied on voluntary measures, such as subsidies and information programs. And voluntary measures aren't enough to significantly reduce emissions.
Which brings us to the team's second point...
Current Conservative policies are unlikely to reduce emissions below current levels.
Federal targets call for a reduction of 20 per cent in greenhouse gas emissions by 2020.
But when Jaccard and Rivers ran the government's policies through an economic simulation model, they found that under the Tory plans, "overall emissions in Canada are unlikely to fall below current levels."
"It's not that they wouldn't do anything," Rivers, an EMRG research associate, told the Tyee. "But they would be quite dramatically insufficient to reach the targets.
"Our guess was that they would more or less stabilize emissions at around today's level over the next three or four decades, but they wouldn't reduce them by 20 per cent over the next 10 years and by 65 per cent over the next 40 years, which is what the Conservatives promised."
Part of the problem is that the Conservative plan has several loopholes that allow industries to continue spewing emissions while complying with the regulations.
For example, the government allows emitters to invest in what are called domestic offset credits rather than reduce emissions.
The federal regulations cover the big industrial emitters, which account for about half the greenhouse gas emissions in the economy.
Under the offset scheme, a large industry that is supposed to reduce its emissions is allowed to subsidize someone outside the regulated sector -- a business with a large fleet of cars, say -- to reduce emissions on its behalf.
"The problem is that this type of offset credit system tends to be really administratively burdensome," said Rivers. "It tends to be hard to verify."
If a company switches its vehicles to more efficient models, for example, who's to say they wouldn't have done the same thing in the absence of the offset program?
"A lot of your subsidies end up being paid to people who would have done the actions regardless of whether you would have paid the subsidy." (Economists call these people free riders)
The study makes a number of generous assumptions on behalf of the government. For example, it assumes that the government will adopt California's aggressive auto emissions standards -- something that's far from certain. The study suggests a conclusion that Jaccard and his team have argued before:
The best way to reduce emissions is through a carbon tax or cap-and-trade system.
"For sure, to really reduce greenhouse gas emissions in the country is going to require some sort of economy-wide price signal like a tax or else a regulatory signal like a cap-and-trade system," Rivers said.
A carbon tax places an additional charge on fossil fuels, in the hopes of reducing their use. A cap-and-trade system sets limits on emissions and issues what are, in effect, permits to give off greenhouse gases. Companies can trade these permits in a way that results in lower overall emissions.
"Right now, what the Conservatives have proposed is a regulatory signal on just half of the economy with some loopholes," Rivers said. "So it's a step in the right direction, but it's certainly not sufficient to reduce emissions dramatically in the country."
Mandatory policies such as carbon taxes and cap-and-trade "directly or implicitly put a value on the use of the atmosphere as a waste receptacle for dumping GHGs," the C.D. Howe study says, adding that "the most important conclusion of independent research is that without a value on the atmosphere, GHG emissions will not fall."
But Jaccard and Rivers admit that what works economically won't always work politically.
"The only effective policies are also the most difficult for finding political acceptance," they write. "This explains why politicians have been reluctant to implement them, and it explains the policy failures of the last decade and a half.
"Canadian politicians have largely opted for politically painless policies that were also ineffective. These policies were implemented, but emissions kept rising."
If Jaccard's team is sympathetic to the political realities surrounding mandatory limits, it doesn't buy the economic argument that a carbon tax would tank the economy. Actually...
A carbon tax will have little effect on the economy.
This, according to the study done for the federal government and released by the Green party. The study, done for Natural Resources Canada, concludes that a carbon tax of up to $50 a tonne -- the level urged by the Green party -- would barely be noticed in terms of GDP.
In fact, such a tax might even boost the economy, rather than drag it down.
With "small taxes -- somewhere up to $50 a tonne -- the effect on the economy was not at all dramatic," said Rivers. "It would be somewhere around a very, very small loss to a very small gain over the next 30 years."
The difference made by a tax at that level, Rivers said, would be somewhere in the range of one-tenth of one per cent in overall GDP.
The report modelled the effect of taxes up to $250 per tonne.
"The really key point to take from this is that any of these tax levels won't really change that [economic growth] pattern much," Rivers said.
Even at the $250 level, "we still expect to see that the growth pattern would be virtually unchanged."
That's because there's a fair amount of capacity in the Canadian economy to adapt to the kind of changes a carbon tax would bring -- given enough time.
"So when a tax is applied we can reduce our emissions pretty substantially and avoid paying the tax."
The problem is that it does take time before the economy can adapt. Which brings up the Jaccard team's final point...
It's too late to meet Canada's Kyoto target.
Under its Kyoto commitments, Canada is supposed to reduce its emissions to below 1990 levels by 2012. But instead of going down, emissions have been going way up, leaving the Kyoto goals pretty far off.
"It takes a long time for the system to rejig itself," said Rivers. "So even applying a pretty big carbon tax in 2006 doesn't give you very long to close power plants and coal plants and rebuild them.... To have people sell their cars, to have people re-insulate their houses or buy new types of furnaces, to have buildings get retrofitted -- that kind of stuff will happen over time, but if we try to force it into a three or four year period, the costs are absolutely enormous."
That's especially true in the industrial sector, where technologies can stay in place for 50 years or more.
"To have a cement plant that's just built a new kiln to be told a year later that they have to reduce emissions by two thirds or by a third is really going to damage the economy," Rivers said. "A policy that would achieve that is a completely unrealistic policy."
The message to government, he said, is: "Get your policy in now so that you start influencing this capital stock over the future. The policy has to come in now. The emissions reductions aren't going to happen for a few years."
Related Tyee stories: