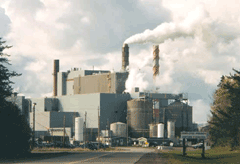 New figures from the federal government indicate that B.C.'s greenhouse gas emissions dropped in 2005, even as the population and economy grew.
Now somebody has to figure out why.
The new numbers, the result of a painstaking national exercise in number crunching, come as good news as B.C. attempts to reach ambitious targets for reducing GHG emissions set by Premier Gordon Campbell earlier this year.
But for provincial officials, the numbers provide more questions than answers at this point.
Campbell announced a preliminary version of the Environment Canada numbers in the legislature late last month on the eve of a visit from California Governor Arnold Schwarzenegger.
According to unofficial calculations by the federal government, "greenhouse gas emissions in B.C. for 2005 decreased by 2.4 per cent" from the previous year, Campbell told the house. "During that same year the economy grew by 3.7 per cent."
The official calculations are just out, and they show B.C.'s greenhouse gas emissions, which are linked to climate change, decreasing between 2004 and 2005 by 2.5 per cent.
Against the trend
It's not exactly a huge plunge, especially given the government's target of cutting emissions by a third by 2020.
But it's still a step in the right direction, one that's counter to a trend that has seen substantial increases since 1990. And the federal numbers may contain clues about how to reach Campbell's targets.
This isn't the first time B.C.'s overall greenhouse gas emissions have dropped. In the past, however, the decreases have tended to come during economic slowdowns.
This time, however, industrial emissions have dropped -- substantially, in some cases -- while the economy has boomed.
Take manufacturing, for example, which makes up just under one-tenth of B.C.'s total emissions. In 2005, manufacturing emissions dropped by 12 per cent -- the largest drop of any single category of emissions.
And the thing is, nobody knows why.
Shift to wood fuel?
Provincial officials think it's possible that the drop is connected to an increasing use of wood residue as a fuel in the pulp and paper industry, but they admit that's just a guess at this point.
That hunch is backed up by detailed national emissions data contained in the Environment Canada report.
Ottawa doesn't publish provincial data for different manufacturing sectors, instead lumping industries like metal production, chemicals, cement and pulp and paper together under the same heading.
But it does break the numbers down on a national level, and these figures show a 21 per cent drop in emissions from the pulp and paper industry. How much of this is due to environmentally friendly improvements and how much is due to other factors, such as a downturn in the industry is anyone's guess right now.
Cars and refineries, too
The experts are similarly baffled by a drop in emissions from the fossil fuels industry, which includes refineries and natural gas processing plants.
This industry, which makes up 11 per cent of all B.C.'s emissions, saw a four per cent drop in greenhouse gas emissions in 2005. Again, provincial government scientists will be poring over the federal numbers, trying to figure out what caused the decrease.
Emissions from cars and light trucks also declined. Greenhouse gases from cars went down six per cent; emissions from light trucks -- pickups, minivans and SUVs -- went down four per cent.
Overall, emissions from all passenger vehicles dropped by five per cent.
BC an anomaly
It's tempting to think that this had something to do with the jump in gas prices that occurred at around the same time. After all, according to Statistics Canada, the price of gas in Vancouver went up 13 per cent between 2004 and 2005.
And StatsCan shows British Columbians driving five per cent less in 2005 than in 2004. TransLink also has stats that indicate people are responding to high gas prices by taking transit.
But in the rest of Canada, soaring gas prices do not appear to have had the same effect. Manitoba was the only other province where passenger vehicle emissions dropped substantially in 2005.
Ontario and Alberta even saw slight increases in emissions.
Which raises the question: if the price of gas caused British Columbians to develop more environmentally friendly commuting habits, why didn't the same thing happen in the rest of the country?
Don't celebrate yet
If there are plenty of questions in the short term numbers, the long term trend is clear: B.C.'s emissions have been going up -- way up -- since 1990 in almost every area.
For example:
Overall increase in greenhouse gas emissions, 1990-2005 -- 30 per cent.
Increase in emissions from fossil fuel industries during the same period -- 97 per cent.
Increase in emissions from cars -- eight per cent.
Increase in emissions from pickups, minivans and SUVs -- 117 per cent.
Hitting Campbell's targets would mean reducing emissions to 10 per cent below 1990 levels. The new federal data show just how far we have to go.
Related Tyee stories: