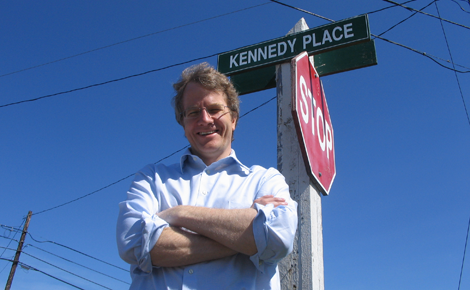 [Editor's note: Today The Tyee launches our special coverage of the 2006 Federal Liberal leadership race. For the next two weeks you can expect more features, interviews and opinions about the people vying to lead the Grits into the next election.
We're also re-launching Election Central, The Tyee's superblog where you'll find insights and scoops from seasoned journalists like Rafe Mair and Will McMartin, as well as lively posts from top bloggers such as J. Kelly Nestruck, Jay Currie and Jeff Jedras. Bookmark it: Electioncentral.ca.
Our coverage kicks off today with an interview with Gerard Kennedy, the man best positioned to be a kingmaker in next week's convention.]
There is no surer thing in the world of developed democracies than the leadership of the Federal Liberal Party. In a hundred years, no one has held the post and not gone on to be Prime Minister. So when Liberal delegates pick a new chief next week in Montreal, history's odds say he'll end up on Sussex Drive.
But among the thousand plus grits who will choose that leader, none may have a bigger impact than Gerard Kennedy. A longtime food-bank director in Edmonton and Toronto and a former Ontario cabinet minister, Kennedy is in third place among committed delegates heading into the convention. But his French is poor and his presence in Quebec poorer. So many have dismissed his chances at the top prize. The Kennedy endorsement, however, and the hundreds of committed delegates it would bring, remains coveted.
Kennedy, alone among the top three candidates, was not born to be in this race. Michael Ignatieff, Bob Rae and Stephane Dion are all sons of the Canadian elite. They all studied at the best Canadian schools and did graduate work at elite institutions. Kennedy went to Trent and the University of Alberta. He dropped out, before completing his undergraduate degree, to work at a food bank.
Last week, Kennedy was in Vancouver, wooing other camps and meeting media. On Friday, he spoke to The Tyee in the lobby bar at the Hotel Vancouver.
Sitting in a corner booth finishing his lunch, Kennedy looked, even after nine years at Queen's Park and nearly half a year into this campaign, surprisingly fresh. When he spoke, he leaned intently over crossed legs and stared almost uncomfortably.
RW: Do you have a favourite writer?
GK: I read a lot of non-fiction, a lot of history. One I can remember is Lincoln's Virtues (by William Lee Miller). The argument is that Lincoln really became president because he clarified what he thought about slavery. He wasn't a successful politician. He got elected to Congress once. He didn't get re-elected. But he became, by stages and measures and by the clarity of his own voice, the choice of the 1860 convention. It's interesting because there are very few books on the values in politics. People are very enamoured by the tricks part of it; how do people get elected and who did this and who did that. Lincoln is probably seen, in the American pantheon, as unique. But maybe not so much so. I think that the people who find their way end up with a compass.
RW: There's been a lot of talk in this campaign about the idea of Quebec as a nation, but not so much about First Nations as nations.
GK: In the constitution, the word is 'peoples' not First Nations. Even though First Nations would insist on the other word...I think nations or First Nations have to do with aboriginal rights and the idea that they do have land-based rights -- we are not a conquered people and therefore we have access to land and privileged use of land -- and therefore it's proper for us to talk about them as nations.
Is it possible though, really, to talk about 600 First Nations? I think one of the reasons we haven't been able to articulate what that constitutional provision means is that, to try to make that apply to every single one of the 600 reserve communities is very hard. Certainly, we lose sight of it as a concept we understand.
RW: So what's the answer?
GK: I think the answer is, to some extent, the coming together of those First Nations.
First Nations need to look at coming together both so they can effectively secure their rights and live up to their obligations to their people. I think that's what in the offing.
They want to get out from the Indian Act, provide an alternate structure. And we can do that, and we should do that. The particular adaptation and integration -- not assimilation -- but integration depends on something new and different, not just human rights.
RW: What's the difference between assimilation and integration?
GK: You maintain your identity in integration. You maintain choice over who you are. Assimilation means you give up that identity to become part of some other amalgam. Canadians have been mainly about integration -- although we've all assimilated to some extent.
I think that's a genius of Canadian life. It positions us to be what I want us to be, which is what I call the world's first international country: the first country to really influence the terms of international relations in terms of globalization. But to help set those rules requires relationships with countries around the world. We've been able to maintain those relationships because we have these populations that maintain those connections. We don't require them to sever them or to give up that identity.
RW: In terms of making life and death decisions for Canadian soldiers in Afghanistan, what about your background, which has been pretty domestic, do you think qualifies you?
GK: The proof in that is in the framework I put forward, which seems to be the one all the other leadership candidates have gravitated towards. I said at the end of August that we should pull out of Afghanistan unless we change the mandate. I believe the only way we put young Canadian men and women at risk is if it's for something Canadians believe in, that fundamentally we're all prepared to see sacrifice take place for. Not because of some obligation but rather some kind of unique contribution that we can make. And in this case it has to be the building of a civil society in Afghanistan. By that measure we're failing. And by any reasonable expectation we're not going to succeed unless the strategy, fundamentally, is altered.
We should never be abroad, in my view, on long term military operations that aren't attached to economic development, to stabilizing the population's capacity to provide for itself.
RW: But how do you build capacity in a place like Southern Afghanistan which is in civil war?
GK: What I would ask is why aren't we doing development in Northern Afghanistan, in Southern Afghanistan? There are 35 provinces and we have a miserable record in every one of them in terms of actually making an alternative economy happen. Only seven per cent of the people are involved in the opium crop but they are now 52 per cent of the economy because we have not lived up to the original plan of providing economic alternatives.
RW: Should we pull out of Southern Afghanistan?
GK: Well, we should, I think, be out of Afghanistan completely unless we attach it to long-term success. It is not a place to be spending $4 billion, 89 per cent of it on military operations, and expect success. Forty thousand foreign troops in a country of 30 million is not going to stabilize it.
RW: What's your strategy going into the convention?
GK: You mean besides having the biggest number of votes on the final ballot? My strategy is to define the ballot question. Liberals want to win the next election and I need to tell them how.
RW: And if you get knocked off the ballot?
GK: I don't have a strategy to get knocked off the ballot, I really don't. I ran in a leadership before and I never had a back up strategy in terms of who I would support and I never needed it. I led for four ballots, lost on the last one, so my strategy is to improve on that.
RW: Is there another leader you wouldn't work under?
I haven't ruled anybody out. But again, it doesn't preoccupy my time...There is no second prize in this. I ran before, I came second and that's nice. But this is really about a vision for the country and getting a chance to implement that. This juncture doesn't come around very often and the country needs that, that's what I'm convinced of.
Track the Liberal leadership race at The Tyee's Election Central blog.
Related Tyee stories: